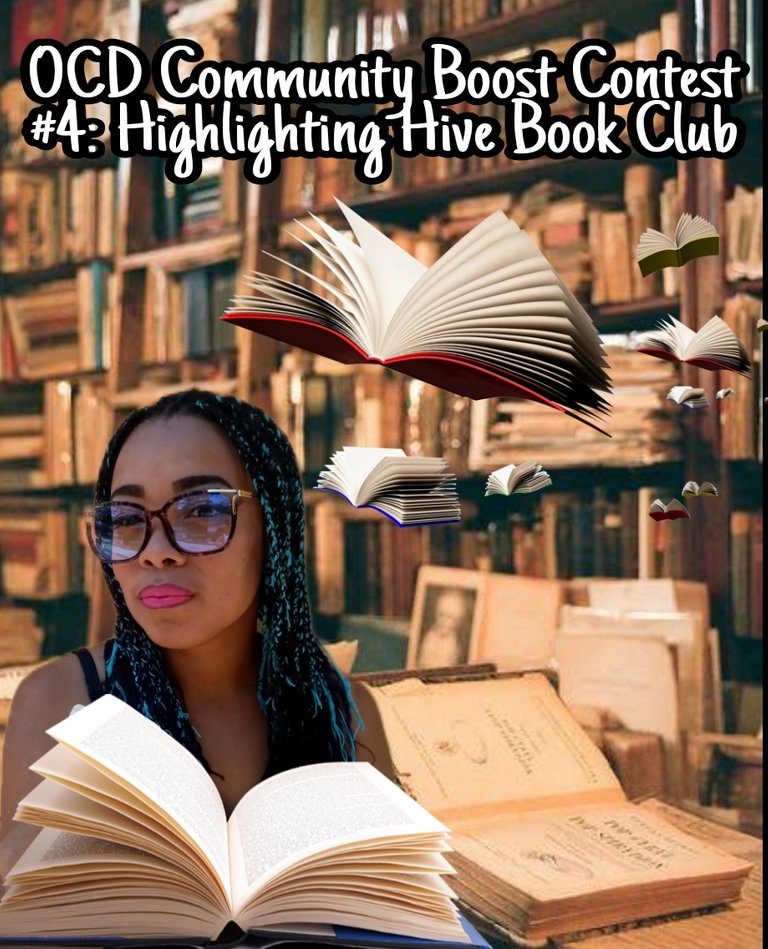 ¡Saludos mis Hivers!
---
Leer para mi es un arte, no solo porque se convierte en un momento para adquirir nuevos conocimientos, sino además para trasladarnos a lugares donde solo nuestra mente es capaz de llevarnos a través de un camino de letras.
En esta oportunidad les comparto mi participación en el concurso de OCD para resaltar a la comunidad de lectura, de antemano los felicito por estas iniciativas que de alguna manera apoyan e instan al éxito de todas las comunidades.
Reading for me is an art, not only because it becomes a moment to acquire new knowledge, but also to move us to places where only our mind is able to take us through a path of letters.
In this opportunity I share with you my participation in the OCD contest to highlight the reading community. I congratulate you in advance for these initiatives that somehow support and encourage the success of all communities.
---
SI DESEAS PARTICIPAR ACÁ TE DEJO EL ENLACE.
Concurso comunitario de OCD
---
Para esta oportunidad #ocd nos invita a responder tres interrogantes que me parecieron muy oportunas.
⚜️Si estuvieras haciendo una película basada en un libro, ¿qué libro elegirías y por qué?
⚜️¿Alguna vez un libro te ha transformado a ti y a tu vida?
⚜️¿Cuál es tu libro favorito y por qué?
Considero que cada lectura siempre nos obsequia algo que va desde soñar hasta aprender a derribar las adversidades, hoy haremos un viaje literario para responder estas preguntas.
For this opportunity #ocd invites us to answer three questions that I thought were very timely.
⚜️If you were making a film based on a book, which book would you choose and why?
⚜️Has a book ever transformed you and your life?
⚜️What is your favourite book and why?
I believe that every reading always gives us something from dreaming to learning how to overcome adversity, today we will go on a literary journey to answer these questions.
---
He leído muchas obras pero considero que de todas hay una en particular que debería convertirse en película.Les contaré que obra literaria seria la ideal para una película.
I have read many works but I think there is one in particular that should be made into a film, and I will tell you which literary work would be ideal for a film.

En primer lugar mi opción para producir una película seria 100 Años de soledad, del escritor Gabriel García Márquez, esta obra fue publicada el 5 de junio de 1967 por la editorial Sudaméricana de Buenos Aires, la más reciente edición fue en 2007 para rendir homenaje a su autor a propósito de cumplir sus 84 años y trans llegar a 40 años de la publicación del libro, un dato curioso de esta obra es que según Garcia Márquez la escribio en un lapso de 18 meses aproximadamente comenzando el escrito en el año 1952 Cien años de soledad es una obra que nos cuenta la história de una familia marcada por la soledad, donde ninguno de sus miembros en siete generaciones logró alcanzar la felicidad, dentro de ella hay aspectos como: el odio, la soledad, la guerra, la política y la religión aca el escritor de manera muy especial se burla sobre algunos paradigmas que el ser humano crea por ejemplo: "la guerra" es plasmada como una realidad dramática y Absurda mientras que la religión hace un indicativo sobre "pelean curvas y regalan libros de oración" es impresionante como Gabriel Garcia Márquez no dejó cabos sueltos sobres aspectos que giran en torno.al la vida del ser humano.
Esta obra contiene 20 capítulos sin título es una crónica hecha cuento que desborda la creatividad y la imaginación una de las cosas que me atrapó de esta grandiosa obra es cómo de una manera muy audaz se nos atrapa con una vida familiar basada en el humor, la vida y la muerte. Comsidero que esta maravillosa obra no debe dejarse en una páginas ademas que hacerla filme le permitiría transmitir su mensaje a más personas sobre todo la nueva generación que ha perdido el interés por la lectura.
Sin embargo dado lo extenso de la lectura creo que su producción cinematográfica seria larga y extenuante pero valdría la pena,otro aspecto importante para comentarles es que nexflit pronto estrenará una serie basada en esta novela, asi que los invito a ver esta gran obra convertida en serie.
In the first place my choice to produce a film would be 100 Years of solitude, by the writer Gabriel García Márquez, this work was published on June 5, 1967 by the publishing house Sudaméricana of Buenos Aires, the most recent edition was in 2007 to pay homage to its author on the occasion of his 84th birthday and to celebrate the 40th anniversary of the publication of the book, a curious fact of this work is that according to Garcia Márquez he wrote it in a lapse of 18 months approximately beginning the writing in the year 1952 One hundred years of solitude is a work that tells us the history of a family marked by the solitude, where none of its members in seven generations managed to reach the happiness, inside her there are aspects like: hatred, loneliness, war, politics and religion here the writer in a very special way makes fun of some paradigms that the human being creates for example: "war" is captured as a dramatic and absurd reality while religion makes an indication about "fight curves and give away prayer books" is impressive as Gabriel Garcia Marquez did not leave loose ends on aspects that revolve around. the life of the human being.
This work contains 20 chapters without title is a chronicle made story that overflows creativity and imagination one of the things that caught me of this great work is how in a very bold way we are trapped with a family life based on humour, life and death. I believe that this wonderful work should not be left on a page and that making it into a film would allow it to convey its message to more people, especially the new generation who have lost interest in reading.
However, given the length of the reading I think that its film production would be long and exhausting but it would be worth it, another important aspect to tell you is that nexflit will soon release a series based on this novel, so I invite you to see this great work turned into a series.


Básicamente es inevitable no dejar de transmitir mi aprecio a un libro que de alguna manera me ayudo a entender que en la vida todo es pasajero y que tanto las personas como las cosas son elementos que cumplen un ciclo en nuestras vidas, sin lugar a dudas el libro que cambio no solo mi vida sino la perspectiva ante las situaciones duras que el destino te trae es "Amar o Depender" de mi escritor favorito Walter Riso es inevitable mi amor por sus escritos pero esta obra en particular es mi llave maestra porque llegó a mis manos cuando la vida me golpeaba muy duro y no entendía porqué el destino era cruel conmigo.
Los seres humanos atravesamos por situaciones de adicción afectiva que se convierte en una enfermedad, ya que nos apegamos a personas que muchas veces nos lastiman y pretendemos resistir ek dolor por ser incrédulos que no existe nadie más que pueda brindarnos felicidad.Este libro para mi es una especie de salvavidas que pretende ayudar a aquellas personas que son o han sido esclavos de un amor malsano, ademas dentro del escrito te dan principios para guiar a las parejas aún no contaminadas para que sigan amando de forma sanaa sana, intensamente y sin apegos. Es por esta razón que este libro será un cambiador de vidas afectivas por ser una especie de terapia escrita. Demás esta invitarlos a visualizar esta obra que encierra muchas realidades afectivas.
Human beings go through situations of affective addiction that becomes a disease, as we become attached to people who often hurt us and we pretend to resist the pain because we are incredulous that there is no one else who can bring us happiness. This book for me is a kind of lifesaver that aims to help those people who are or have been slaves of an unhealthy love, also within the writing you are given principles to guide couples not yet contaminated to continue loving in a healthy way, intensely and without attachments. It is for this reason that this book will be an affective life changer because it is a kind of written therapy. It goes without saying that I invite you to visualise this work that contains many affective realities.

Mi amor por los textos es algo inevitable,es mi pasión leer y anexar conocimientos a traves del mundo de la literatura, sun duda alguna he visualizado muchos textos pero creo que "La fidelidad es mucho mas que Amor" de Walter Riso esta de primero en la escala de mis favoritos, pese a ser un libro terapéutico su lectura ha sido significativa para mi, ya que de alguna manera ataca la infidelidad de una manera realista, dado que en el mundo la mayoría de la población es infiel y esto trae como consecuencia no solo la destrucción emocional, sino la ruptura de familias y por ende niños afectados por las circunstancias emocionales de sus padres, la infidelidad es una ruleta rusa que nos asecha y ataca destrozando nuestra felicidad, para mi este libro brinda con mucho cuidado las claves para que, podamos identificar y evitar las tentaciones a las que no queremos sumergir porque la infidelidad es un decisión eminentemente latente en nuestra vida.
My love for texts is something inevitable, it is my passion to read and add knowledge through the world of literature, without a doubt I have visualized many texts but I think that "Fidelity is much more than love" by Walter Riso is first on the scale of my favorites, despite being a therapeutic book reading has been significant for me, since somehow attacks infidelity in a realistic way, since in the world the majority of the. Population is unfaithful and this brings as a consequence not only the emotional destruction, but the breakup of families and therefore children affected by the emotional circumstances of their parents, infidelity is a Russian roulette that stalks us and attacks destroying our happiness, for me this book carefully provides the keys so that we can identify and avoid the temptations to which we do not want to immerse because infidelity is an eminently latent decision in our lives.
---
La lectura es una experiencia avasallante que sin lugar a dudas nos trastoca y nos traslada a lugares mentales que rompen la barrera de realidad, gracias a #odc y al club de lectura porque de alguna manera estos concursos nos dan una recarga literaria llena de conocimientos que nutren nustro cerebro y ademas saca una mejor versión de nosotros.
Reading is an overwhelming experience that undoubtedly shakes us up and takes us to mental places that break the barrier of reality, thanks to #odc and the book club because somehow these contests give us a literary recharge full of knowledge that nourishes our brain and also brings out a better version of us.
---
Estas son las grandes obras de las cuáles les hablé, son esenciales en mi vida y las productoras de grandes conocimientos.
These are the great works of which I spoke to you, they are essential in my life and the producers of great knowledge.
---
       

------>

------>
---

letras elaboradas en conversor de letras
Barner y separadores realizados en Canva
Fuente de imágenes:
100 años de soledad
Amar o depender
La fidelidad es mucho más que AMOR

---
¡Gracias por detenerte a leer!
Fotografías editadas en picsart.
Texto traducido en deelp.
Nos vemos en mi próxima publicación.
Tengan un feliz día.
¡Thanks for stopping to read!
All photographs edit and picsart.
Text trasnlate in deelp.
See you in my next post.
Have a happy day.