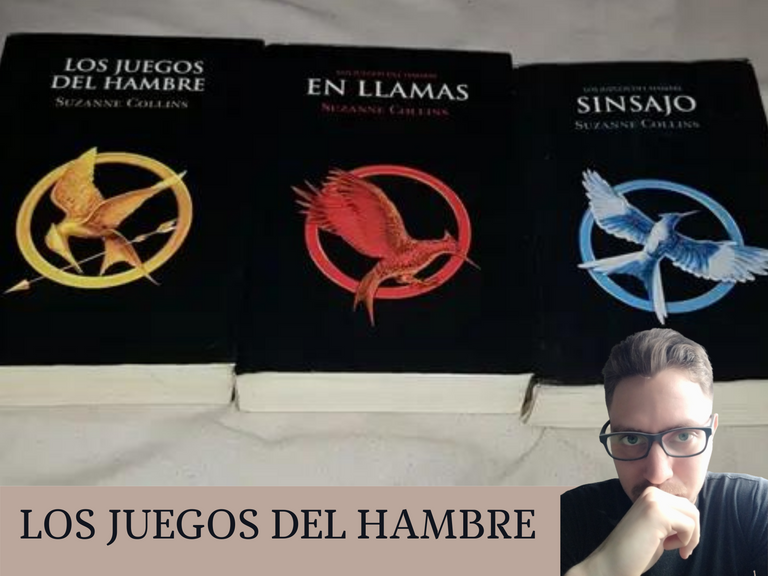 editado con canva./edited with canva.
Muy buenas a todos en hive y a la comunidad de Hive Book
Club, hoy quiero reseñar una de las primeras sagas de libros que leí en mi vida de la cual tuvieron adaptaciones al cine e impulsó la carrera de la actriz Jennifer Lawrence como su protagonista en la trilogía.
Good morning to everyone at hive and to the Hive Book Club community, today I want to review one of the first book sagas I read in my life.
Club, today I want to review one of the first book sagas I ever read in my life which had movie adaptations and boosted the career of actress Jennifer Lawrence as the main character in the trilogy.

Los juegos del hambre./The Hunger Games.

Los juegos del hambre son una saga de tres libros escritos por Suzanne Collins de temática de ciencia ficción, romance, aventura y política, ambienta en una temática post-guerra mundial, donde de los resto de estados unidos nace el país de Panem el cual está compuesto por el capitolio siendo el centro del país y doce distritos, estos últimos son empleados para la producción del recursos para el disfrute y la comodidad del capitolio acosta del resto de la nación, manteniendo este régimen mediante la implementación de un castigo donde se toman a un chico y una chicha de cada distrito para ser sacrificados en una batalla de vida o muerte entre ellos, como conmemoración y advertencia de que no ocurra otra rebelión que trajo como consecuencia el exterminio de un distrito completo el número 13.
The Hunger Games is a saga of three books written by Suzanne Collins of science fiction, romance, adventure and politics, set in a post world war theme, where from the rest of the United States is born the country of Panem which is composed of the capitol being the centre of the country and twelve districts, the latter are employed for the production of resources for the enjoyment and comfort of the capitol at the expense of the rest of the nation, maintaining this regime by implementing a punishment where a boy and a girl are taken from each district to be sacrificed in a battle of life and death between them, as a commemoration and warning against another rebellion that resulted in the extermination of an entire district, number 13.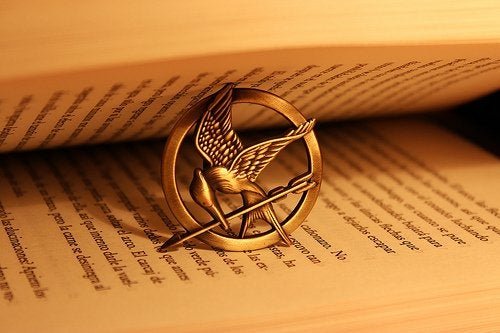 fuente
Recuerdo que empecé a leer esta trilogía gracias a una amiga de la universidad que al igual que yo somos fanáticos de historias en mundos alternos al nuestro, que pese a no tenerle mucha confianza ya que consideraba que la historia se centraría en el típico romance juvenil de la protagonista y la lucha de dos chicos por su amor, no pude estar más equivocado y me alegro de eso.
I remember that I started reading this trilogy thanks to a friend from university who, like me, is a fan of stories in worlds other than our own, and despite not having much confidence in it because I thought that the story would focus on the typical young romance of the protagonist and the struggle of two boys for their love, I couldn't have been more wrong and I'm glad of that.
La historia nos cuenta las desventuras de Katniss Everdeen una chica nativa del distrito 12 que tras ofrecerse como voluntaria reemplaza a su hermana durante la cosecha, el día donde se selecciona las ofrendas que lucharán en los juegos del hambre como sacrificio para evitar una rebelión pero que a medida que la historia avanza nos damos cuenta que esta lucha no es más que un método de entretenimiento para la población del capitolio, y donde katniss y su compañero peeta intentarán sobrevivir por todos los medios.
The story follows the misadventures of Katniss Everdeen, a native girl from District 12 who volunteers to replace her sister during the harvest, the day when the offerings that will fight in the hunger games are selected as a sacrifice to prevent a rebellion, but as the story progresses we realise that this fight is nothing more than a method of entertainment for the people of the capitol, and where Katniss and her partner Peeta will try to survive by any means necessary.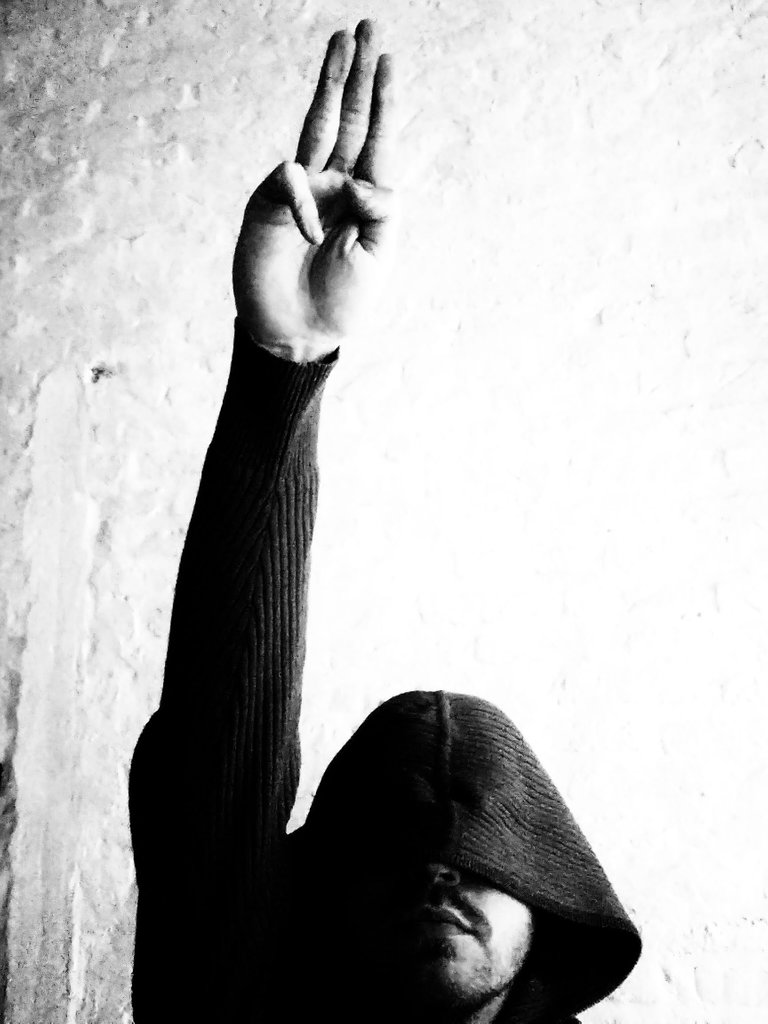 foto de mi celular./photo from my mobile phone.
La autora me sorprendió por su capacidad de narra este mundo tan vasto y que a su ves no muestra que aun en un futuro la sociedad tiene la capacidad de seguir siendo cruel y que la política por mas que avance nunca dejara las antiguas costumbre de la burocracia, el clasismo, y la discriminación por clases sociales, el capitolio es la máxima expresión de la sociedad aristocrática de la época medieval donde lo excesos son pan de cada día esto en contraste a la vida casi empobrecida de katniss en el distrito 12.
The author surprised me by her ability to narrate this vast world and at the same time she shows that even in the future society has the capacity to continue being cruel and that politics, no matter how much it advances, will never leave the old habits of bureaucracy, classism, and discrimination by social classes, the capitol is the maximum expression of the aristocratic society of medieval times where excesses are daily bread in contrast to the almost impoverished life of Katniss in the 12th district.
Pero donde se lleva el oro la historia es en los juegos, la batalla a muerte de la protagonista empieza mucho antes de estar en la arena donde el solo hecho de demostrarte como un individuos ostentosos y carismático son la clave de recibir beneficios de parte de los miembros más poderosos en el capitolio, que podrían aventajarlos durante la batalla, la arena o el coliseo en la saga son espacios únicos donde la incertidumbre lleva a los jugadores a un constante estado de tensión, donde sus contrincantes no son el único peligro a superar, lleno de trampas, ambientes agresivos y criaturas modificadas genéticamente esto sobresale más en el segundo libro que a mi parecer la arena se vuelve el sitio más aterrado en toda la saga.
But where the story takes the gold is in the games, the protagonist's battle to the death begins long before they are in the arena where just proving yourself as a flashy and charismatic individual is the key to receiving benefits from the most powerful members in the capitol, who could edge them out during the battle, the arena or coliseum in the saga are unique spaces where uncertainty drives players to a constant state of tension, where their opponents are not the only danger to overcome, full of traps, aggressive environments and genetically modified creatures this stands out more in the second book that in my opinion the arena becomes the most terrifying place in the whole saga.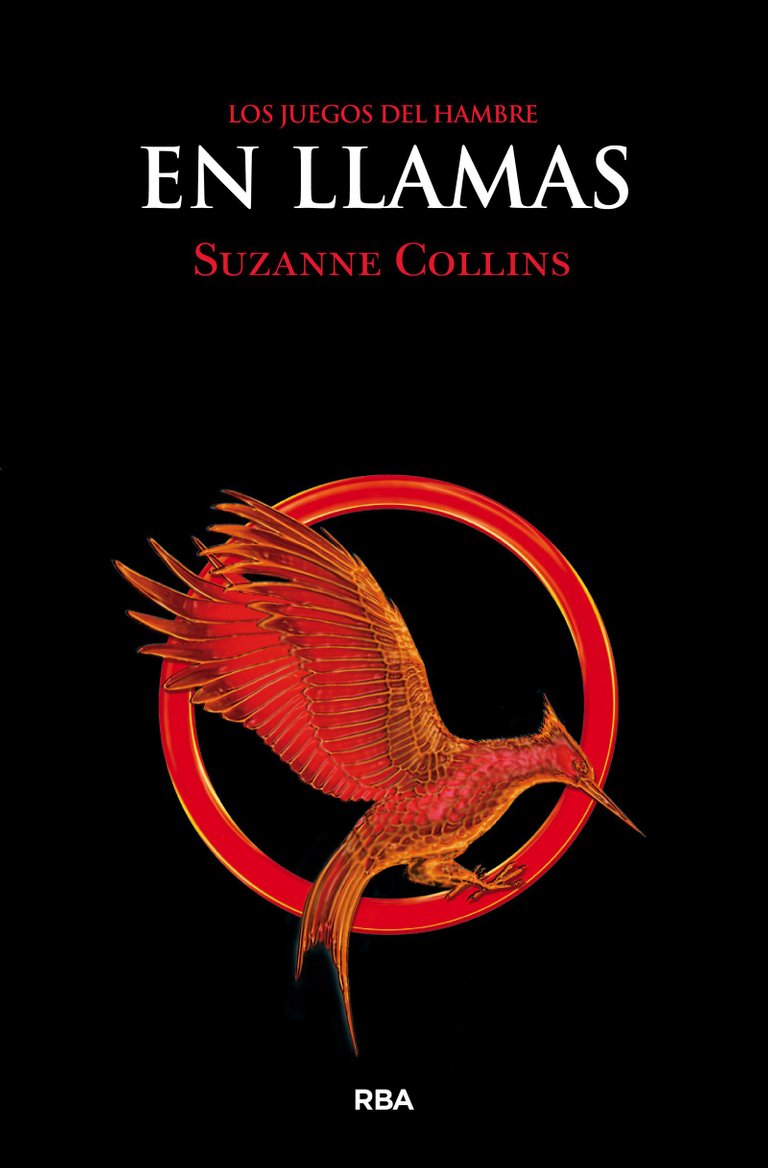 fuente
Por último y para mi mayor agrado la historia nos muestra una trama política donde katniss se vuelve la piedra angular de una revolución y que actos tan simples como la bondad y la rebeldía puede ir en contra del destino pautado por individuos que solo la ven como objetos para su entretenimiento, lleno de simbolismos desde el primer libro katniss nos demuestra que ella desea vivir e inspira a otros a luchar por ello, generando en los distritos un cambio en su mentalidad desembocando en una lucha que en el tercer libro tanto el lector como la misma protagonista podemos palpar desde diferentes ángulos tanto en la propaganda y el espectáculo, como en el mismo campo de batalla, generando en nosotros la pregunta si en algún momento dejamos por fin los juegos del hambre.
Finally and for my greatest pleasure the story shows us a political plot where katniss becomes the cornerstone of a revolution and that acts as simple as kindness and rebellion can go against the destiny set by individuals who only see her as objects for their entertainment, full of symbolism from the first book katniss shows us that she wants to live and inspires others to fight for it, In the third book, both the reader and the protagonist herself can feel the struggle from different angles, both in the propaganda and the spectacle, as well as on the battlefield itself, generating in us the question of whether at some point we will finally leave the Hunger Games.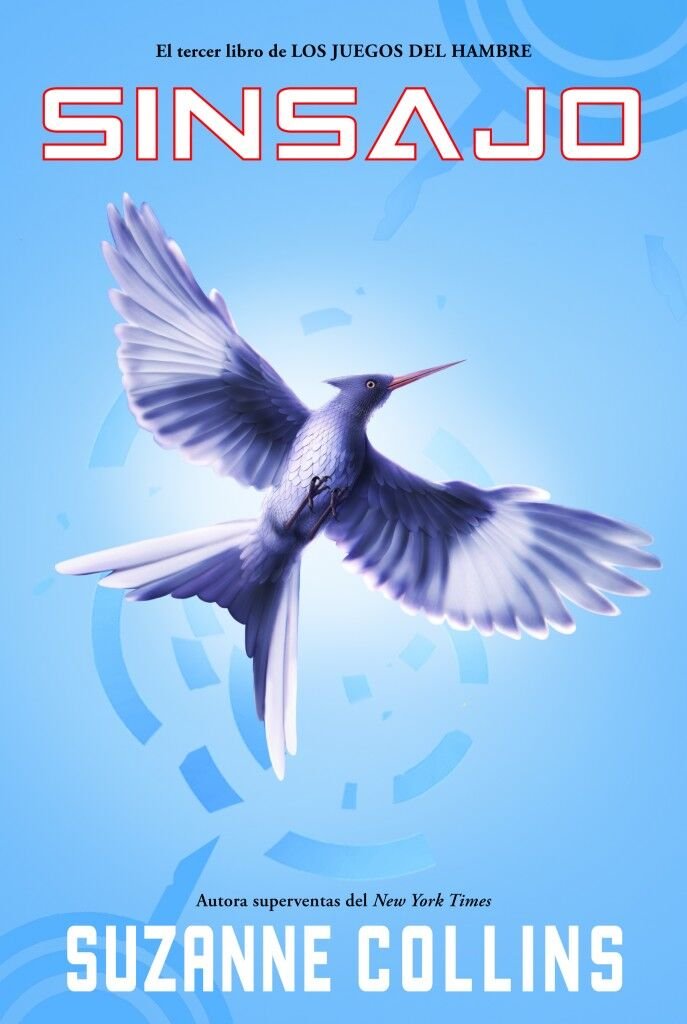 fuente
Muchas gracias por leer el post, mientras lo hacía me entere que existe un cuarto libro me preguntó si continúa las andanzas de katniss, o nos narra la historia de otro protagonista si lo saben me gustaría que dedicaran un post de eso y me etiquetaron en el.
Thank you very much for reading the post, while doing so I found out that there is a fourth book I wondered if it continues the adventures of katniss, or tells the story of another protagonist if you know I would like you to dedicate a post of that and tagged me in it.
Sin mas que decir hasta la próxima.
Nothing more to say until next time.
Translated with www.DeepL.com/Translator (free version)