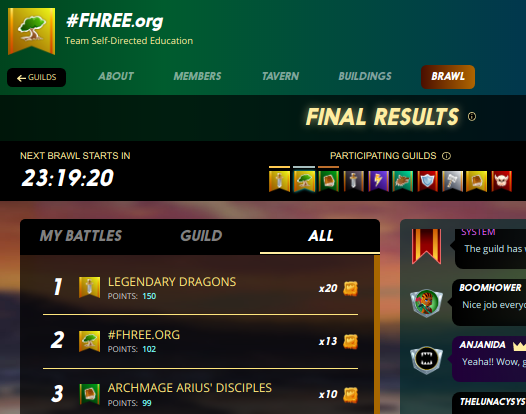 DEUTSCH
Für tot befürchtet und zurück gekehrt: 50 % Begünstigung dieses Beitrags gehen diesmal an @rentmoney für den Kauf weiterer Karten (oder ein Erfrischungsgetränk am Strand).
Diesmal starteten wir auf Platz 6, sortiert nach Gilden-Rang, und konnten bei 170 von 280 Kämpfen Platz drei feiern! Allerdings ohne viel Hoffnung, dort zu bleiben. Die Punkteverteilung lag dicht beieinander mit Platz 1 bis 10 mit 114/60/60/57/51/48/48/39/30/3 Punkten.
Bei 217 von 280 Kämpfen kamen wir dann jedoch sogar auf Platz 2. Und am Ende stellte sich heraus, dass dies so bleiben sollte.
Herzlichen Glückwunsch an alle Raufenden!
Unten gibt es nun noch wieder ein paar Statistiken, und während du vielleicht darin stöberst, werde ich noch etwas spielen.
Worum es sich bei Raufereien handelt, kannst Du lesen in Gilden-Raufereien werden stattfinden! [1]
Zur Verbesserung deines eigenen Decks empfehle ich die Lektüre meines Artikels Das eigene Deck langsam und stetig wachsen lassen - ohne Banknoten zu verwenden [2]
Und zur Verbesserung des Decks eines Mitspielers meinen Artikel Raufereien: Verstärken des Kartenstapels eines Teammitglieds [3]
Du spielst noch kein Splinterlands? Dann probiere es doch mal! Wir verleihen oder verschenken gerne auch mal ein paar nützliche Karten, statt sie "nur" zu verkaufen. Wenn du magst, verwende dazu meinen Link, um anzufangen. Dann bist Du auf ewig in meinem Team unterstützenswerter Spieler https://splinterlands.com?ref=anjanida
Hoffentlich auf bald!
PS: Wenn du mehr von uns lesen möchtest, wirf bitte einen Blick auf unsere Bilanz aus 2019: Rückblick, Gegenwart und Ausblicke [4]
---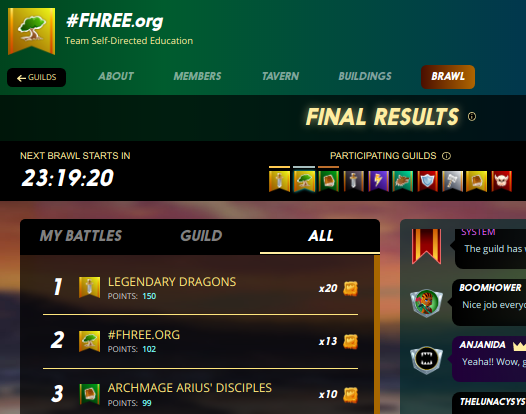 ENGLISH
Feared dead and returned: 50 % beneficiary rewards of this post will go to @rentmoney this time for improving some decks (or a softdrink at the beach).
This time we started in 6th place, sorted by guild rank, and were able to celebrate third place with 170 out of 280 fights! However, without much hope to stay there. The point distribution was close together with rank 1 to 10 with 114/60/57/51/48/39/30/3 points.
However, with 217 out of 280 fights, we then even came in 2nd place, and in the end it turned out to stay that way.
Congratulations to all brawlers!
Below are some stats again, and while you might be browsing through them, I'm going to play some more.
What brawls are about, you can read in Guild Brawls Are Coming! [1]
On improving your own deck I suggest reading my article Let your deck grow slowly and steadily - without using banknotes [2]
And to improve the deck of a fellow player my article Brawls: Boosting the Deck of a Team Member [3]
You don't play Splinterlands yet? Then give it a try! We gladly lend or give away some useful cards instead of "just" selling them. If you like, use my link to get started. Then you will be in my team of supportworthy players for eternity https://splinterlands.com?ref=anjanida.
We hope to see you soon!
PS: If you want to read more from us, please have a look at our summary from 2019: Recap, Present, and Prospects [4]
Prep Stage: Frays in Tier 1
| # | League | Cards + Limits | C | R | E | L | Player | Power |
| --- | --- | --- | --- | --- | --- | --- | --- | --- |
| 1 | Novice | all / no limit | 1 | 1 | 1 | 1 | @anjadani | 57,290 |
| 2 | Novice | all Untamed | 1 | 1 | 1 | 1 | @a3manolo | 10,640 |
| 3 | Novice | all / no limit | 1 | 1 | 1 | 1 | @m-mirage-e | 23,970 |
| 4 | Bronze | all Untamed | 3 | 2 | 2 | 1 | @jankulvalski | 6,070 |
| 5 | Bronze | all / no limit | 3 | 2 | 2 | 1 | @boomhower | 27,135 |
| 6 | Bronze | all Untamed | 3 | 2 | 2 | 1 | @nugglet | 37,045 |
| 7 | Silver | all / no limit | 5 | 4 | 3 | 2 | @anjanida | 130,780 |
| 8 | Silver | all Untamed | 5 | 4 | 3 | 2 | @kalki-ego-slayer | 340 |
| 9 | Novice | GF / no limit | 1 | 1 | 1 | 1 | @szalony | 63,090 |
| 10 | Novice | GF Untamed | 1 | 1 | 1 | 1 | - | - |
| 11 | Bronze | GF / no limit | 3 | 2 | 2 | 1 | @sm-rules | 171,285 |
| 12 | Bronze | GF Untamed | 3 | 2 | 2 | 1 | - | - |
| 13 | Silver | GF / no limit | 5 | 4 | 3 | 2 | @thelunacysystem | 80,400 |
Guild #FHREE.org internal results
| Points | Fray | Cards | Battles | Won | Lost | Draw | Player | Power |
| --- | --- | --- | --- | --- | --- | --- | --- | --- |
| 27 | Novice | all / no limit | 9/9 | 9W | 0L | 0D | @m-mirage-e | 23,970 |
| 18 | Novice | all / no limit | 7/7 | 6W | 1L | 0D | @anjadani | 57,290 |
| 15 | Novice | all Untamed | 8/8 | 5W | 3L | 0D | @a3manolo | 10,640 |
| 12 | Bronze | all Untamed | 6/6 | 4W | 2L | 0D | @nugglet | 37,045 |
| 12 | Silver | all / no limit | 8/8 | 4W | 4L | 0D | @anjanida | 130,780 |
| 9 | Bronze | all Untamed | 8/8 | 3W | 5L | 0D | @jankulvalski | 6,070 |
| 9 | Bronze | all / no limit | 9/9 | 3W | 6L | 0D | @boomhower | 27,135 |
| 0 | Novice | GF / no limit | 2/2 | 0W | 2L | 0D | @szalony | 63,090 |
| 0 | Bronze | GF / no limit | 3/3 | 0W | 3L | 0D | @sm-rules | 171,285 |
| 0 | Silver | GF / no limit | 3/3 | 0W | 3L | 0D | @thelunacysystem | 80,400 |
| 0 | Silver | all Untamed | 5/5 | 0W | 5L | 0D | @kalki-ego-slayer | 340 |
ALL Guilds that participated in our brawl
| Points | Name | Tag Line | Guild Rank | |
| --- | --- | --- | --- | --- |
| 150 | Legendary Dragons | - | #2 | Link |
| 102 | #FHREE.org | Team Self-Directed Education | #108 | Link |
| 99 | Archmage Arius' Disciples | Chosen to Dominate | #31 | Link |
| 93 | Gladiators | Only active members welcome | #34 | Link |
| 87 | Saw Supremacy | [SAW] - play like a visionary | #29 | Link |
| 72 | Рогатые Трупоеды (Horned Carcass Eaters) | - | #136 | Link |
| 66 | Magdiwang Guard Elites | Charge of the Katipunan Brigade | #182 | Link |
| 66 | The Mosh Pit | Max level guild with a membership fee. | #26 | Link |
| 63 | The Guild of Kingshaven | Have fun getting rich | #159 | Link |
| 36 | EARN II | EARN II | #215 | Link |
---
Footnotes
---
Fußnoten