This is my entry and post for the new Reflection Hunters Contest by @annephilbrick in conjunction with the Shadow Hunters Community. You can read more about the contest and how to enter HERE!
This first photo is my entry for the contest!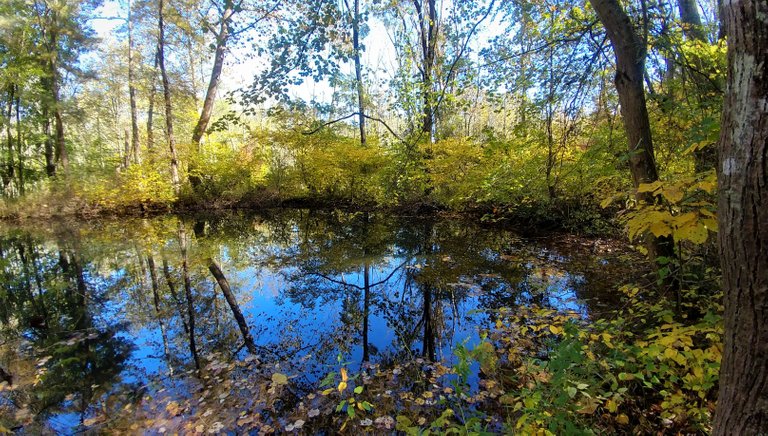 I took these photos while at the Little Gunpowder Falls State Park in Baltimore County, Maryland. It is part of a trail that I hadn't been on before so these are some of the first photos that I've shown from that visit. This is also part of the Little Gunpowder Trail from Harford Road to Belair Road and the approximate address is 13001 Harford Road.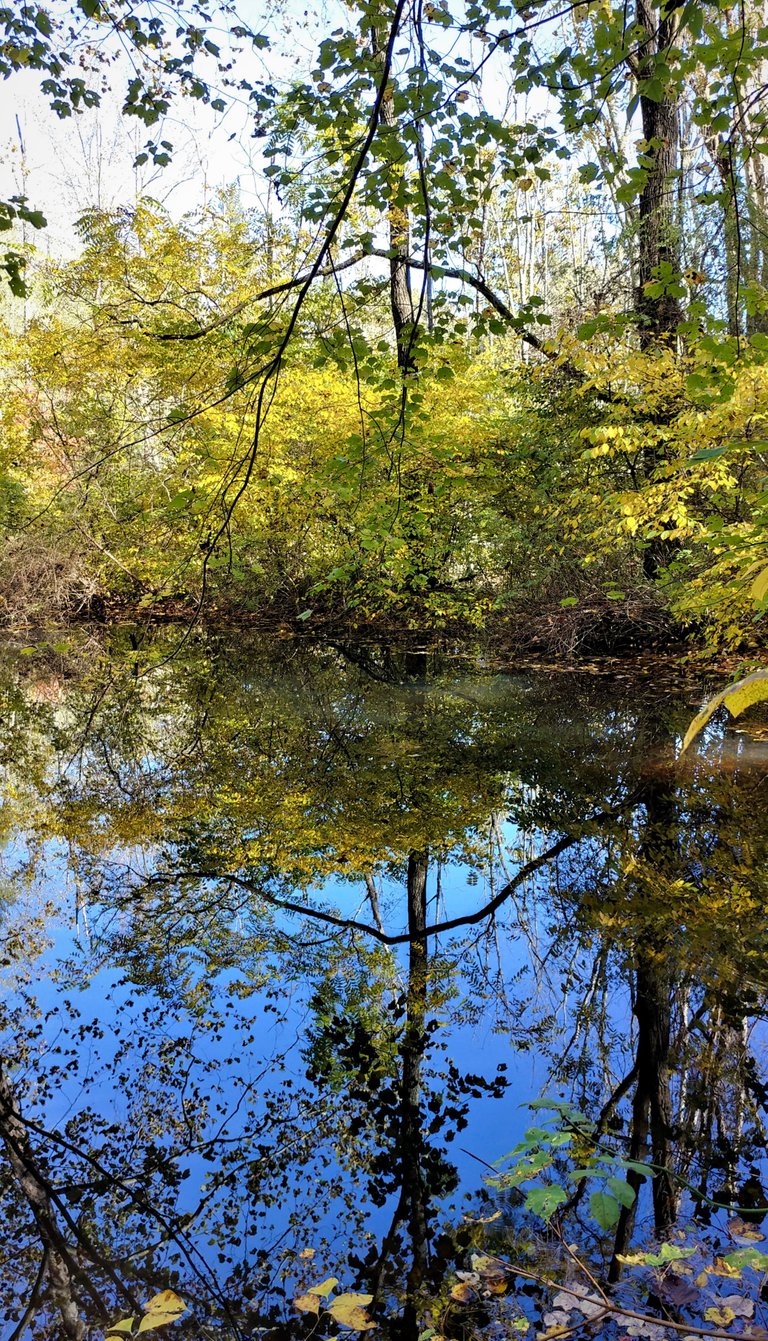 It was such a nice surprise to find this pond! The pond was hidden from the trail due to all of the foliage until you were right up next to it. It was quite large and very full. I took these photos mid October and it was a beautiful sunny day with blue skies and a few white clouds. Perfect for casting some lovely reflections on the water!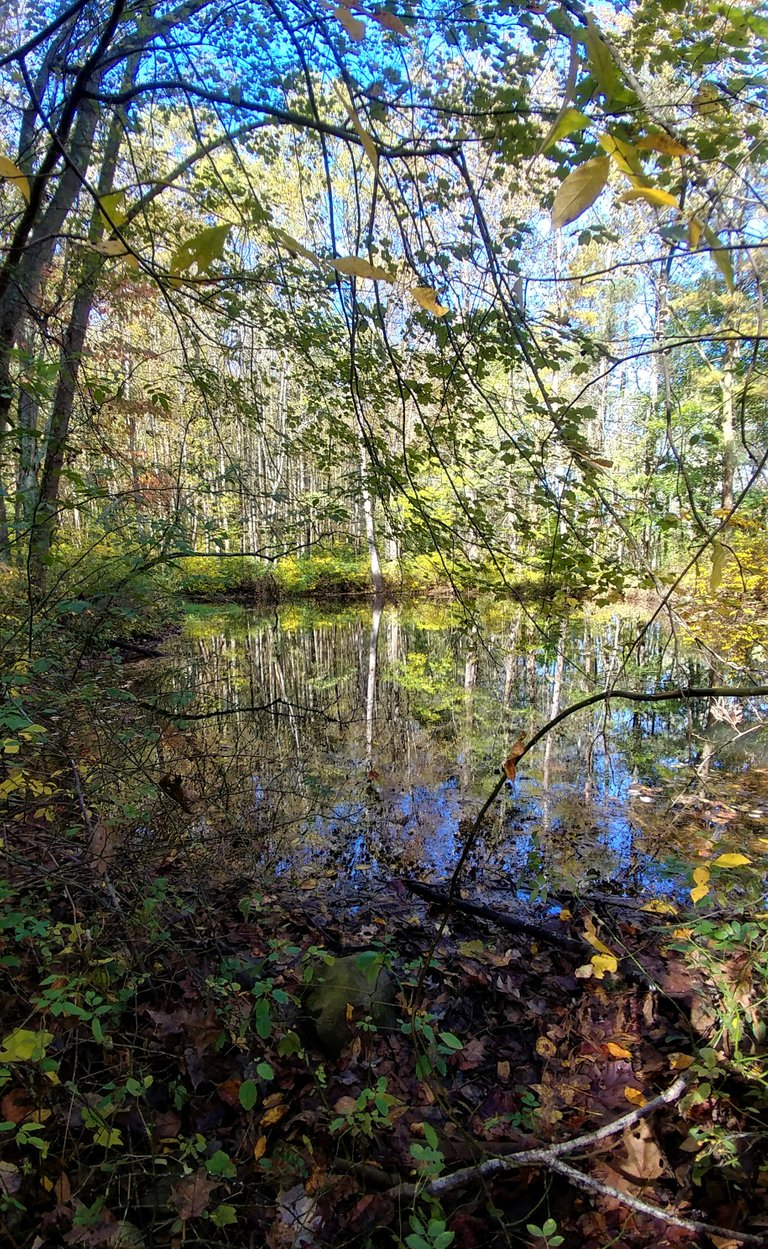 The pond, or parts of it, was surrounded by brush and tangles which made some of my photos "busy" looking. At times, it was hard to tell what was reflection and what was not but I thought it all looked magical. I think if I were a dragonfly then I would rather like hanging out around this particular pond!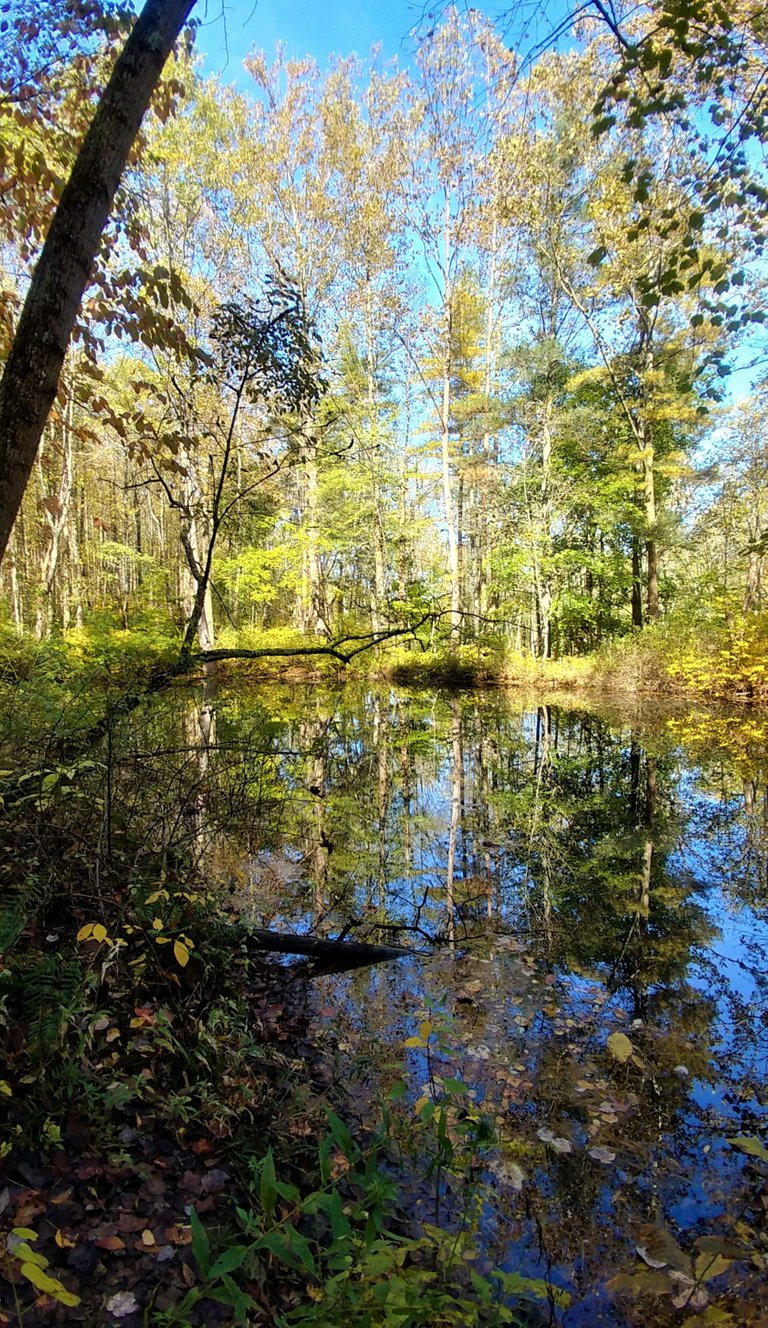 Actually, this contest really came at a great time too because I took a lot of photos and was feeling a bit overwhelmed with putting together a post. In addition, I made a return visit in the hopes of doing one of my "then and now" posts but it was a little more difficult than I thought it would be.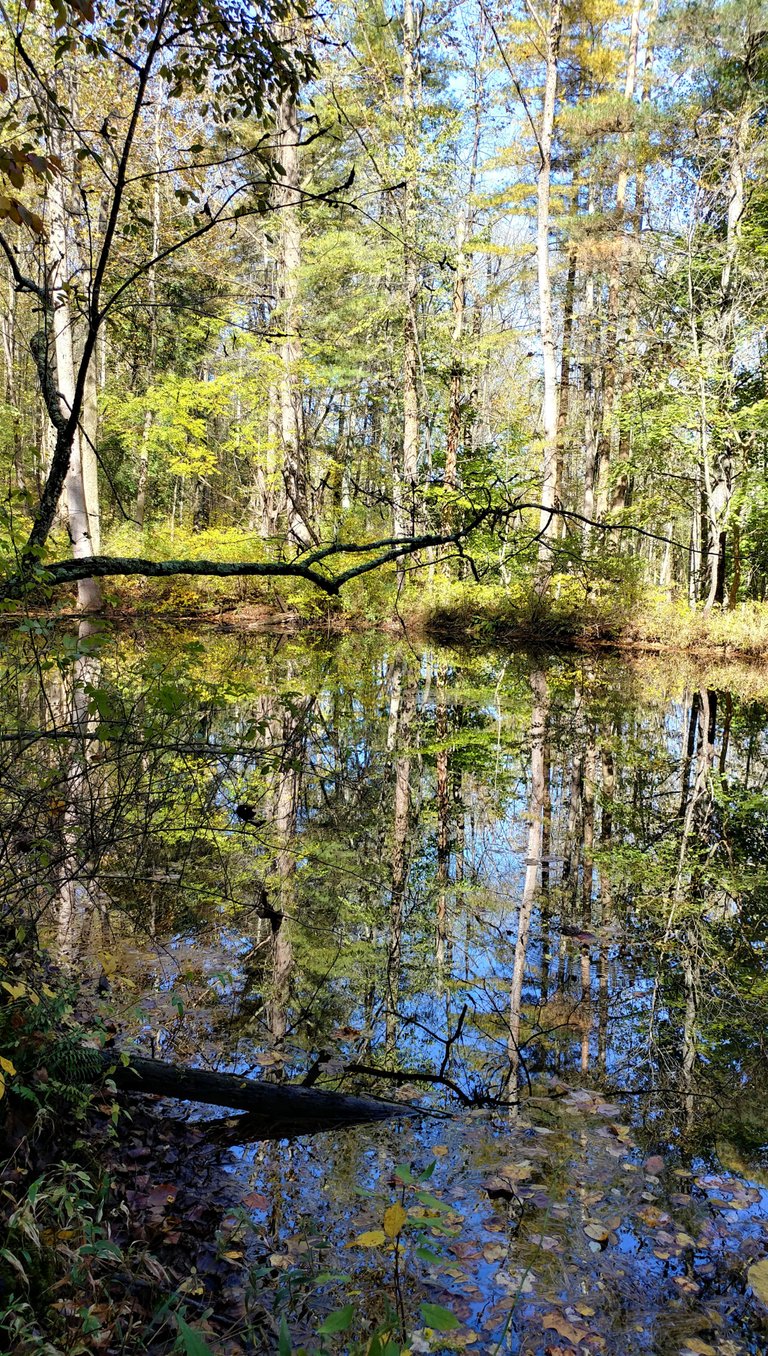 I'm still planning on doing that one but I think it would be better to break it down some and do the "Found Pond" mostly separate. So, I will show these pond photos for then and for Round 2 I'll show some pond photos from my second visit. Yes! I got a few reflections in those photos also! I wanted to show that one can return to a spot at a different times and still get photos that are different. They are definitely different too since it was three months between visits but every visit can show something different regardless of time. Eventually, I'll do other posts and show photos of other parts of the trail as well.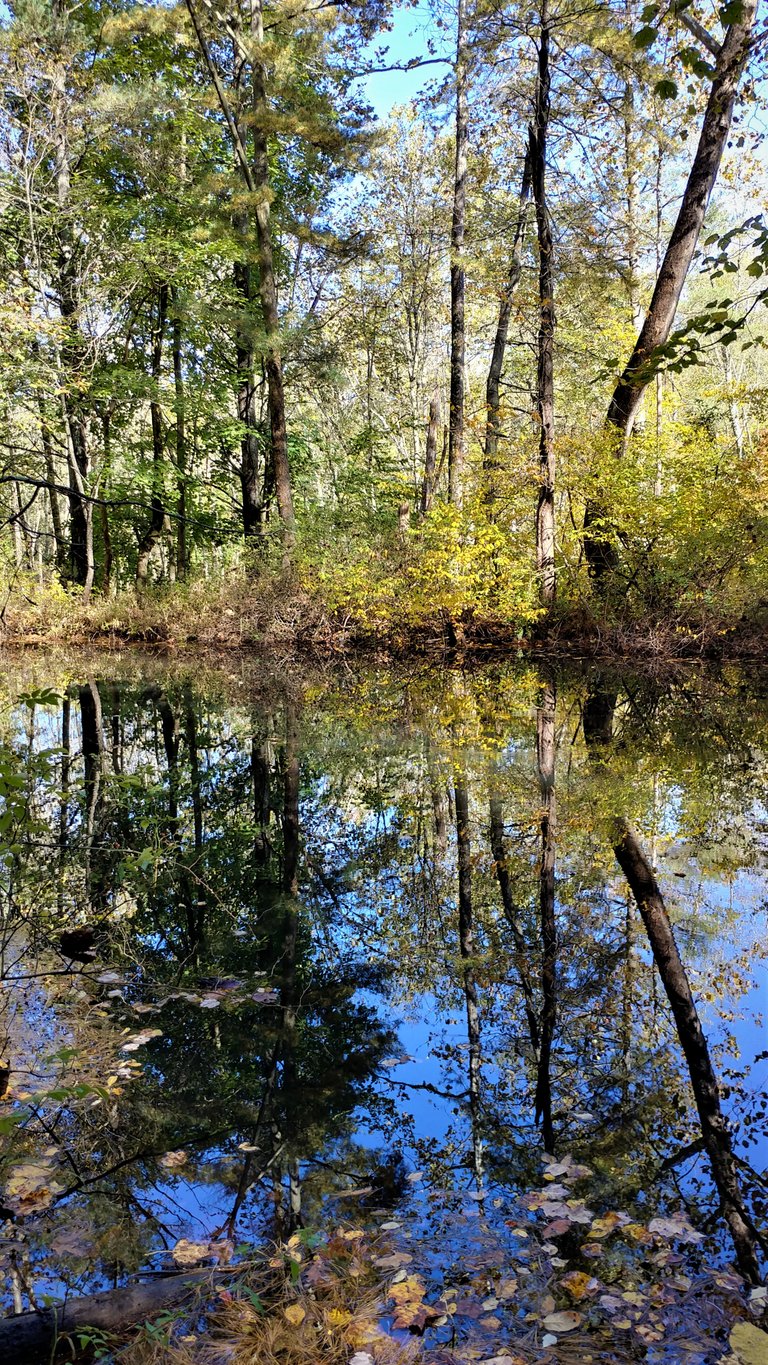 Hope you enjoyed my photos and be sure to come back and check out my second visit as well! 😊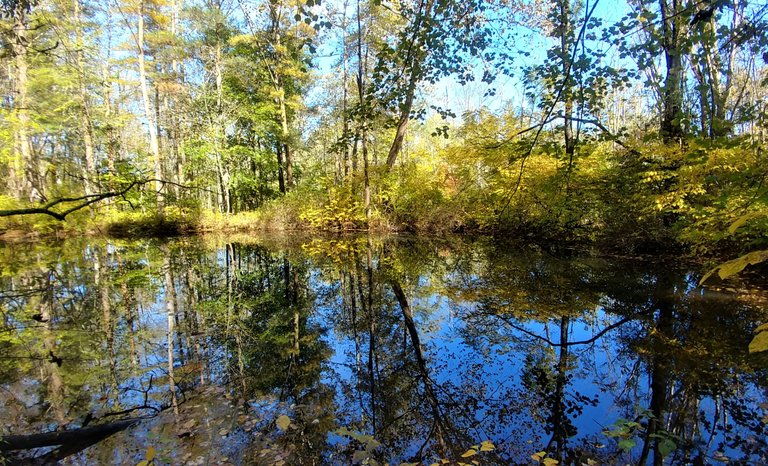 Thank you @annephilbrick for the Reflection Hunters Contest!!
Thank you also to @melinda010100, sponsors and everyone with Shadow Hunters!!
All photos and text by me @deerjay. All rights reserved.