An oasis in Venezuela / THE JUNGLE SLIDE - Part 2 | Un oasis en Venezuela / EL TOBOGÁN DE LA SELVA - Parte 2
Hi friends.
I bring you the 2nd. Part of my vacation in the Natural Park, El Tobogán de la Selva, in the Amazon of Venezuela. As I mentioned in the first part, I had the pleasure of knowing and enjoying the perfect natural design of this park in the south of my country, thanks to a gift trip from my grandmother.
As the photographic material is extensive, I came up with the idea of ​​presenting in two publications, what is contemplated in the place. Well, today I complete the last part for everyone in the hive to enjoy.
Here the publication of Part 1
At once let's go to the images where I will show you other elements created by the hand of man in this park that is a very popular natural refuge and tourism in the place goes hand in hand in the first part of the natural wealth but also the architecture. Of this, the local building stands out so as not to interrupt so abruptly the balance of the landscape and jungle environment, which is like a spectacular paradise.
However, what can be done is done, because man is man, and although he is very careful, not everyone has the same line of thought and many times the ecosystem is damaged.
Well friends, I'll start by showing you the busiest spot in the park. This is where most of the visitors are concentrated because there is the final part of the natural water slide, which is the main attraction of the place.
---
Hola amigos.
Les traigo la 2da. Parte de mis vacaciones en el Parque natural, El Tobogán de la Selva, en el Amazonas de Venezuela. Como les comenté en la primera parte tuve el placer de conocer y disfrutar del perfecto diseño natural de este parque al sur de mi país, gracias a un viaje de regalo de mi abuela.
Como el material fotográfico es amplio, se me ocurrió la idea de presentar en dos publicaciones, lo contemplado en el lugar. Y bien, hoy cumplo con la última parte para que la disfruten todos en la colmena.
Aquí la publicación de la Parte 1
De una vez vayamos a las imágenes donde les mostraré otros elementos creados por la mano del hombre en este parque que es un refugio natural muy concurrido y el turismo en el lugar va de la mano en primera parte de las riquezas naturales pero también interviene la arquitectura. De esta, se destaca la edificación local para no irrumpir tan bruscamente el equilibrio del paisaje y ambiente selvático, el cual es como un paraíso espectacular.
Sin embargo se hace lo que se puede, pues el hombre es el hombre, y aunque sea muy cuidadoso no todos tienen la misma línea de pensamiento y muchas veces se termina dañando el ecosistema.
Bien amigos, les empiezo mostrando el punto de mayor concurrencia del parque. Aquí se concentra la mayor cantidad de los visitantes porque se encuentra la parte final del tobogán de agua natural, que es la principal atracción del lugar.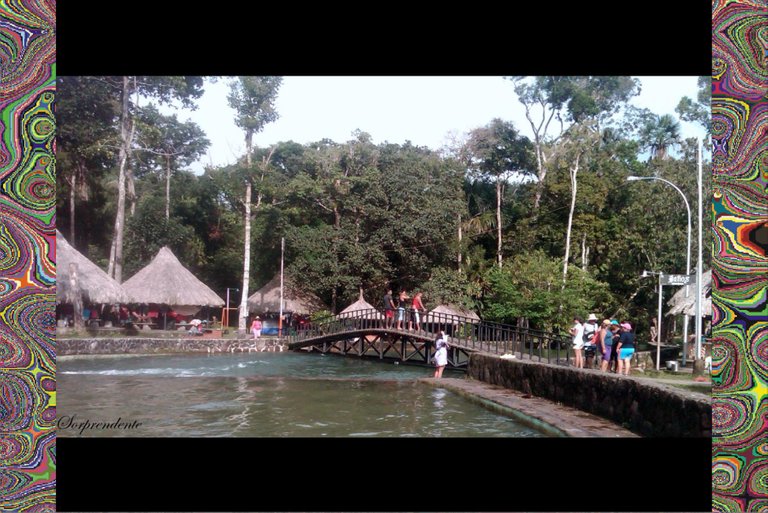 ---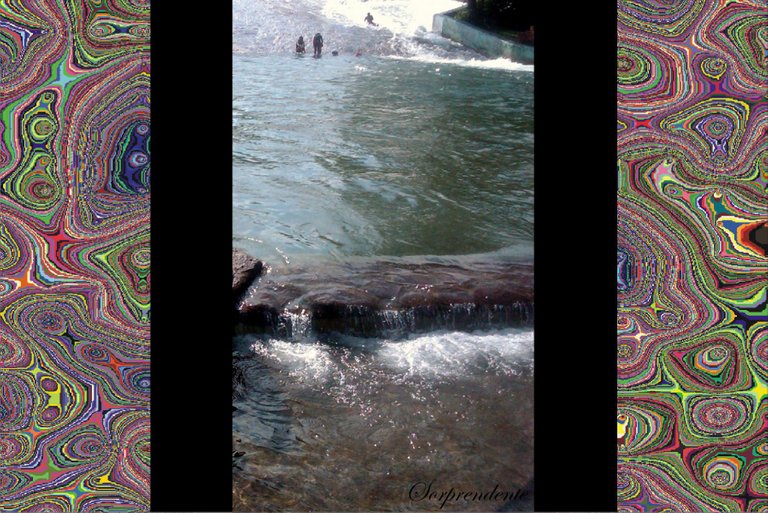 Defined spas
The cold water wells surround the entire park but in the central part of the oasis, we can see how there are spas delimited and decorated with stone walls. We will see these with more tourists as they have more huts to camp around. There will be no shortage of people who use their soap and shampoo to wash their hair, and even some pieces of clothing, because the place really offers facilities with those walls that serve as shelves, but you have to be careful and use ecological products.
---
Balnearios definidos
Los pozos de agua fría rodean todo el parque pero en el casco central del oasis, podemos ver como existen los balnearios delimitados y decorados con muros de piedras. Estos los veremos con más cantidad de turistas pues tienen alrededor más bohíos para acampar. No faltará quien use su jabón y champú para lavarse el cabello, y hasta algunas piezas de ropa, pues realmente el lugar ofrece las facilidades con esas murallas que sirven de repisas, pero hay que ser cuidadoso y usar productos ecológicos.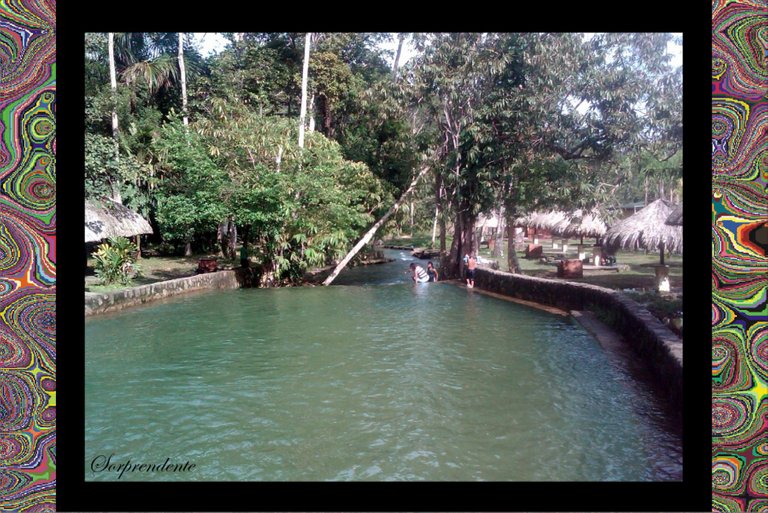 ---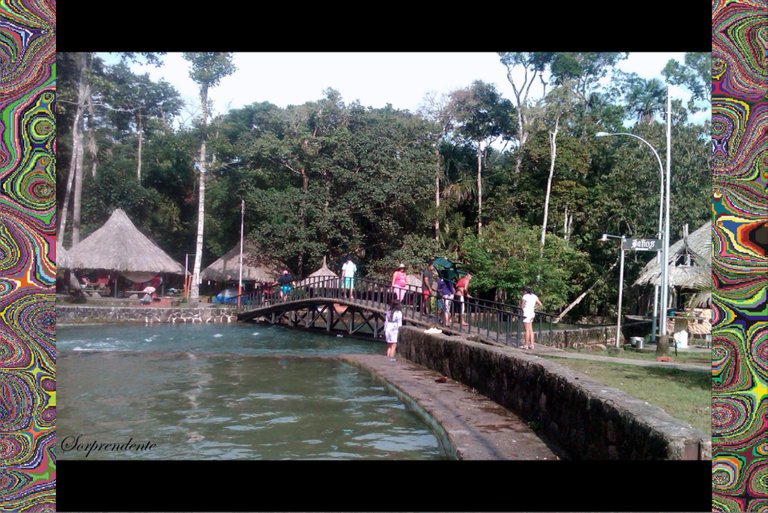 Bridges
There is an iron bridge with a concrete ramp, whose structure is of great strength to guarantee resistance to continuous use for many years.
---
Puentes
Existe un puente de hierro y con rampa de concreto, cuya estructura es de gran fortaleza para garantizar resistencia al uso continuo por muchos años.

---

It has an attractive shape on the river so, in addition to being a means of communication, it decorates the place.
---
Tiene una forma atractiva sobre el río por lo que, además de medio de comunicación, decora el lugar.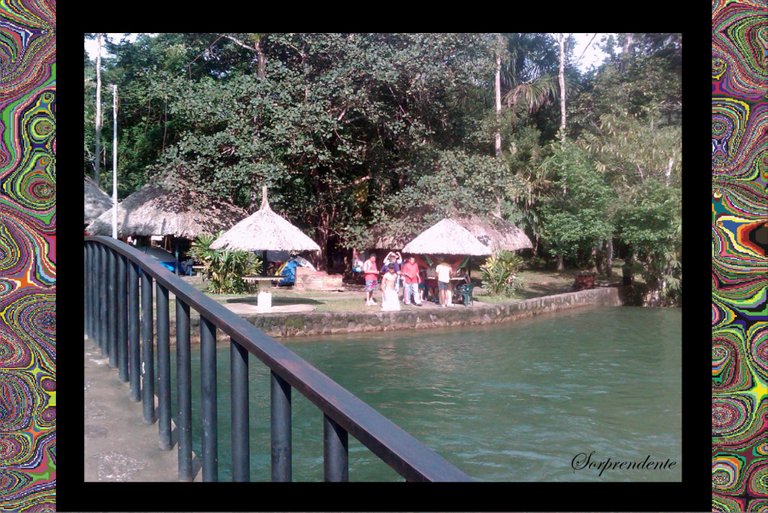 ---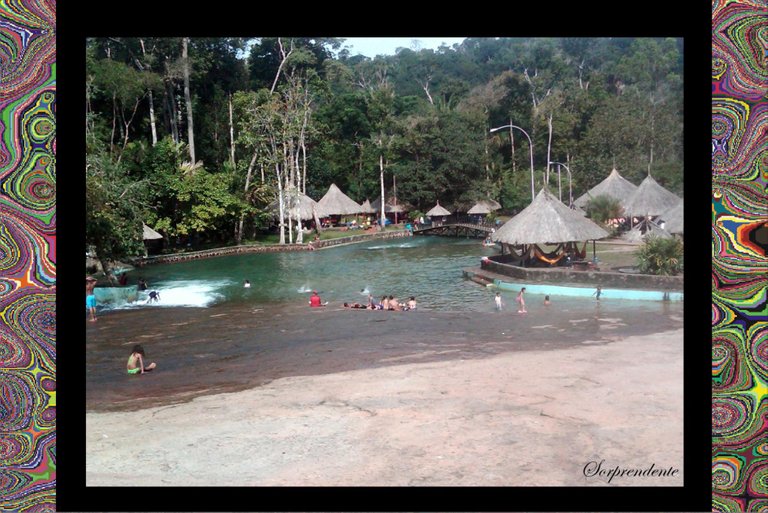 But there are also natural bridges over the water, which I particularly enjoyed a lot, for the excitement and adventure on them. Which took me to other attractive places in the park, with much more vegetation and natural beauty.
---
Pero también se encuentran puentes naturales sobre el agua, que en lo particular disfruté mucho, por la emoción y aventura sobre ellos. Los cuales me llevaron a otros sitios atractivos del parque, con mucha más vegetación y belleza natural.

---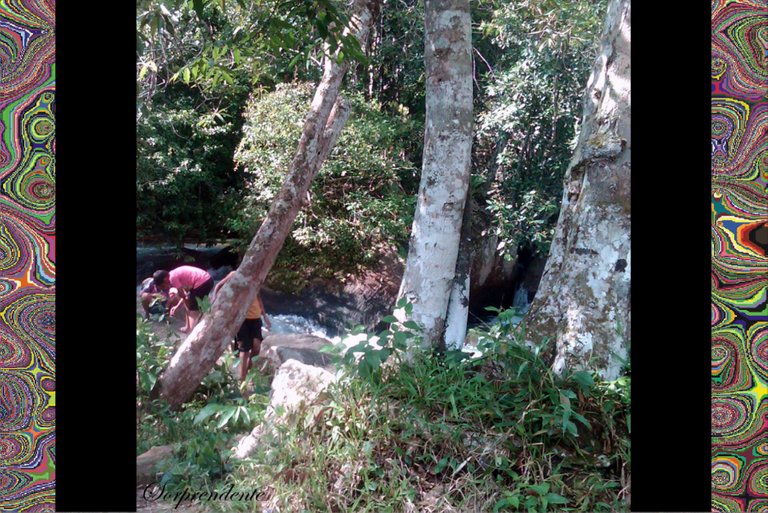 ---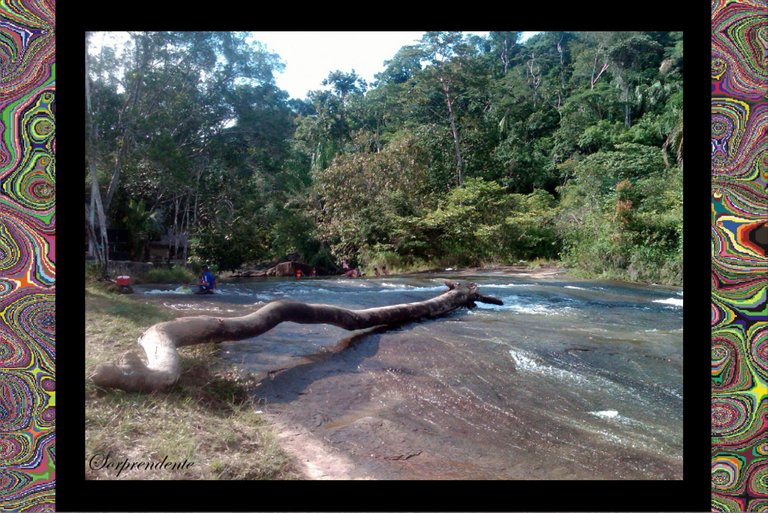 ---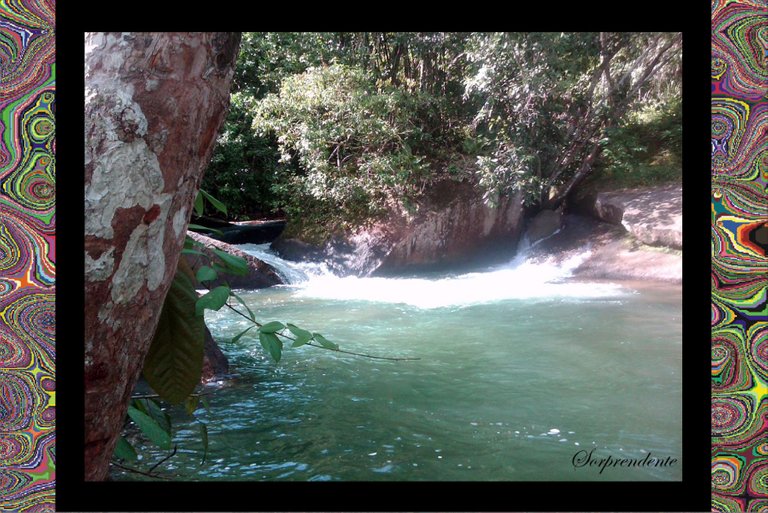 ---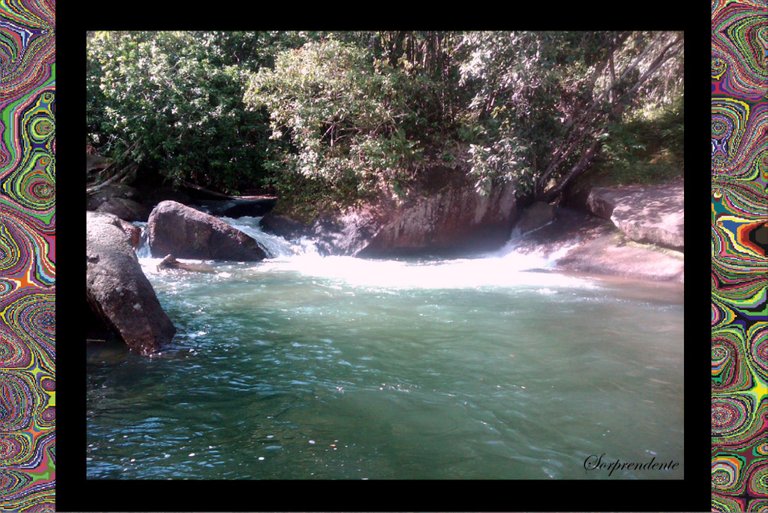 ---
The call of the water was irresistible and the sandals were suddenly left over :)
Era irresistible el llamado del agua y las sandalias de repente sobraron :)

---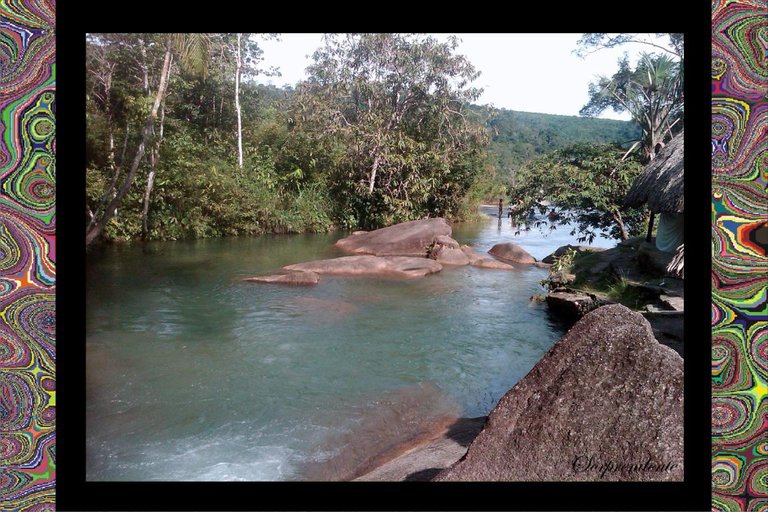 ---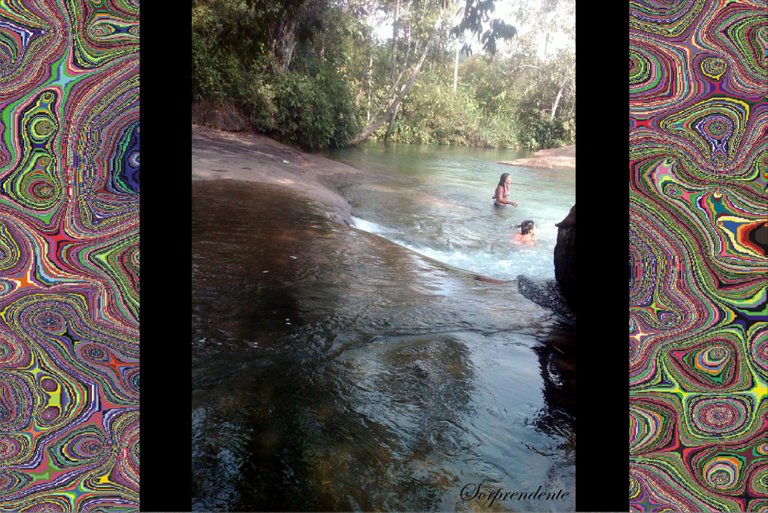 More nature, concrete, electricity and huts
The more I get into the park, I enjoy nature in a paradisiacal place, although it is inevitable to see the mix between the natural and the artificial. Everywhere we will come across the unforgettable caneyes, with their exuberant palm roofs, as well as the electricity poles on the concrete walkways. Well, all these elements introduced into the ecosystem are part of the park and necessary to offer certain comfort to tourists.
---
Más naturaleza, concreto, electricidad y bohíos
Mientras más me interno en el parque disfruto la naturaleza en un lugar paradisíaco, aunque es inevitable ver la mezcla entre lo natural y lo artificial. Por doquier nos toparemos con los inolvidables caneyes, con sus exuberantes techos de palma, así como los postes de electricidad en las caminerías de concreto. Pues todos estos elementos introducidos en el ecosistema son parte del parque y necesarios para ofrecer cierto confort a los turistas.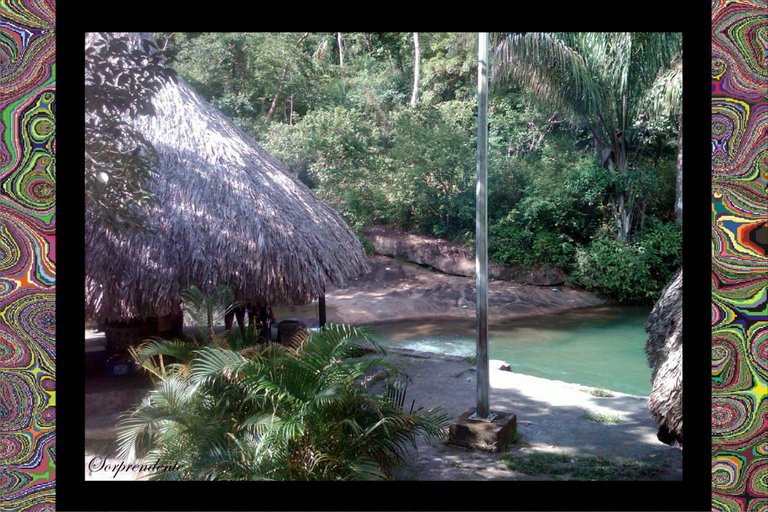 ---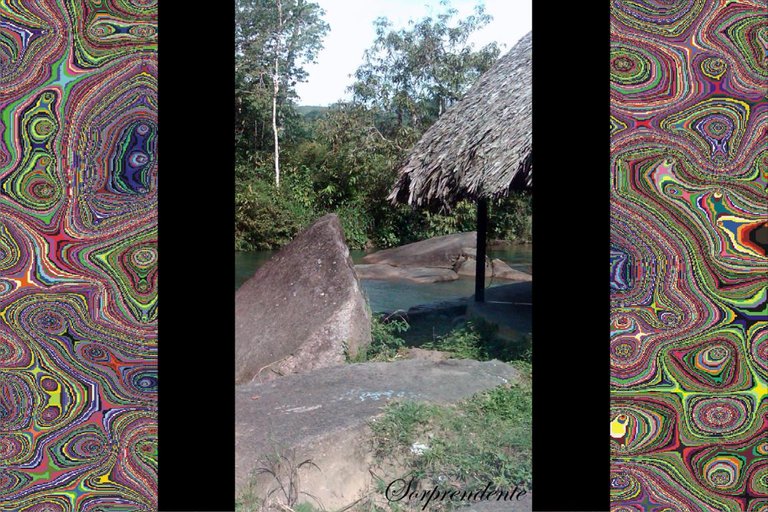 ✔️Check the post of Part 1
✔️Check out this publication that exalts indigenous techniques for construction:
PALMA CEILINGS / Something else to admire | CEILINGS OF PALMA / Something else to admire
---
✔️Revisa la publicación de la Parte 1
✔️Revisa esta publicación que exalta las técnicas indígenas para la construcción:
PALMA CEILINGS / Something else to admire | TECHOS DE PALMA / Algo más admirar
🌏
After this second and last tour that I offer you through the wonderful environment and natural landscape of Tobogán de la Selva, I am once again delighted with my memories. On this walk I was able to admire everything planned under the inspiration of indigenous architecture in order not to alter (or make an attempt) the environment.
---
Luego de este segundo y último recorrido que les ofrezco por el maravilloso ambiente y paisaje natural del Tobogán de la Selva, me vuelvo a deleitar con mis recuerdos. En este paseo pude admirar todo lo planificado bajo la inspiración de la arquitectura indígena con el fin de no alterar (o hacer el intento) el medio ambiente.
I wish you enjoyed this oasis in Venezuela.
Deseo hayan disfrutado de este oasis en Venezuela.

---
---
Gracias por la visita
Thanks for the visit
Bienvenidos a mi blog
Welcome to my blog
---
---
Contenido original / Autor @sorprendente
Fotos e imágenes de mi propiedad.
Si desea usar alguna como referencia
destaque mi nombre como fuente: @sorprendente
Original content / Author @sorprendente
Photos and images of my property.
If you want to use one as a reference,
please highlight my name as a source: @sorprendente
---
---
Nos seguimos viendo y leyendo.
We keep watching and reading.

---
---