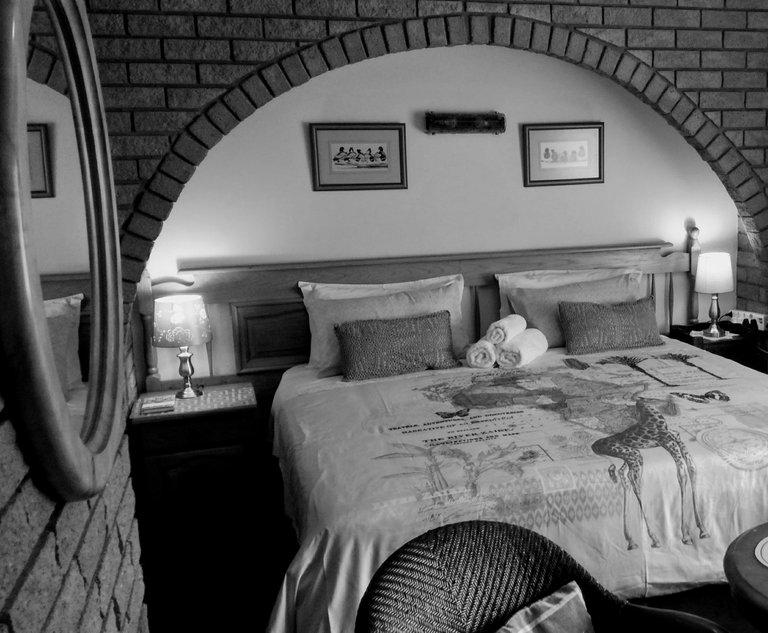 What a blessing Airbnb was when I reached my sell-by date, according to the corporate world that is;)
The fledglings had flown the nest and we suddenly found ourselves with tons of empty living space.
Hubby being a civil engineer has a natural knack of designing excellent living spaces; I do believe he missed his calling and should rather have become an architect as he has great insight and is a future thinker.
Our original home was L-shaped but he designed a new wing and turned the house into a U-shape, with the new spacious main bedroom with en-suite bathroom opening up onto a patio.
An attractive face brick archway alcove feature was added for the bed to fit in.
This room was now far removed from the rest of the house with the teens having more freedom to hold LAN parties and listen to their kind of music.
As we live on an elevated property, a games room was added below the main bedroom on the bottom level and that at times also became an extended venue for the LAN parties.
A couple of months before retirement from the corporate world, we had converted our garden cottage into an Airbnb, which turned out to be busier than we ever dreamed possible.
I will tell you about the brilliant design and birth of Lily's Cottage one of these days!
SO it happened that a young couple came to stay; they were in the process of emigrating but their Mom had complications after undergoing delicate surgery.
To cut a long story short, they needed to extend their stay but we had another booking.
We had lost out on long term business bookings before that event as we only had the one unit, so took a hard look at our needs.
We had a four bedroom home but with only three of us living here, two bedrooms stood empty.
The easiest and most natural conversion would be to turn our new main bedroom wing into an Airbnb studio unit as it had its own private entrance.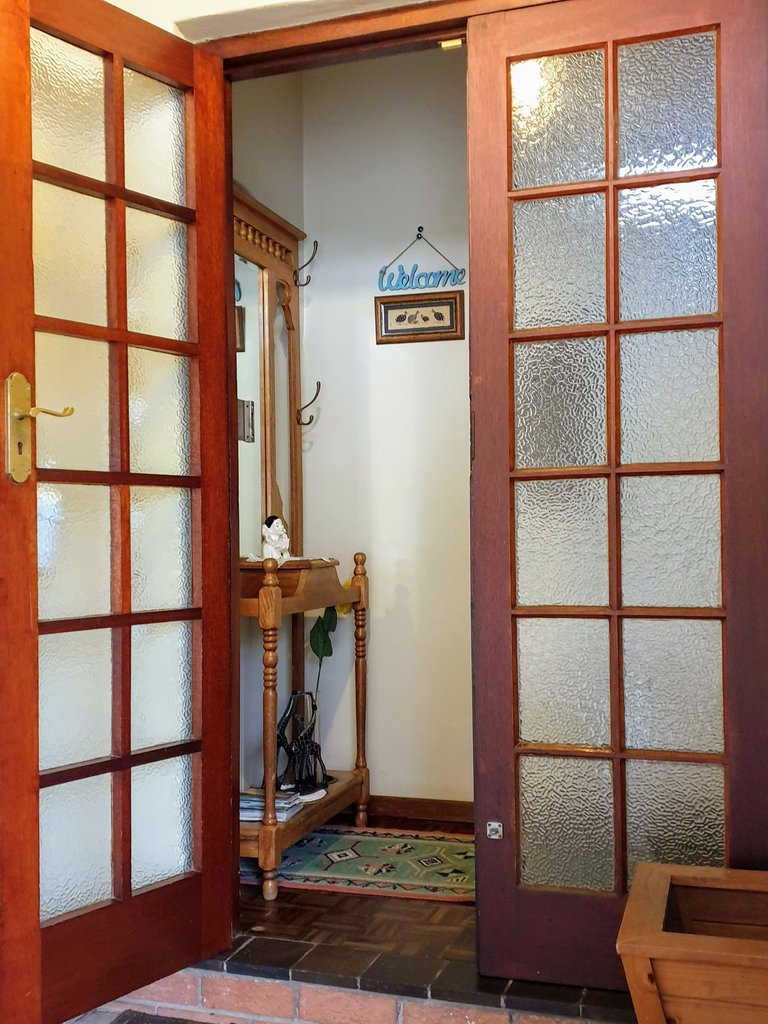 We didn't want to seal it off from the rest of the house permanently as it may not be good for when we sell one day.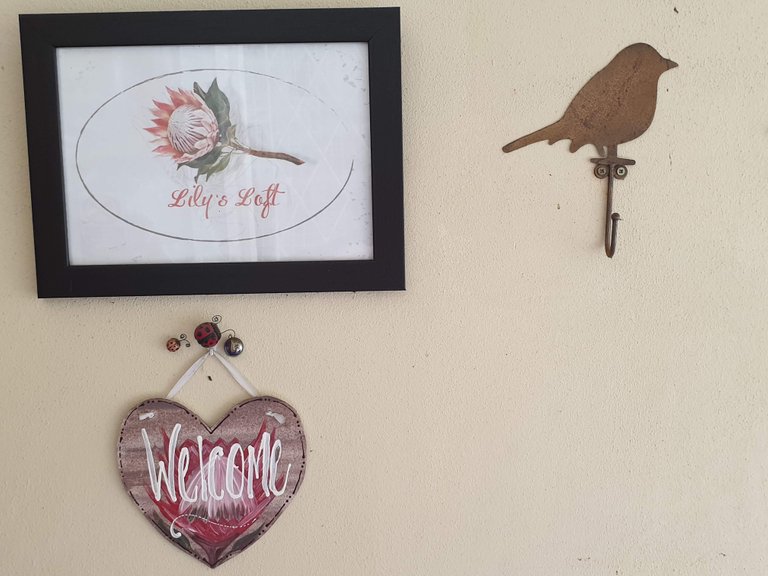 All we had to do was to install a heavy duty door in the passage thus cutting this unit off from the rest of the house, and so Lily's Loft studio unit was born, and Marc and Kerry could stay on.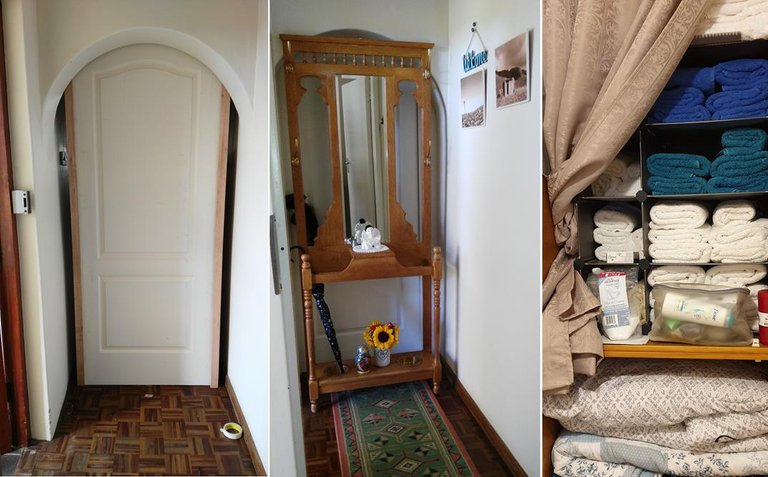 A wooden door frame had to be installed and edges sealed off at the brick archway in the passage.
I managed to pick up a hall stand for next to nothing so that hides the doorway.
We installed a movable linen cupboard on the other side which is in our living space for some of the day-to-day bnb linen and also doubles up as a sound barrier.
We are super mindful of privacy and tranquility for both our guests and ourselves.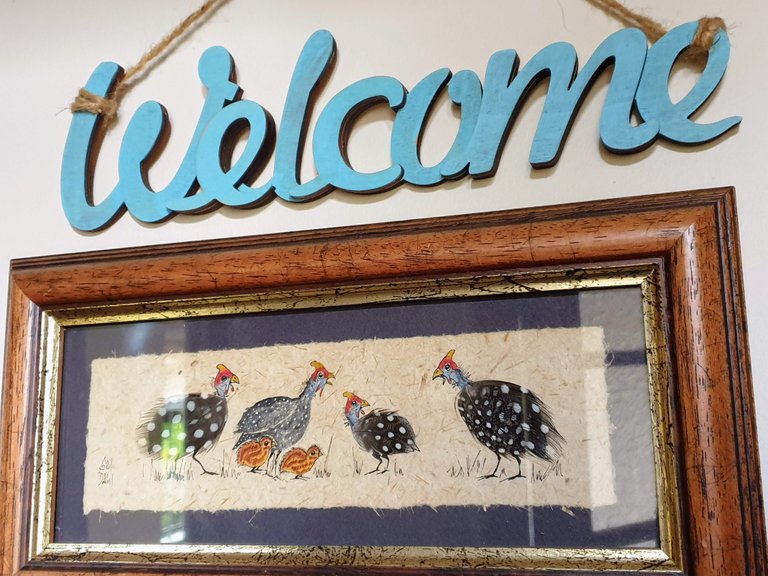 Our young couple had fallen in love with the cottage and were reluctant to look for accommodation elsewhere, so they were only too happy to move to and from the new studio unit and the cottage a couple of times till their Mom recovered, before it was time for them to say their farewells to South Africa.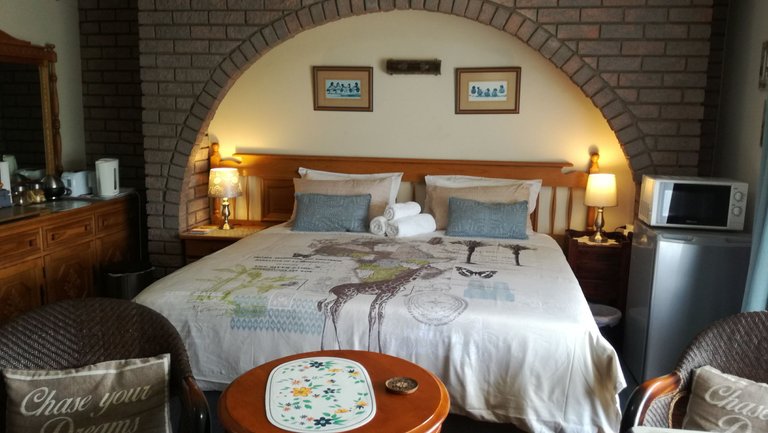 At that stage the dressing table acted as a kitchen dresser, but we later added a quaint little kitchenette with just the basics needed for short stays.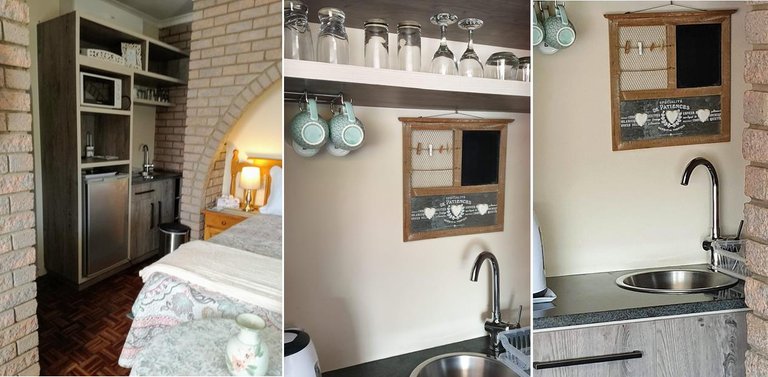 There's a small table and chairs for a laptop or dining, a satellite television plus a seating area outside on the covered patio for smoking, braaing (BBQ) and relaxing.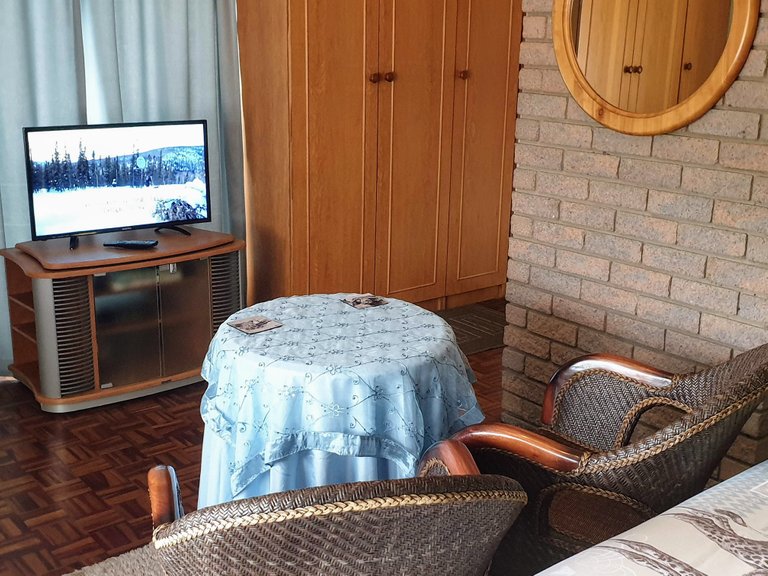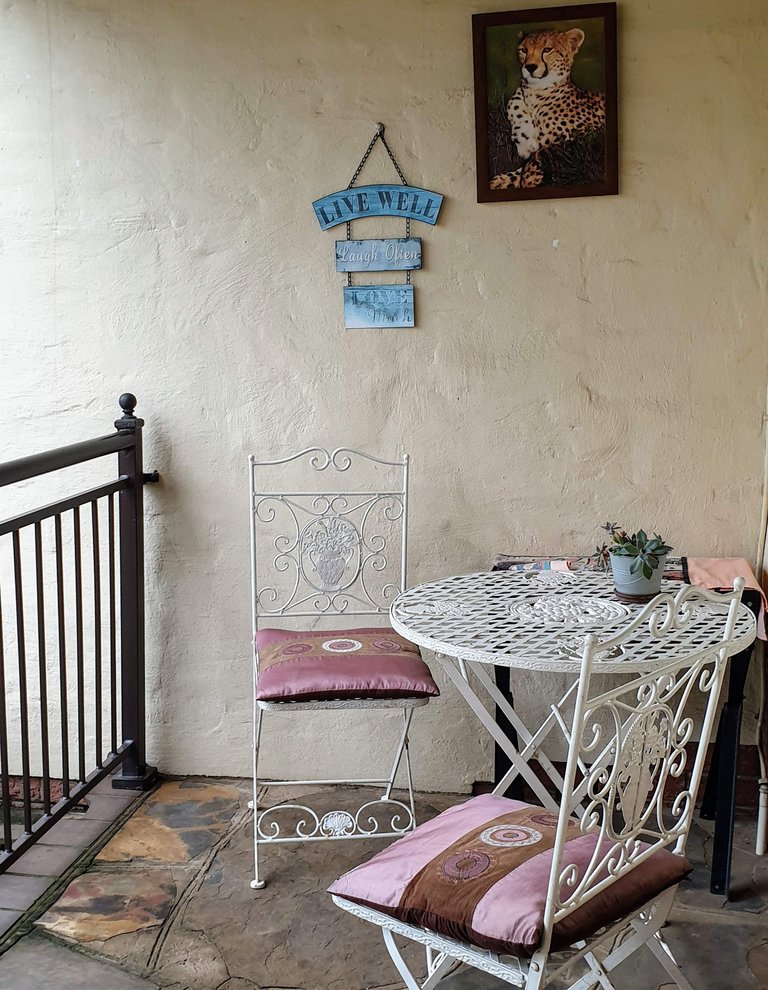 P.S. Another surprise awaited our couple; the booking site they booked through have a Free Accommodation Program, to which we belong, and they won their initial booking value in full, so were reimbursed by the site. We do pay a little extra commission for that, but it boosts our visibility, so it's a win-win all around!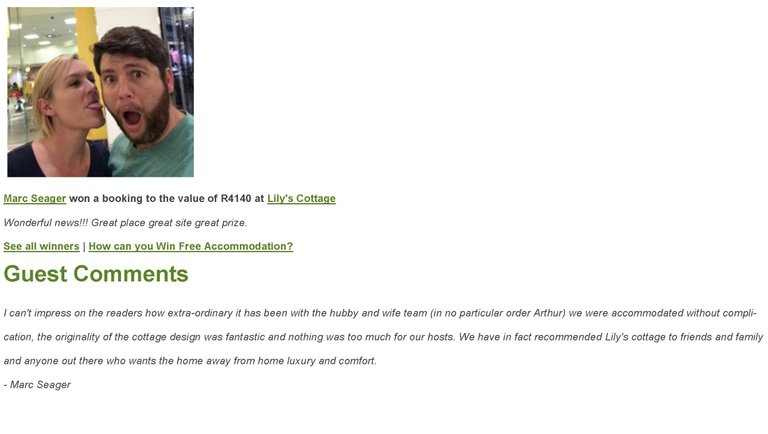 Today the studio unit is much in demand especially with single business guests during the week, and couples needing a leisurely breakaway.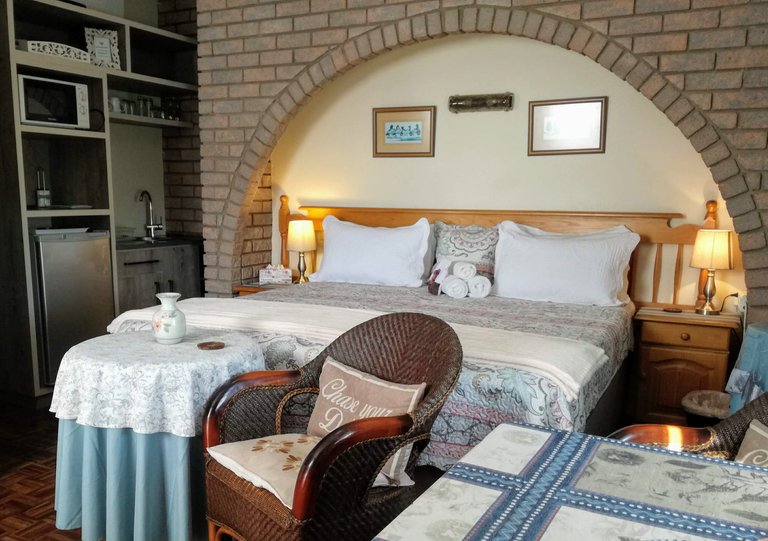 The best advice I can give anyone considering setting up a bnb as far as sleeping arrangement is concerned, is to buy two single beds plus a king size mattress topper which gives you the option of accommodating two single guests, or a couple.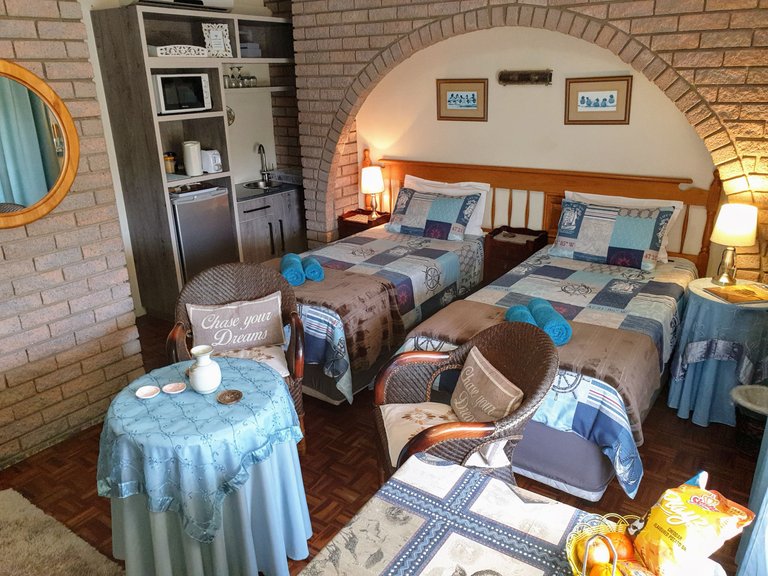 View of the pool from the studio unit, very inviting especially during the hot summer months, a must-have in Durban, as is an aircon unit, as our guests comfort is our top priority.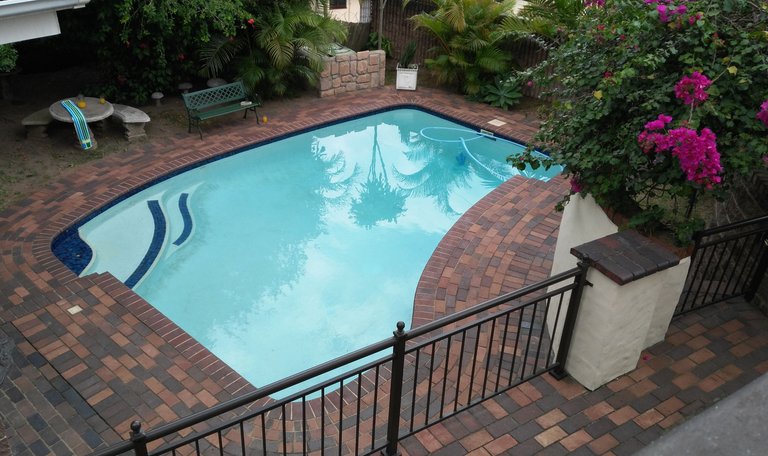 We were sad to see our young couple go, but happy that we were able to help out with their accommodation needs during a difficult time for them plus this extra unit surprisingly added greatly to our income.
We have since registered with the local authority and necessary tourism bodies, and are on many other accommodation booking sites so now we run this as a full time business which all started with using non-functioning space in our home.
--- Banner created by @zord189



Original Content by @lizelle
Thank you for stopping by
Copyright @lizelle – All Rights Reserved


Do you know this Badge?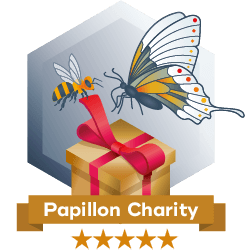 It says "Thank you for partnering with the Papillon Foundation by participating in the
Weekly Hive Charity Giveaway."
Do you want this Badge?
If you like this badge and if you want to help too, you can learn more about @combination and the badge in their blog post:
Some Exciting News! Badge release!


Why not join Hive RIGHT HERE and become part of this amazing community!


Banner created by @derangedvisions