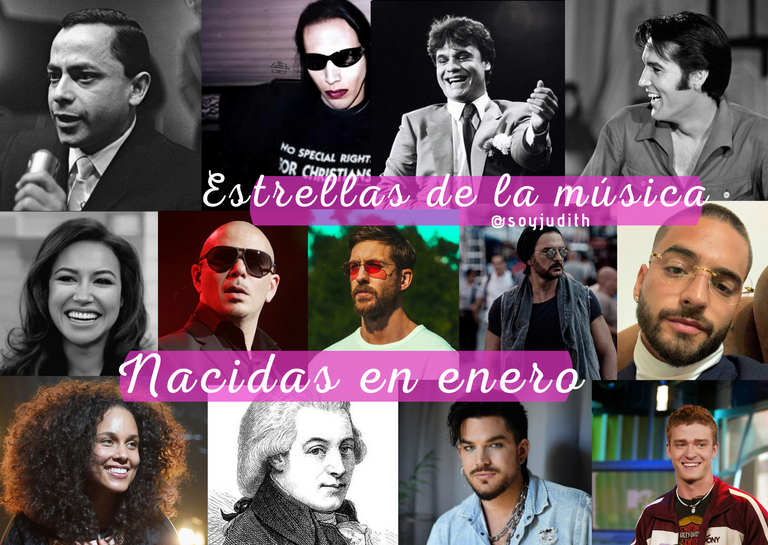 Fuente de imágenes: https://www.pinterest.es/
Hola a todos mis amigos de hive, espero se encuentren súper bien en casita!❤️
Hoy quiero compartir con ustedes un tema súper interesante con relación a la música y a nuestras estrellas favoritas. Por esto, he decidido compartirles lo que he denominado "Estrellas de la música nacidas en enero", para poder conocer un poco más esos pequeños datos que a veces no conocemos pero que significan mucho en la vida de nuestros artistas.
Hello to all my friends at hive, I hope you are all well at home!

Today I want to share with you a very interesting topic related to music and our favorite stars. For this reason, I have decided to share with you what I have called "Stars of Music born in January", in order to know a little more about those little facts that sometimes we do not know but that mean a lot in the lives of our artists.
Cabe destacar que no me fijé en estilos, géneros, edades ni nada por el estilo por tanto, habrá diversidad de artistas con estilos musicales diferentes que enaltecen grandemente la verdadera pasión por la música y las artes en general. Así que sin más preámbulo ¡comencemos!
It is worth noting that I did not look at styles, genres, ages or anything else like that so there will be a diversity of artists with different musical styles that greatly enhance the true passion for music and the arts in general. So without further ado, let's get started!
4 de Enero: Pablo Rodríguez Lozada "Tito Rodríguez" (Fallecido)
• Increíble artista nativo de Puerto Rico en el año de 1923
• Destacado por ser un gran sonero, bolerista y director musical que hizo vida en la llamada "Pachanga"
• Ilustre pionero del movimiento salsero mundial
January 4: Pablo Rodríguez Lozada "Tito Rodríguez" (Deceased)

Incredible artist native of Puerto Rico in the year 1923
Outstanding for being a great sonero, bolerista and musical director who made life in the so called "Pachanga"
Illustrious pioneer of the worldwide salsa movement
5 de enero: Marilyn Manson (Brian Hugh Warner)
• Extravagante cantante, compositor nato, actor, escritor y fundador de la banda Marilyn Manson.
• Es catalogado como uno de los artistas más exitosos del Metal industrial a nivel mundial
• Celebrará sus 52 años este 2021
January 5th: Marilyn Manson (Brian Hugh Warner)

Extravagant singer, born composer, actor, writer and founder of the band Marilyn Manson
He is catalogued as one of the most successful artists of the industrial Metal world
It will celebrate its 52 years this 2021
7 de enero: Juan Gabriel (Fallecido)
• Fue un talentoso cantautor, actor de novelas, compositor nato, intérprete excepcional, músico y productor discográfico mexicano
• Conocido por todos como "El divo de Juárez"
• Tal fue su éxito que la mayoría de sus composiciones han sido traducidas en diversos idiomas, entre estos turco, alemán, francés, italiano, tagalo, japonés, portugués, inglés entre otros.
January 7: Juan Gabriel (Deceased)

He was a talented singer-songwriter, novelist, born composer, exceptional performer, musician and record producer in Mexico
Known by all as "The Divo of Juarez"
Such was his success that most of his compositions have been translated into several languages, including Turkish, German, French, Italian, Tagalog, Japanese, Portuguese, English, among others.
8 de enero: Elvis Presley (Fallecido)
• Fue un increíble cantante con gran pasión por actuar nacido en Estados Unidos
• Es Considerado un ícono cultural y uno de los artistas más famosos del siglo XX
• Conocido por todos como el gran "Rey del rock and roll"
January 8: Elvis Presley (Deceased)

He was an incredible singer with a great passion for acting born in the United States
He is considered a cultural icon and one of the most famous artists of the 20th century
Known by all as the great "King of Rock and Roll"
12 de enero:Naya Rivera (Fallecida)
• Fue una gran actriz de la serie estadounidense "Glee" y conocida Mayormente por interpretar a una joven cantante "Santana López"
• Fue una cantante y modelo estadounidense de ascendencia latina.
• Murió hace muy poco exactamente el 8 de julio del año pasado a causa de un tragico accidente en el lago Piru ubicado en California estados unidos con tan solo 33 años de edad.
January 12: Naya Rivera (Deceased)

She was a great actress in the American series "Glee" and known mostly for playing a young singer "Santana Lopez".
She was an American singer and model of Latin descent.
She died very recently on July 8th last year due to a tragic accident at Lake Piru in California at the age of 33.
15 de enero: Pitbull
• Es un exitoso cantante y productor musical
• Es norteamericano pero nació originalmente en cuba
• Celebrará sus 40 años este 2021
January 15: Pitbull

He is a successful singer and music producer
He is American but was originally born in Cuba
It will celebrate its 40th anniversary this 2021
17 de enero: Calvin Harris
• Es un afamado Dj de electro pop y house nacido en el Reino unido
• Hace dos años fue considerado el DJ mejor pagado recaudando un estimado de más de 47 millones de dólares.
• Celebrará sus 37 años este 2021
January 17: Calvin Harris

He is a famous electro pop and house DJ born in the UK
Two years ago he was considered the highest-paid DJ ever, raising an estimated $47 million.
He will celebrate his 37th birthday this 2021
19 de enero: Ricardo Arjona
• Es un excelente cantautor, compositor nato, arreglista excepcional, músico y productor musical nacido en Guatemala.
• Su música varía desde baladas a pop latino, rock, pop rock, música cubana y actualmente actuaciones a capella
• Cumplirá 57 años este 2021
January 19: Ricardo Arjona

He is an excellent singer-songwriter, born composer, exceptional arranger, musician and music producer born in Guatemala.
His music varies from ballads to Latin pop, rock, pop rock, Cuban music and currently a cappella performances
Will be 57 years old this 2021
25 de enero: Alicia Keys
• Es una virtuosa cantante nacida en Estados Unidos que interpreta música soul/ R&B. Además es excelente compositora, productora musical y actriz
• Personalmente soy gran admiradora ya que siento que no ha requerido de inmensas campañas publicitarias, tampoco de una imagen estravagante siendo ella misma y deslumbrando únicamente con su voz.
• Cumplirá 40 años este 2021
January 25th: Alicia Keys

She is an American-born virtuoso singer who performs soul/ R&B music. She is also an excellent composer, music producer and actress
Personally, I am a great admirer since I feel that she has not required huge advertising campaigns, nor an extravagant image being herself and dazzling only with her voice.
She will be 40 years old this 2021
27 de enero: Wolfgang Amadeus Mozart (Fallecido)
• Desde muy niño se convirtió en un virtuoso compositor, pianista y posteriormente director de orquestas de origen austríaco
• Es considerado uno de los maestros más grandes del periodo del clasicismo
• Se considera uno de los músicos más influyentes y destacados de la historia.
27 January: Wolfgang Amadeus Mozart (Deceased)

From a very young age he became a virtuoso composer, pianist and later conductor of orchestras of Austrian origin
He is considered one of the greatest masters of the period of classicism
He is considered one of the most influential and outstanding musicians in history.
28 de enero: Maluma
• Es un cantante y compositor que además está incursionando reciéntemte en el diseñado de modas.
• Llegó al estrellando en el 2011 nada más y nada menos que en su país de origen colombia
• Cumplirá 27 años este 2021
January 28th: Maluma

He is a singer and composer who is also just starting to work in fashion design.
He came to the limelight in 2011 in his home country of Colombia, no less.
Will be 27 years old this 2021
29 de Enero: Adam Lambert
• Es un talentoso cantante y actor nacido en los estados unidos
• Personalmente supe de él porque ha sido el único artista fijo en cantar las icónicas canciones de Fredy Mercury con la banda Queen
• Cumplirá 39 años este 2021
January 29th: Adam Lambert

He is a talented singer and actor born in the United States
I personally knew about him because he has been the only regular artist to sing Fredy Mercury's iconic songs with the band Queen
Will be 39 years old this 2021
31 de enero: Justin Timberlake
• Es un cantante, bailarín nato, productor, empresario, actor y exmiembro de la afamada boyband N Sync.
• Mayormente conocido como el gran "príncipe del Pop"
• Cumplirá 40 años este 2021
January 31st: Justin Timberlake

He is a singer, born dancer, producer, businessman, actor and former member of the famous boyband N Sync.
Mostly known as the great "Prince of Pop".
Will be 40 years old this 2021
Fuente bibliográfica: https://es.m.wikipedia.org
En fin, así culminamos la lista de cumpleañeros del mes de enero, invitándolos a recordar la música de todos estos increíbles artistas que a pesar de ser todos distintos aportaron y aportan actualmente alegrías a todas las personas con su música🎶❤️
In short, this is how we culminate the list of birthdays for the month of January, inviting you to remember the music of all these incredible artists who in spite of being all different contributed and currently bring joy to all people with their music.

Sí te gusto, déjame tu opinión en los comentarios
If you liked it, leave me your opinion in the comments
Traductor: @Deepl
Imágenes hechas por mí en canva
Pictures made by me in canva