There are many melodies bonded to Christmas time. From modern to old, there are countless of sounds to feel it's that time of the year. For me, the old Christmas hymns are those sounds I need to hear during this holidays. There are many of them, but I have quite some favorites. All these hymns are from late 1700s early 1800s, so they have been around our Christmas times for many years. They express mostly the joy and and happiness shared for the birth of Jesus Christ. Nowadays, people set aside religion and just enjoy the melodies. Whatever the case,Christmas hymns have always been there. I share with you some pictures from my hymns book, part of the lyrics, and YouTube videos of an immense choir performing those special songs.
Hay muchas melodías ligadas a la época navideña. De lo moderno a lo antiguo, hay innumerables sonidos para sentir que es esa época del año. Para mí, los viejos himnos navideños son esos sonidos que necesito escuchar durante estas festividades. Hay muchos de ellos, pero tengo algunos favoritos. Todos estos himnos son de finales de 1700 y principios de 1800, por lo que han existido en nuestra época navideña durante muchos años. Expresan principalmente el gozo y la felicidad compartidos por el nacimiento de Jesucristo. Hoy en día, la gente deja de lado la religión y simplemente disfruta de las melodías. Cualquiera que sea el caso, los himnos navideños siempre han estado ahí. Les comparto algunas fotos de mi libro de himnos, letras y videos de youtube de un inmenso coro interpretando esas canciones especiales.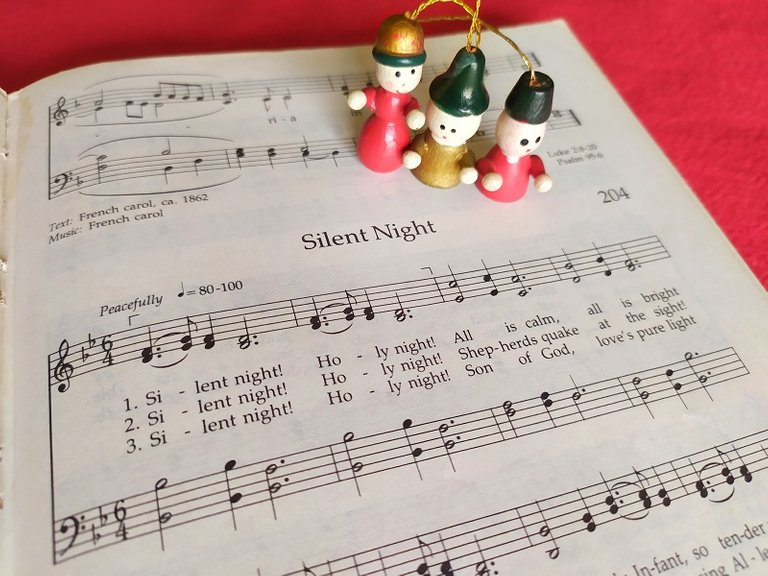 Silent Night! Holy Night!
All is cal, all is Bright
Round yon virgin mother and child.
Holy infant,so tender and mild
Sleep in heavenly peace;
Sleep in heavenly peace.
Noche de luz, noche de paz;
reina ya gran solaz
do el niño dormido está,
mensajero del Dios de verdad.
Duerme, niño, en paz;
Duerme, niño, en paz.
---
---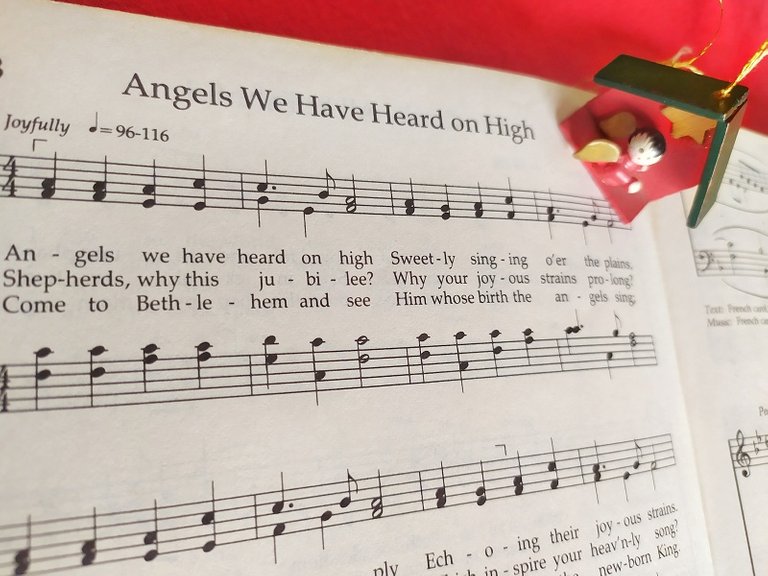 Angels we have heard on high
Sweetly singing o'er plains
And the mountains in reply
Echoing their joyous strains.
Glo-ria in excelsis Deo.
Glo-ria in excelsis Deo.
Cantan santos ángeles
con celeste entonación;
las montañas el Jordan
como fiel contestación.
Glo-ria a Dios en lo alto.
Glor-ria a Dios en lo alto.
---
---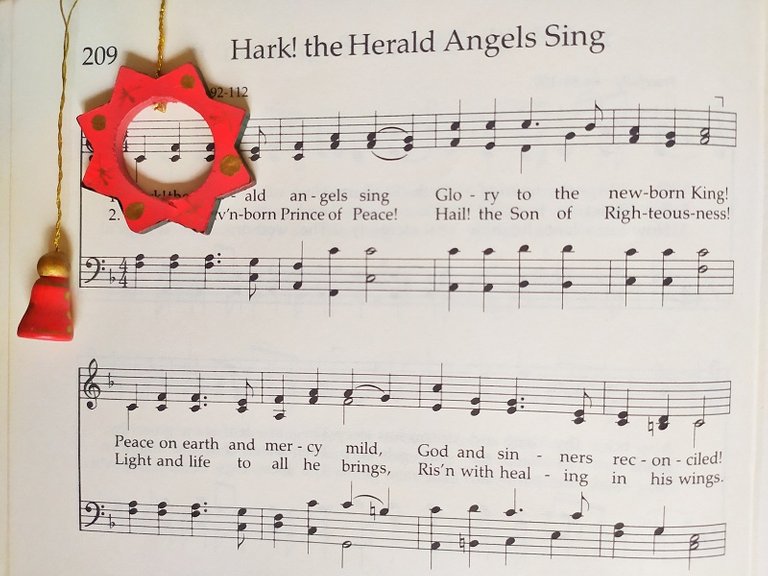 Hark! the hearlad angels sing
Glory to the new born king!
Pace on earth and mercy mild,
God and Singers reconciled!
Joyful, all ye nations rise;
Join the triumph of the skies;
With the'angelic host proclaim
Chirst is born in Bethlehem
Hark! the hearld angels sing!
Glory to the new born King!
Escuchad el son triunfal
de la hueste celestial:
Paz y buena voluntad;
salvación Dios os dará.
Cante hoy toda nación
la angelical canción;
estas nuevas todos den:
Nació Cristo en Belén.
Escuchad el son triunfal
de la hueste celestial.
---
---