Louis Armstrong and His Hot Five: Louis Armstrong (trumpet, vocals), Kid Ory (trombone), Johnny Dodds (clarinet), Lil Hardin Armstrong (piano) and Johnny St. Cyr (banjo) (1927).
Louis Armstrong, also nicknamed "Satchmo" or "Pops", was the American cornetist, trumpeter, singer, composer and actor who introduced the figure of the soloist into jazz during the second half of the 1920s, and his career extended from the beginning of that decade to the end of the 1960s. Until his arrival on the jazz scene, this music was characterized by collective improvisation. However, thanks to his skill as an improviser with cornet and trumpet never seen before, he transformed the very essence of this genre, breaking with the rigidity of the prevailing orchestral concept and taking the liberty of expressing his daring melodic, harmonic and rhythmic imagination while the orchestra provided him with the appropriate background. His way of changing beats by moving the notes forward or backward and his light and flexible phrasing led to the successful invention of swing.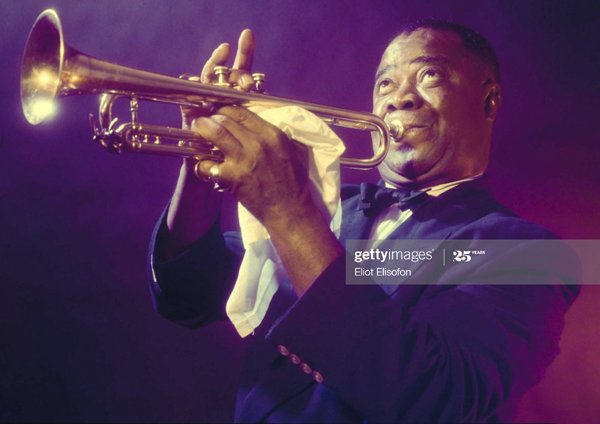 His contributions were not only embraced by trumpeters, but trombonists, clarinetists and pianists also adapted his way of playing to their respective instruments. This impact gave jazz the necessary impetus to emancipate itself from previous styles laying a strong foundation which is still valid today. With his easily recognizable baritone bass voice and charismatic stage presence, Armstrong was also an influential vocalist, doubling the lyrics and melody of the songs for expressive purposes, as well as being the first to use scat singing on a regular basis. In his 1926 recording of "Heebie Jeebies", which was a national bestseller, he laid the foundation for modern scat; please, find the song below. This vocal technique consists of singing wordless vowels and meaningless syllables improvising melodies and rhythms using the voice as an instrument rather than as a means of communicating a spoken message.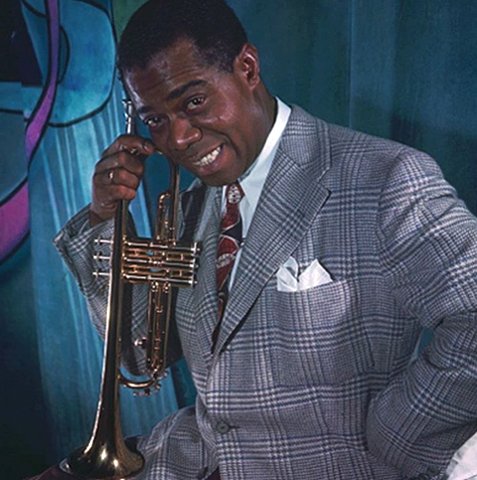 During his last years of life his impact extended to popular music due to his brilliant personality, which was on display in a series of vocal recordings and film roles, being one of the first African-American artists whose skin color was secondary to his music in a very racially divided North America. By the 1950s Armstrong was widely recognized and traveled the world for the USA State Department, becoming the earliest and greatest ambassador of America's first true musical art form. He participated in over thirty films, usually playing a bandleader or musician. His 1964's Grammy-winning "Hello Dolly" and 1967's "What a Wonderful World" solidified his legacy as a musical and cultural icon.