Hello everyone,
I am here to talk about Synergy of Serra another cards collectible blockchain game. They claim it is a next-generation strategic game. Well, when you look at art and graphics of the game then it seems so interesting and quite impressive. What I understood from reading some basics of this game is, It is a strategic game based on the defence of the planet named Serra. There are six factions of biological and mechanical creatures. They are defending the planet Serra.
I don't know how to play this game. But I saw many splinterlands fellow players are very much interested in this game. A couple of days ago they organised a big Synergy of Serra splinterlands tournament with big prizes. I participated and won a few crates. I didn't pay attention and didn't claim my rewards. Two days ago blackheart dmed me and asked me to claim my Synergy of Serra crates. For that matter, I had to log in their gaming site which is https://synergyofserra.com/. After that, I commented on my username under their claiming post. Yesterday one team member of this game dmed me and told me about he has sent my crates. I wanted to write about this game yesterday but I needed one day to explore it a bit more.
---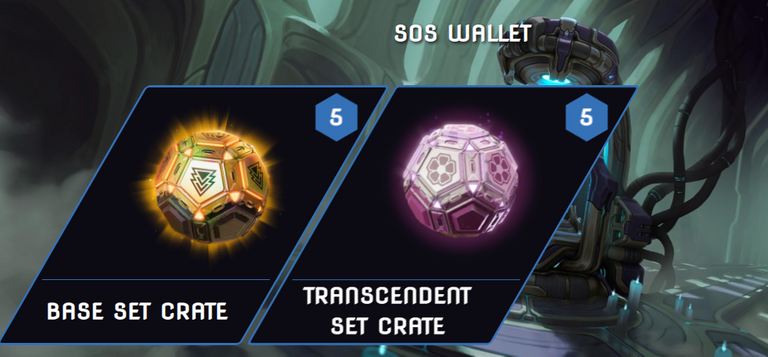 ---
I think they are two crates. One is Base Set crate and the other one is Transcendent set crate. I seriously don't know the difference. But there is one major difference price difference. One Transcendent set crate costs you 15$ and Base Set crate is 5$.
Base Set
It contains 90 base set cards. I guess you need a base set in order to start playing this game. As we have in splinterlands spell book it seems similar to that.
TRANSCENDENT SET
It contains 60 distinct expansion cards. Those cards are random and come with different rarities. Tier 1 of TRANSCENDENT SET has been sold out wow that is pretty great. It seems people are very much interested in this game. I don't know aside from splinterlands if I can do justice with other games but I will see how it goes. I already have a deal that I can trade my crates for decs but I am not going to do it. I will wait and see. This game seems interesting I might get into it. Who knows :P Xd
So how this game would work let's check it out
TWO DIMENSIONS OF SCARCITY
It is divided into two categories. Quality and Rarity
---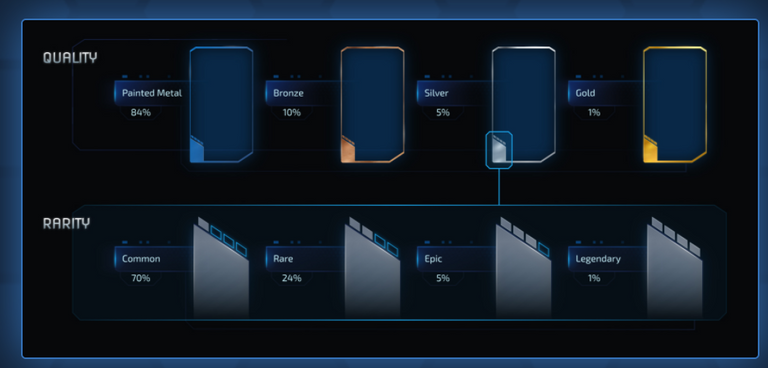 ---
Quality is based on metal, bronze, silver and gold. And rarity includes Common, rare, epic and legendary. Quite familiar to splinterlands. But quality is a new thing.
How does Scarcity work?
It depends on quality multiply by rarity. So If quality is gold and rarity is legendary then
Scarcity= Gold x legendary==> Booooooooooom
Yes, Scarcity will decide the trade value of your card. There will be minting devices as well.
Card Anatomy.
Card frame will show the quality of the card. Let me explain it with a screenshot.
---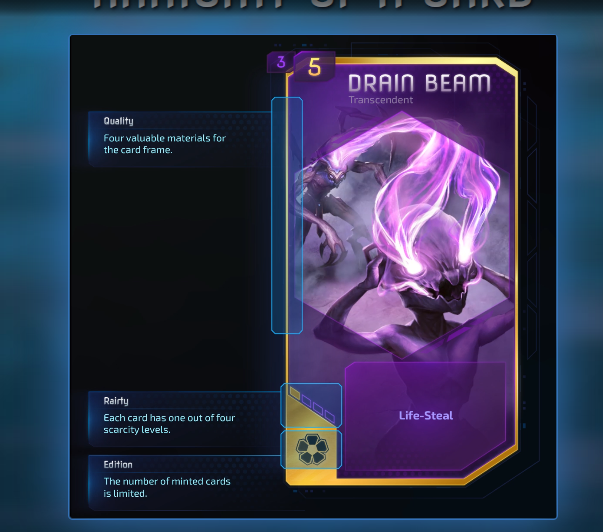 ---
I think I understood this game pretty well and o Noooooooooooooos I am liking it and I think I am going to play this game😂. Time to save mooooooarrrr money :facepalm: :P XD
Posted via neoxian.city | The City of Neoxian