Hello, Dcitizen's,
All that remained was to see :facepalm: lolz It was weird and funny at the same time. When I saw there is a pandemic in my city there was a nice smile on my face :P XD
---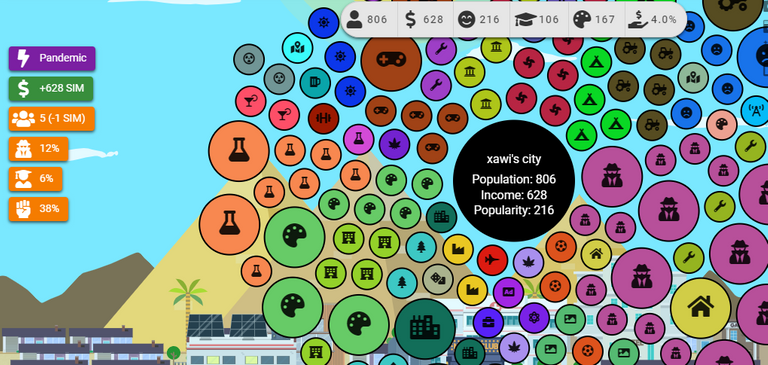 ---
I was curious what does it mean so I did mouse hover on the pandemic. It gave me the message that 20% of the population is sick and not working at all. So we increased social income by 0.4% for each sick person in the city. Well as long as they are increasing social income instead of decreasing, then I am totally fine with it :P XD
My city is getting more people every day and now my city population is 846. My sim earning is almost 600 sims/day and the popularity of my city is increasing gradually. It is now standing at 245 which is ok. One thing I really like about my city is crime rate is stagnant at 39% if it's not decreasing then it's not increasing either. Probably the reason for this is now I received another new tech which is police equipment.
Now I have three Police equipment cards. Each card provides -1% decrease in the crime rate. It means I have 3 cards so it is -3% already. Edit(Ok Khan dyannz just told me that having the same equipment doesn't help because of only one equipment works at a time. He is suggesting me to trade police equipment with other techs so I am going to do it.)
Because of this Crime rate in my city is 0%. Creativity is increasing as well and now it is 167. Education is my city is 111. I have only 2 universities in my city so there is that.
That's is the so far progress of my city I will see y'all in my next post see ya Happy weekend.
Posted via neoxian.city | The City of Neoxian