Hi there, PAL token is pumping and we all noticed it. I have 5140 PAL power. And according to new enhancements, there would be less PAL earning for the bloggers. I mean you wouldn't be able to earn PAL through blogging but by staking. I am not sure if I like it or not but it seems this little step towards PAL token is doing well.
Market Depth (PAL)
---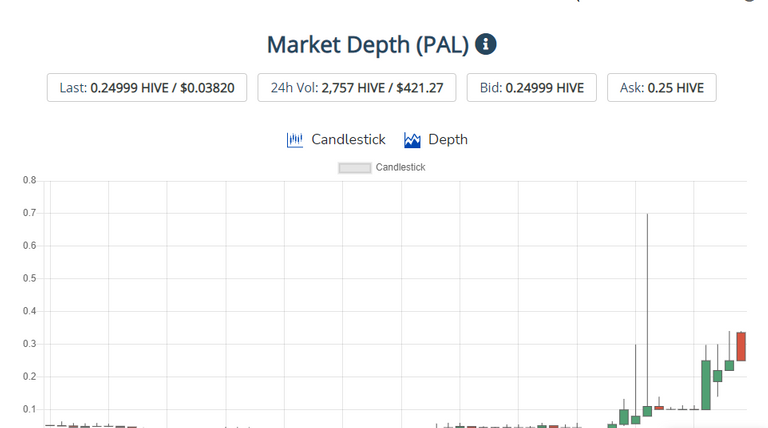 ---
If we look at the market depth of PAL we see there was a huge pump and now people are dumping. I have some Liquid PAL around about 400 and I wanted to sell but I wasn't sure if I am doing it right or not. I believe in holding this is the reason I have pretty decent PAL power. Back in days when PAl was so low and everyone was like PAL is dead, i didn't freak out and I didn't sell any PAL. Now PAL is in a good position and I am glad I didn't sell any.
I was confused I went to Raymondspeaks Dm and asked him if i should sell my liquid PAL. I didn't want to repeat my LEO mistake. I used to sell my liquid LEO and now I am regretting :P I would have had 5k LEO power but it is what it is. In case of PAL, I already have achieved 5k milestone and the way token is going up and we also, know we are not going to get PAL through posting so it was confusing me if I should sell or not.
He told me that he is not going to sell his PAL and also I can earn PAL by staking them no need to curate. I really liked this that in order to earn some PAL through curation you don't have to curate and you can earn by just staking. So you can't earn through blogging is making some sense to me and I understood how it is going to work. There must be an announcements posts regarding this new change I didn't get hands-on anyone maybe this is the reason I was confused but Ray cleared it up so I don't have to go and search post.
Yesterday last ask was 0.33Hive/PAL and today 0.24hive/PAL. I placed my sell order at 0.5/hive. If it doesn't get filled its ok but I would love to see PAL 1HIVE/PAL again :P XD
Posted via neoxian.city | The City of Neoxian