Hello everyone,
Today I witnessed one accident due to insane Morning mist which is also called smog. Well, there were already two road accidents but I witnessed one with my bare eyes and I had to ask my driver uncle to please stop the car I want to take pictures.
---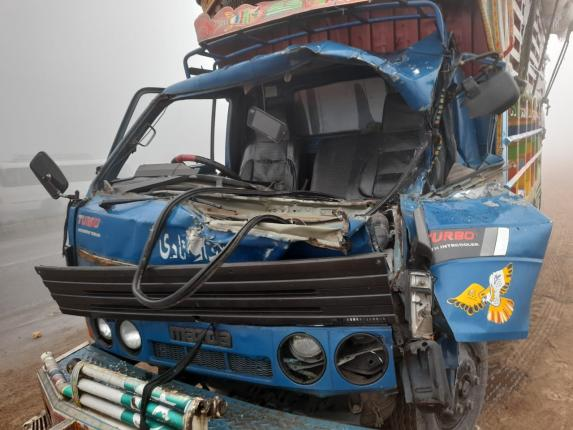 When I saw this view the first thought came to my mind `Is driver alive?` but the driver of this poor truck was safe and it was a miracle don't you think it is? He must have done some good deeds in his life this was the reason God saved his life. I get mentally upset when I see such kind of things and this morning incident spoilt my all day. I was so depressed and I wasn't feeling like doing any work.
Morning Mist is getting intense in my city and it is going to get worse except when rainfall occurs. And I saw weather update and in the coming days, there is no rainfall expected. Due to this cold and dry weather many people having throat infection many suffering from the flue and when Coronavirus is the real danger then such kind of viral infections make you feel bad. Any person with cold is not allowed to enter the premises of the office and you can take leave without salary deduction. So it is good :P XD. When we talk about Smog then apart from smog there is still aerosol matter in the air along with other gases. So it continues cause of the swear smog.
Weather is being so rude so I wish everyone stays safe and sound. Your life is very important for your loved ones.
I took plenty of pictures of this accident but they are all same with different angles so I guess no point in spamming my blog with the same kind of pictures. That one should be enough to describe the whole situation.
Posted via neoxian.city | The City of Neoxian