Hello Dcitizens, I am not buying cards anymore. I used to buy random cards because I have had this thought maybe one day I will be lucky enough and I will be getting Military complex, But I kept getting trash cards hence I decided not to invest anymore. So what is the next plan? selling sim? Noooooooo I am going to save my Sim income for the third edition. I have heard that soon Dcity is going to launch Third edition cards and I am very curious to know what would be in that edition. We will see so better get ready for the heavy buying. I will make sure I will be having enough sim to buy third edition cards.
My city right now
---

---
I need to hire 58 people. And there is a pandemic in my city. Again 20% population f my city is sick and they aren't working. I guess the solution of a pandemic is purchasing more hospitals?
The most annoying thing
Well in real life I don't pay taxes, only my father does so I did;t it can be hell annoying. I have a small city and I am paying 18% Income tac, and war tax is 12% these two are just killing my income 😥.
Dashboard
---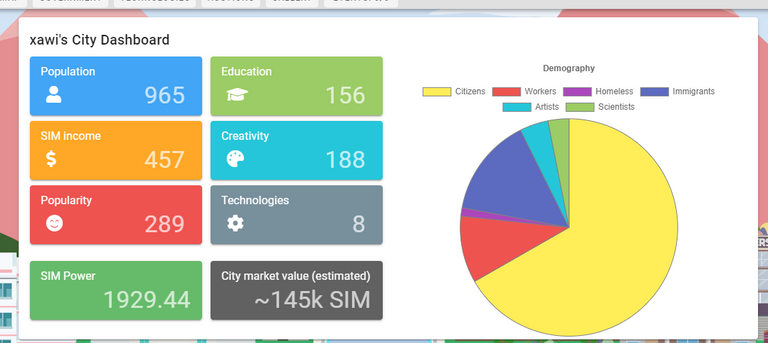 ---
#Nft Art Gallery
---

---
Oh, I just noticed I have received new art piece, Happy Javelin Thrower. Thank you so much @shrazi for being so kind I appreciate. That's the little update of my city. Let's keep calm and wait for the third edition :P Xd
Posted via neoxian.city | The City of Neoxian