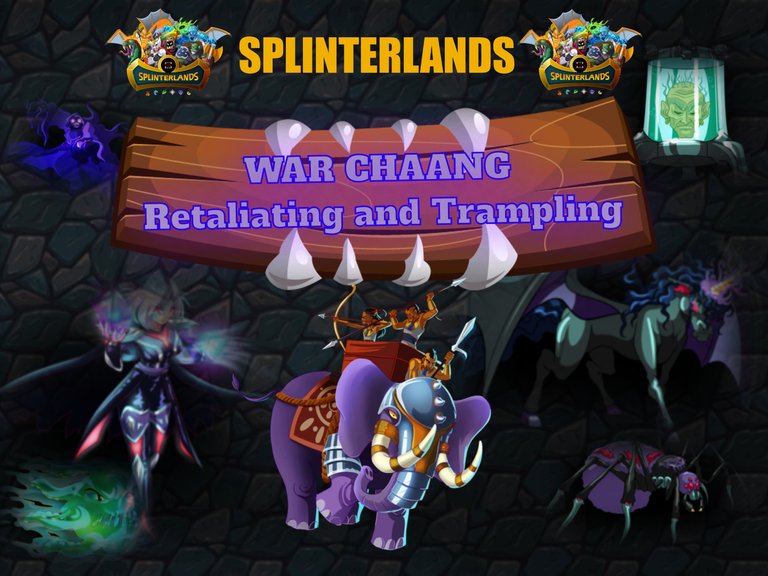 Evening Splinterlands Fans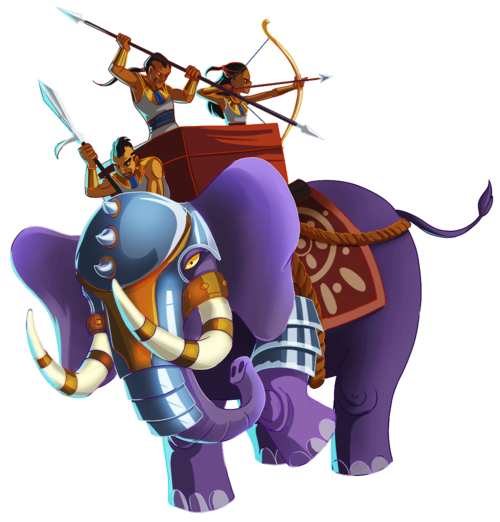 This week battle challenge is about the sweet elephants; WAR CHAANG. WAR CHAANG is an epic neutral monster with both melee & ranged attack, decent health and speed. Costing 7 mana, it has Retaliate and Trample abilities.
I own only Level-2 WAR CHAANG so I rented the maxed one a few days ago for this Week's Battle challenge. I payed about 1.5 hive as 7 days rent, which is not back considering CHAANG's utility and fun playing with it.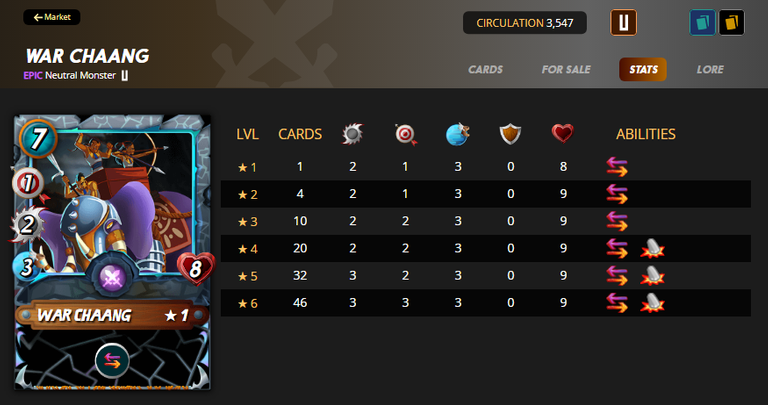 Currently there are 3,547 normal foil WAR CHAANG in circulation, costing 0.46$/BCX. Gold Foils are far less abundant(for obvious reasons) with a supply of only 208, trading at 7.55$/BCX.

Favored Battle Rules
WAR CHAANG can be used effectively in all type of battle rule sets, but few rules sets favors it the most, e.g. Close Range, Melee Mayhem, Super Sneak and Armored Up.

Placement
With WAR CHAANG, you have multiple placement options. It can be used upfront as a tank in Close Range and Armored up rule set. It can also be used in the very last to act a Sneak Protection due to Retaliate ability. Melee Mayhem and Super Sneak make WAR CHAANG's placement in the back ranks even more fruitful.
How to Use
WAR CHAANG if used properly can prove a substantial threat to the enemy. Some adjustments can make it even more lethal.
Enhancing the melee attack by using Summoners or Inspire ability.

Enhancing the ranged attack by using Summoners.

Giving it blast ability by YODIN ZAKU.

Giving it Thorns or Void ability by MIMOSA or MYLOR CROWLING summoners, respectively.

Since WAR CHAANG has no shield by default, so giving it shield from summoners or monsters(Protect) can make it even more resilient.

Positive health attribute from Strengthen ability monsters or Summoners to improve the health.

WAR CHAANG have normal speed by default and complementing it speed wise, using abilities like Slow, Swiftness and Blind is a nice idea.

Healing it by Triage ability can make it even invincible.

Defense

The best way to kill WAR CHAANG in by using Magic and Ranged attacks, making sure to avoid retaliation. If you waana kill it by melee make sure you use strong melee attack, to avoid frequent triggering of Retaliate and Trample abilities.

MY BATTLE USING WAR CHAANG

This was a 32 mana battle with one battle rule, Heavy Hitters.

MY LINEUP

MIMOSA KNIGHTSHADE

I already made my mind to go with death splinter, but I was confused about summoner choice. ZINTAR MORTALIS was the economical option whereas MIMOSA KNIGHTSHADE was the potent one. In the end, I decided in favor of MIMOSA and it paid pretty well. Affliction buff by her has no match.

---

LORD ARIANTHUS

Upfront, I placed the classic tank, LORD ARIANTHUS. LORD ARIANTHUS is a perfect tank as it offers nice offensive and counter attack abilities, and costs just 5 mana.

---

CORRUPTED PEGASUS

On one down position, I placed CORRUPTED PEGASUS for its Heal and Reach ability. A true legendary indeed. By the way it is also my favorite death splinter legendary.

---

DEATH ELEMENTAL

Next, I used a low mana monster, DEATH ELEMENTAL. The purpose was to have Silence ability in the team.

---

HAUNTED SPIDER

Then came another low mana monster, HAUNTED SPIDER. The main attraction of HAUNTED SPIDER is its Poison ability, which has no remedy but Cleanse ability.

---

WAR CHAANG

On second last position, I placed star of the show, WAR CHAANG, to act as Sneak attack defender. As discussed earlier it can either be placed upfront or in the very last. The plan was to utilize the Retaliate ability to counter Sneak attacks.

---

CURSED SLIMEBALL

With one mana and one position left, I decided to use CURSED SLIMEBALL. Not a bad choice considering the mana cost and the Redemption ability.

---

BATTLE ANALYSIS

This was a fun battle. The enemy used heavy Sneak attack. CURSED SLIMEBALL died as planed and Redemption came into play. The WAR CHAANG retaliated in response to FERAL SPIRIT Sneak attack and killed it. Then Trample came into play and took out the DIVINE HEALER also. CORRUPTED PEGASUS kept healing my LORD ARIANTHUS along with strong Reach attack.

My Final Opinion About WAR CHAANG

WAR CHAANG is nice monster to have, since it is a neutral monster so it can be used with any splinter.

That will be all for today.
Take very good care of yourself and people close to you..
Until next time...
👋Adios👋

Don't know about Splinterlands

---




Support @bdcommunity by voting them for witness following this instructions: