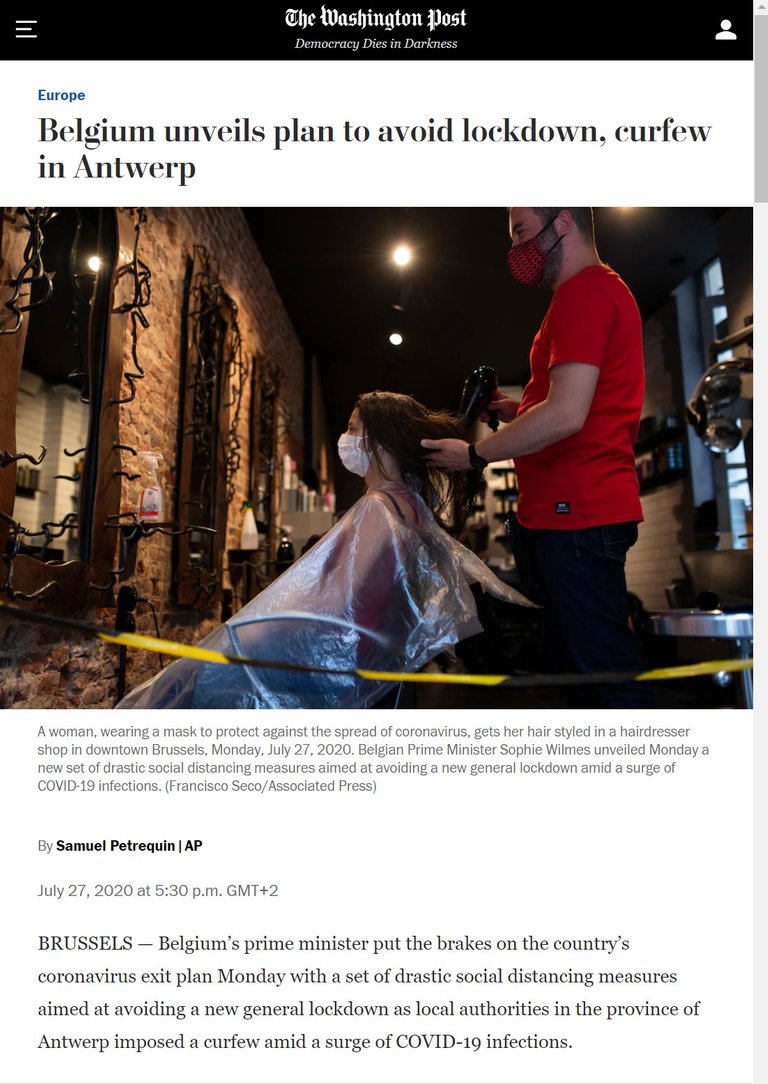 …there is no bad publicity…
But I would have preferred my beloved hometown to get to the Washington Post with better news ... 😢
The full article here: https://www.washingtonpost.com/world/europe/belgium-implements-drastic-plan-to-avoid-another-lockdown/2020/07/27/0f9268e8-d01e-11ea-826b-cc394d824e35_story.html
And of course there are going to be some here again that claim that the whole covid saga is a conspiracy of the deep state ... or some other ridiculous fool's story.
Just this week, and I'm not going to mention names, there was one person in one of my posts who claimed that the virologists and scientists kept up the whole story to ... put pressure on Trump.
Well, dear conspiracy theorists, know that the world is much bigger than the United States alone. It probably comes as a surprise ... but not everyone is impressed or concerned with Trumpy ...
What keeps us busy is the fact that there are more admissions in the hospital and that the death rates are rising again ... and not only in nursing homes.
I get so tired of all those self-proclaimed know-it-alls ... get a life and wear a mask!
It will not only protect you ... but also us ... because we will no longer hear your messy stories ...
---
You liked this post?
Right you are 😉
Just follow me here to make sure you don't miss any new work. As you can see below, you will be in good company... my 3 skinny friends are waiting for you 😉


BTW: I will not ask you to upvote my posts… deep down inside you know you have to 😉
Curious to see my other work?
Although I spend most of my time here, you can also find me in other places… just take your pick…