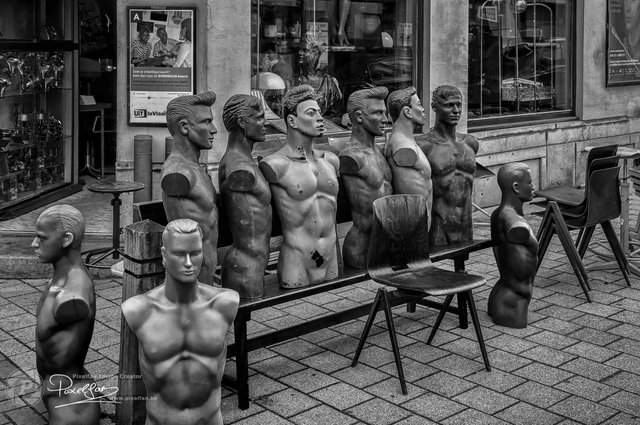 Nope, the inspiration has not yet returned... but browsing through my photo collection also yields nice results for some re-edited pictures.
Like this one... a typical example of a street scene that will never be seen again!
What? No, no... the store still exists. And yes, they still sell the same stuff...
Why you will never see this scene again... Well, never heard of social distancing? That applies to everyone you know… 😉
---
And a small PS: apparently my black and white re-edited photo from yesterday was appreciated. It must have been at least a year since I got such a big upvote... thank you @upmewhale, really appreciated!
---
You liked this post?
Right you are 😉
Just follow me here to make sure you don't miss any new work. As you can see below, you will be in good company... my 3 skinny friends are waiting for you 😉


BTW: I will not ask you to upvote my posts… deep down inside you know you have to 😉
Curious to see my other work?
Although I spend most of my time here, you can also find me in other places… just take your pick…