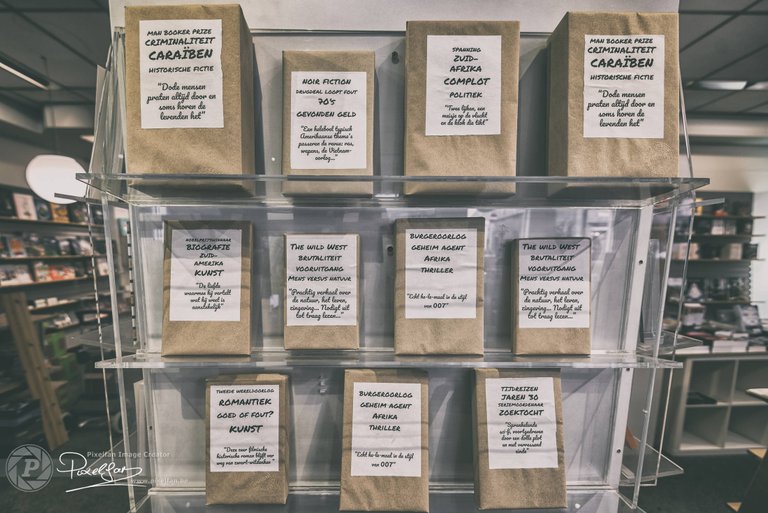 … yes indeed… by its cover
And the owner of this bookshop has taken this quite literally 😊
I think that's a good idea in itself. A few key words, a category and a short description of the story ... nothing more. Okay, it remains a gamble, but it is a fantastic idea to discover new authors ...
Now that we are again subjected to stricter measures here in Belgium (it looks and smells like a lockdown, but politicians say it isn't 😊) we are going to read en masse again ... at least, we here in the Pixelfan family.
And then it's always the same story ... when does that or that writer release anything ... It always seems like your favorite writers haven't released anything in years ...
With this solution you can add new authors, unknown to you, to your favorites list. I'm definitely going to do it!
But first see if there's a new one from Lee Child ... or maybe one from Harlan Coben ... oh, and what's the latest from Jussi Adler-Olson ... and that there ... is that the new from Jo Nesbo ...
What? Yes yes, those packed books are a very good idea ... but now leave me alone ... I see something from Stephen King there ... 😉
---
You liked this post?
Right you are 😉
Just follow me here to make sure you don't miss any new work. As you can see below, you will be in good company... my 3 skinny friends are waiting for you 😉


BTW: I will not ask you to upvote my posts… deep down inside you know you have to 😉
Curious to see my other work?
Although I spend most of my time here, you can also find me in other places… just take your pick…