This is a post to keep the beautiful memory of our city party.
In every organisation which consists of many people having same mindset and people who have things in common. There's a big need for team bonding and get together once in a while even if not all the time.
In the city of Neoxian. We are a family, we have lot of things in common, we have almost same mindset, we share love, we crave for success, we are crazy about it. There's no way you will be close to our mentor @neoxian and won't be crazy about being successful.
The city party plan started long ago but finally happened during the new year eve (31st of December, 2019. 4pm UTC). Thanks to the whole Neoxian City Family for their corporations, donations and support towards the success of the party.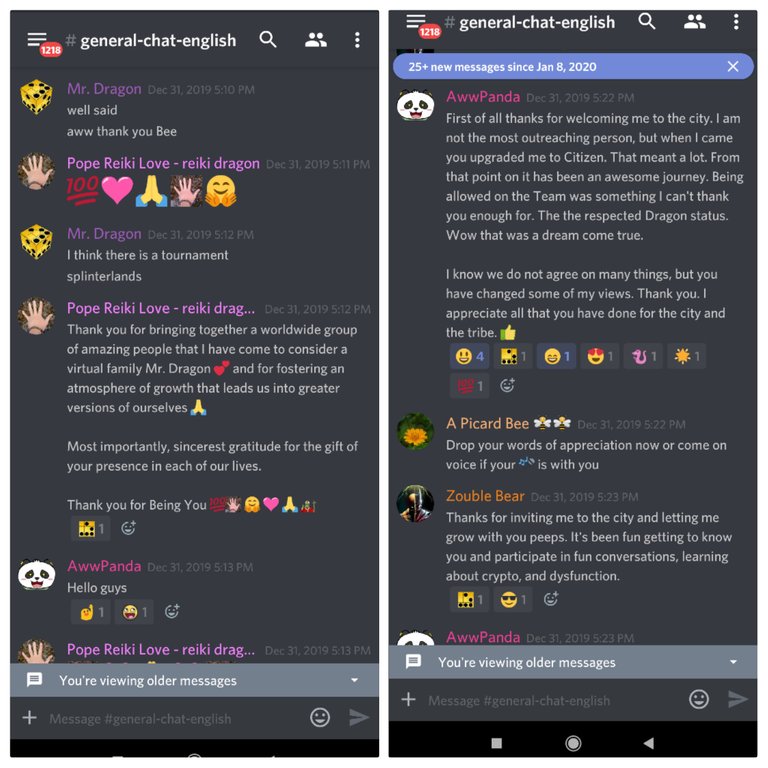 The Bee 🐝 @anikys3reasure of the city was the Host.
Here are the party programs :
Opening Blessings from Pope
Words of appreciation to Neoxian
Questions and Answers
Bottled messages
Hot Seat
Pick a Music Game
Confessions - Favorite City Member
Award to Members
Music 🎶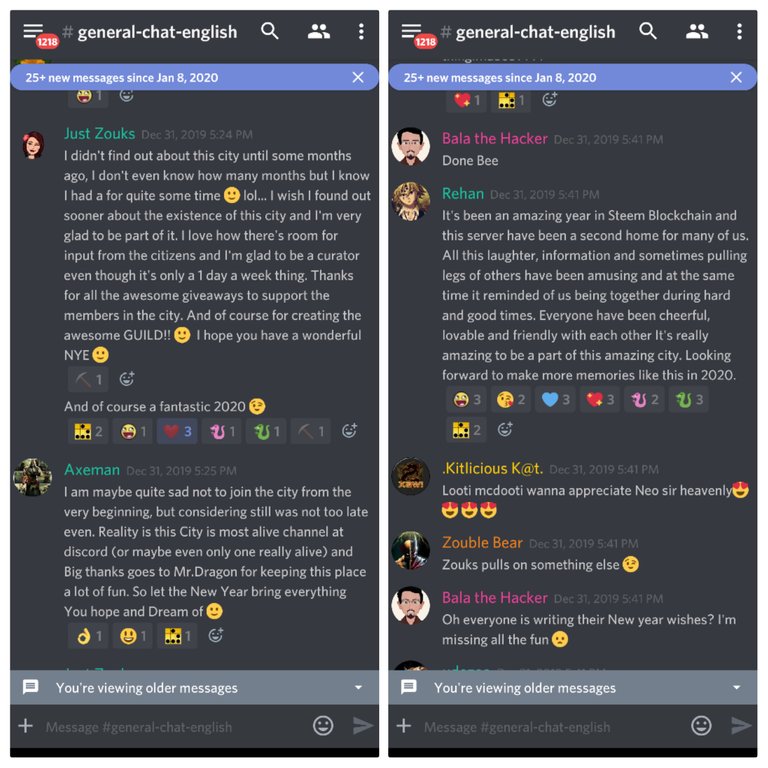 Party started few minutes past 4pm UTC, and opening blessings were received from the Pope of the city @thereikiforest.
Hello BeautyFull Neoxitizens 🙏
It is my pleasure & honor to greet & gather with you this last day of 2019. I do so with great joy in my heart & abundant optimism that the coming year will be one of wholeness, balance & wellness for each of us individually, and collectively as a city.
As we go forward, may we remember to injoy the journey every step of the way. Let us celebrate the awesomeness that is Neoxian, Ourselves, Each Other... & The City 😘.
Sending the Brightest of Blessings & a warm Reiki Hug to All.
After the opening blessings. The host gave her words of appreciation via voice. Below are the beautiful appreciation received from city members to our Mentor @neoxian.
From @thereikiforest to @neoxian
Thank you for bringing together a worldwide group of amazing people that I have come to consider a virtual family Mr. Dragon and for fostering an atmosphere of growth that leads us into greater versions of ourselves 🙏.
Most importantly, sincerest gratitude for the gift of your presence in each of our LIVES. Thank you for Being You.
From @reazuliqbal to @neoxian
First of all thanks for welcoming me to the city. I am not the most outreaching person, but when I came you upgraded me to Citizen. That meant a lot. From that point on it has been an awesome journey. Being allowed on the Team was something I can't thank you enough for. The respected Dragon status. Wow that was a dream come true. I know we do not agree on many things, but you have changed some of my views. Thank you. I appreciate all that you have done for the city and the tribe
From @anouk.nox to @neoxian
I didn't find out about this city until some months ago, I don't even know how many months but I know I had a for quite some time lol... I wish I found out sooner about the existence of this city and I'm very glad to be part of it. I love how there's room for input from the citizens and I'm glad to be a curator even though it's only a 1 day a week thing. Thanks for all the awesome giveaways to support the members in the city. And of course for creating the awesome GUILD!! I hope you have a wonderful NYE
I am maybe quite sad not to join the city from the very beginning, but considering still was not too late even. Reality is this City is most alive channel at discord (or maybe even only one really alive) and Big thanks goes to Mr.Dragon for keeping this place a lot of fun. So let the New Year bring everything You hope and Dream of
From @hetty-rowan to @neoxian
Thank you all for inviting me into this buzzing city ... and allowing me to be a city writer is something I really appreciate very very much. I've not been online that much lately, but when I came online first thing I did was checking in the city if there had something happened, and it brought very often a smile on my face in a time that I didn't have that much to smile for. Thank you all for being here ... and hope to have an awesome and fantastic 2020 in this city with many awesome things to happen. Thanks to you all I really started to enjoy splinterlands ... and thanks to the guild I can grow a little more fast then I would been able to do without.
Glad to be a part of this great city. I learned so much and thank you also for the support besides enjoying reading the chats here which is a stress buster. Thanks to @Mr. Dragon for allowing me to be a part of this group and all the rest of you for putting up with me. Have a blessed New year.
When all hope was almost lost and the son of man was about giving up on his online career, i was fortunate to find my way into mr dragon dm through a blessed friend udezee, he ask me why i want in into his city and i told him things are difficult online and he gave me the link to his city, from there things have been going smoothly and 2019 is the best year in my life so far , all thanks to mr dragon for his vote and loans... i appreciate big boss 🙏
It's been an amazing year in Steem Blockchain and this server have been a second home for many of us. All this laughter, information and sometimes pulling legs of others have been amusing and at the same time it reminded of us being together during hard and good times. Everyone have been cheerful, lovable and friendly with each other It's really amazing to be a part of this amazing city. Looking forward to make more memories like this in 2020
From @ifeoluwa88 to @neoxian
Hi Mr D.....The only king of the city....Thank you for all you do sir
Thank you for the fun, the reprimand when we need it, the lesson which we have gained from....Thanks for your kindness sir.
People like me have grown from nothing to something under you guidance. You have shown us what a true leadership is, you have bent us but didnt break us, you have shared and given to us all. I personally remain your loyal citiZen and I pray for more money and more investment for you on 2020
To my fellow citizens...you all make my journey beautiful....I appreciate you Mr Dragon now and always.......Happy New Year
I will like to use this medium to appreciate Neo sir for the wonderful support and assistance rendered to every citizens of the city.
It's a great pleasure to know you since joining Steemit blockchain because without you for me it will be mission impossible.
Once again thank you so much 🙏
Almost everyone wanted to say something but time wasn't on our side.
We moved to the next thing on the list which was questions and answers, the host let out the questions which were city related questions . Our winners were @reazuliqbal, @aamirijaz and @olaexcel.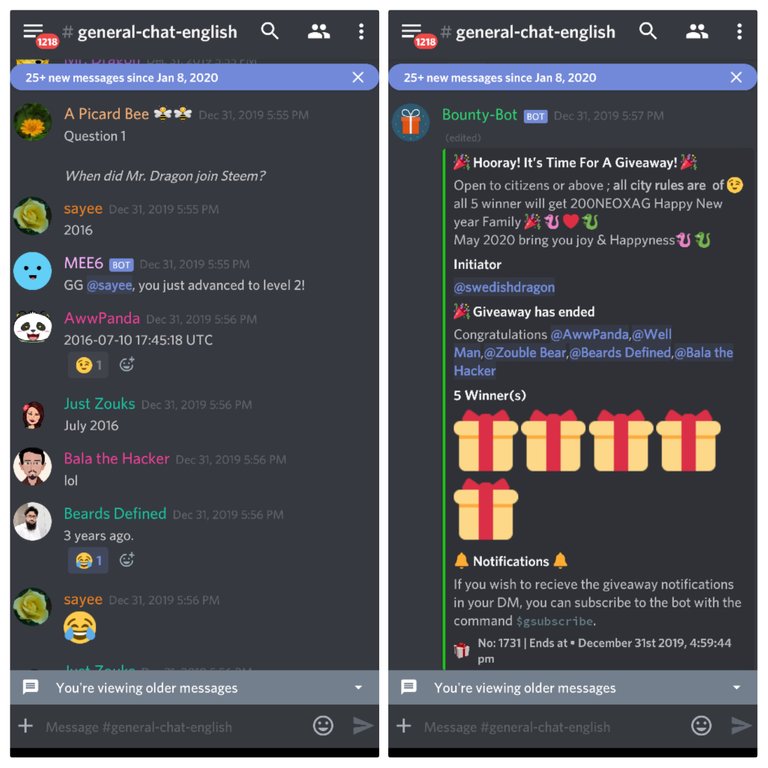 Bottled messages happened to be the most interesting part of the party, the city Lord @neoxian received a heart warming bottled messages from citizens whom decided to stay anonymous. The city Pope @thereikiforest also received a bottled message from an anonymous city member as well. Some citizens received beautiful messages from their city lovers. It was a great experience and a beautiful moment to express love to each other.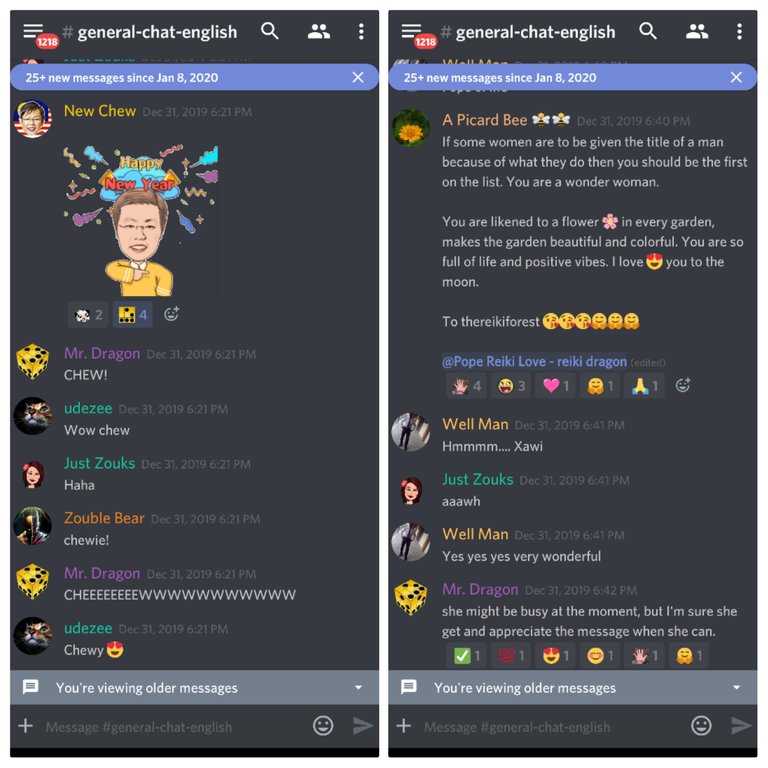 Special thanks to our own dearest city @raymondspeaks whom sacrifices his time to be on the hot seat, he honored our request to be on the hot seat and answered all our questions with so much happiness. Thank you so much sire.
Only two people played the Music game @olaexcel and @sayee and the Judge was Mr. Dragon, the first person picked two Music (Angel of my life by Paul Play and African Queen by 2face) and the second person picked two as well (Dancing Queen by ABBA and Waka Waka by Shakira). One music from both was picked by the judge and they both won something.
The last part was just for fun. Every citizen got an award for their contributions and what they know how to do best in the city but the City Lord got Best Mentor/Most Talented man of the year.
The party came to an end with lots of Music to cool our nerves.
Thank you to those who donated their coins as a reward for the party programs. I must mention names, thank you @bala41288, @xawi, @jjb777 and others I couldn't mention. And also thank you to other citizens who participated in the party, @joseacabrerav, @udezee, @ifeoluwa88, @legendchew, @Shoemanchu, @bearbear613, @swedishdragon, @simplymike, @simcard, @moeenali, @gerber and many others.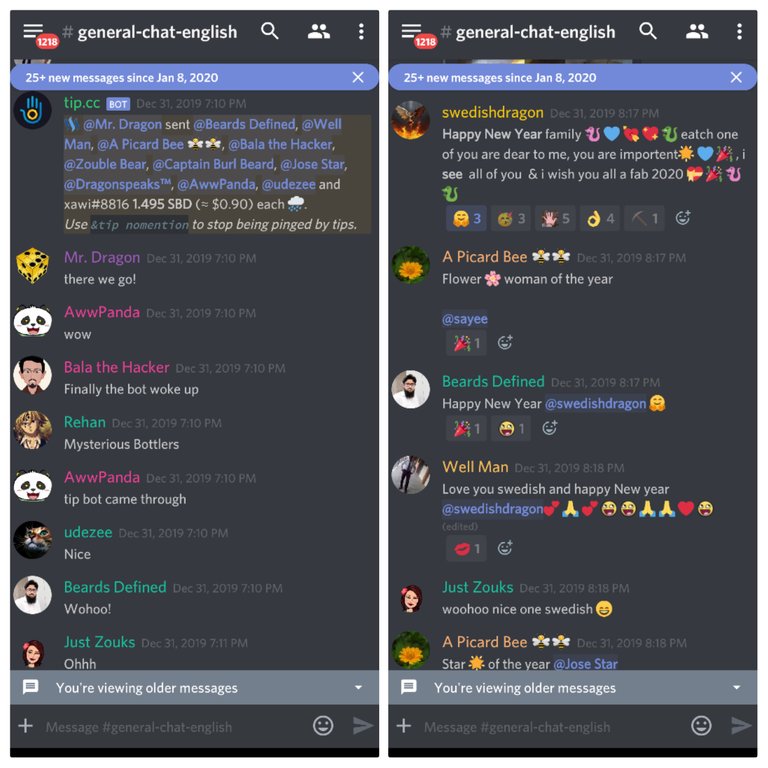 Thank you so much @zaku for the support.
I must say that @neoxian is very Tolerant because managing people from different countries, with different culture, with different reasoning, with different views and different attitude isn't a child's play. He is a leader and a great teacher.
Thank you so much for being who you are Sir. With much love, We say Thank you as a whole from your wonderful city. God bless you and have a wonderful 365 days ahead.