Hello Hive family,
It's been so long time, how are you?
For my side, I was very busy with my school organisation entry and moreover my laptop broked and in same time I lost my phone!
I have been living some very bad stressing days. My hips do not get too well also and it made me a lot of anxious but everything will be going fine.
You know, at first sight I was very stressed to do not have nothing but later I just focus on myself, projects, reading, writting, have contact with people and the most important to take care of me.
It's been so long time, I forgot myself.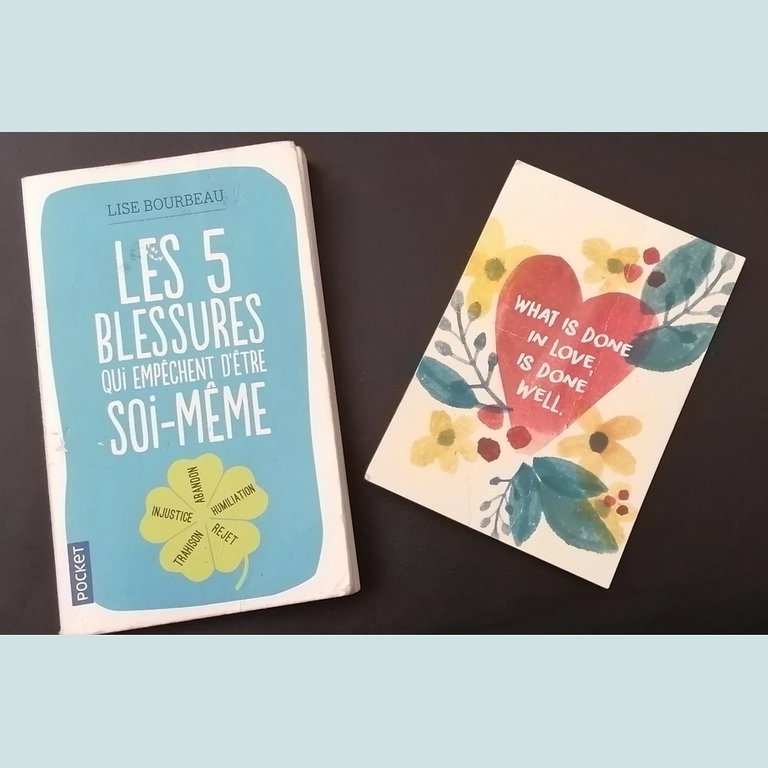 My brother gave this book to me on my 30th birthday with this beautiful card. I realized I never red it so it was the occasion.
That book is written by Lise Bourbeau a canadian autor. Very interesting, it talked about our 5 wounds that sometimes preventing us and stopping us from being ourselves.
Do you sometimes feel as though you are getting nowhere in your personal agenda? Do problems that you thought resolved seem to keep resurfacing? Perhaps you are simply not using the correct approach.
This new book by Lise Bourbeau, just as reliable as those before it, demonstrates that all problems of a physical, emotional or mental order come from five important sources of hurt: rejection, abandonment, humiliation, betrayal and injustice. Thanks to the carefully detailed description of these inner wounds, and the masks that you have designed in order to not see or feel them, you will come to identify the true cause of a certain problem in your life.
These masks will also give you answers concerning extreme skinniness or obesity.
This book will allow you to move along onto the path of recovery which leads to the ultimate desired result: being yourself.
Lise Bourbeau, as always, offers you a practical solution at the end of this book in order to turn your day-to-day problems into stepping-stones toward personal growth and to become aware once more that you are a creative GOD. Source
I have decided, to do it and take care more of myself once a week.

Tomorow, is my entry to the University. I am very proud, excited and also nervous.
You know what?
work always pays!
If you want something; work for and you will end up seeing that the mountains are not so far... @misschance
---
le travail paie toujours!
Si tu veux quelque chose; bosse pour et tu finiras par voir que les montagnes ne sont pas si loin... @misschance
With lot of love and hugs 💋


Posted via neoxian.city | The City of Neoxian