What is BUSD?
I recently noticed a BUSD,
Many exchanges use him,
Not using USDT
It is BUSD.
BUSD is a a 1:1 USD-backed stable coin issued by Binance (in partnership with Paxos)
BUSD is Binance USD.
Approved and regulated by the New York State Department of Financial Services (NYDFS),
Launched on 5 Sep 2019, BUSD aims to meld the stability of the dollar with blockchain technology.
It is a digital fiat currency, issued as ERC-20 and supports BEP-2.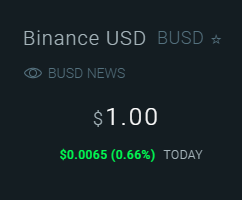 什么是BUSD?
最近注意到了一款BUSD,
有不少的交易所使用他,
使用的不是USDT
而是BUSD。
原来BUSD是一个1:1的美元支持稳定的硬币, 由Binance與Paxos的合伙企业所签发
BUSD是Binance USD。
由纽约州金融服务部(NYDFS)批准和监管,
BUSD于2019年9月5日推出,旨在通过区块链技术融合美元的稳定性。
它是数字法定货币,发行为ERC-20,并支持BEP-2。
Posted via neoxian.city | The City of Neoxian