This is definitely a great achievement. I have been playing the Rising Star game for nearly a month or even more than that. The progress during the first few days was very good and gradually it started slowing down. The progress right now is dependent on the Ego bar, Fans, and the number of discarded pizza I get in the game. I wouldn't blame my progress right now. It is going very smoothly and I make around 1000 Starbits per day and progressing well.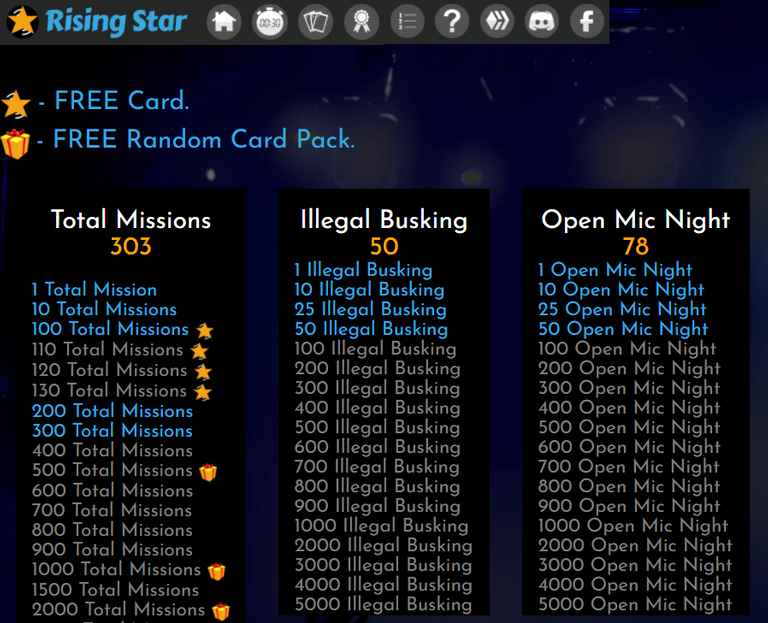 As of today, I was able to complete a total of 300 missions. The first 200 missions were pretty fast experience. I was able to complete them very fast. The reason was that my focus was mostly on missions alone to earn starbits. But now that I will have to increase my skills and keep it balanced, I had to do bigger missions that took lots of time to complete. That's why the journey from 200 to 300 was a little long. But still, it was indeed a great journey.
Purchased a pack from the market and opened it
I was slowly collecting the starbits from the game to my Hive Engine account. Today I thought I will purchase a pack and check my luck. As usual, my luck was not very great but I did receive a good rare card which would indeed increase my luck a little bit. 50 luck is something that is good to have to increase my chances of winning some special things. Apart from that that also helps in me getting some decent starbits in the game.

I'm not sure if purchasing packs from the market and opening is a profitable thing or purchasing the cards directly from the market is profitable. I guess it is a balance of both. Sometimes we will end up getting not so great cards while opening the packs. The combination of all three cards would have been cheaper if bought from the market directly. But still, the reason why we go and purchase cards from the market is because of the extra luck factor.
This time the pack opening was a bit of a loss for me. I could have got all these three cards for an even cheaper prices from the market itself. The total of all three cards would be less than 6000 if I had purchased it from the market directly. But yeah like I said, luck is one of the major things why people try to open it from packs. Next time I will try to purchase my needs from the market directly.
If you find this article interesting and if you wish to try out this game, feel free to take my referral.
My Referral: https://www.risingstargame.com?referrer=bala41288
---




---
Posted via neoxian.city | The City of Neoxian