For a long time, I've had a guilty pleasure. Or a sinkhole of wasted time, depending on point of view.
I've been a denizen of the Yahoo comments section.
Sure, nowadays Yahoo is old school. But I'm not exactly young. And I've used Yahoo since before it had the Yahoo.com URL, way back in 1994 when Jerry Yang and David Filo were hosting it on their university's servers and it was nothing more than a directory of other websites. Not even a search function.
And thanks to the power of inertia, I kept using the service. Had an email account there almost as soon as they started offering them. Their spam filter really sucked, and I ditched the mail service years ago.
But when they started being a news aggregator, as a news junkie I was hooked. (I was still a regular newspaper reader at the time.) At some point, I realized that you could leave comments. Count me in.
They got huge in the Dotcom Bubble, crashed and burned along with a lot of tech companies, had disastrous data breaches, got acquired (twice). All along, I was posting comments from one of my not-my-real-name throwaway accounts.
I have no idea how many people post there, but it's a lot. Enough that, with very few exceptions, you usually have no clue about the account that you're responding to or even whether you've had interactions with them before. Some interesting conversations along the way of course but also a huge number of trolls. I used to put them on Ignore but don't know if that option's even been available recently. There were so many trolls that if you ignored one, a dozen new ones were around.
In retrospect, I really had no good reason to stay there, let alone post comments. RSA feeds and much better news aggregators came along. I utilized them but continued to comment. On all kinds of topics. Investing, scientific discoveries, sports here and there even if I'm not a fanatic fan like some are, human interest stories, technology, you name it. And a bunch of current events and politics. Not surprisingly a lot of conflict there. Some topics I didn't touch with a ten-foot pole. Others I'd dive right in.
Initially, Yahoo moderators treaded carefully. Eventually they started deleting comments, sometimes quite innocuous ones. They banned the use of certain words which would be auto-replaced by nonsense characters. Very inconsistently. Nazi and Klan banned, fascist and Communist okay. A few days ago, any word containing ass changed to things like !$!$!$igned, cl!$!$!$ic or B!$!$!$omatic.
Today, all comments vanished. In their place,
Our goal is to create a safe and engaging place for users to connect over interests and passions. In order to improve our community experience, we are temporarily suspending article commenting. In the meantime, we welcome your feedback to help us enhance the experience.
Call it censorship or call it a sound business decision. It's my excuse to quit cold turkey and never go back.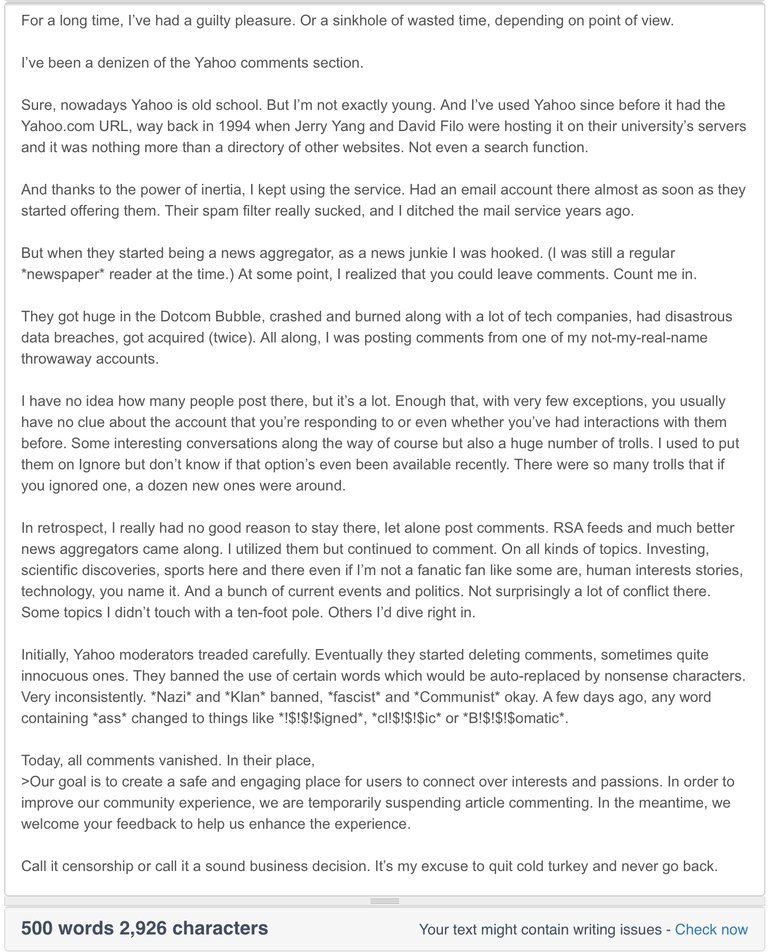 I'm heading up north tomorrow for four days, three nights at a rented cabin. No idea if I'll have cell phone coverage, so I may or may not be on Hive over the next few days.