"Smile. That's an order."
Big John's a charismatic leader. Usually I'm happy to do what he says just because. Just because doing so has made me comfortably well off, maybe not rich, but comfortably well off. Just because doing what he says to do has worked out so well so often, he almost seems to create luck. Just because being in his orbit has worked out so well for me.
But also because Big John's the boss. So when Big John says X, you X.
Eight years ago, there was a guy who did not do what Big John said to do. He even said NO to Big John. What Big John did to him is the stuff of legend. Maybe some day someone will talk about it, but not until Big John is gone. Not me, not even then. Some things are best left unsaid.
So when Big John says Smile, I smile.
There are going to be ten of us in the meeting, five from Big John's organization, five from Huang Yueh-sheng's triad. Ten of us sitting around a table, but not at all in the sense of Knights of the Round Table. This was no meeting of equals.
It was to be the second meeting to discuss the possibility of our two organizations becoming allies.
The first meeting was mostly mid-level people, I had led our group. We were only charged with agreeing on a neutral site for the bosses to parley and making the arrangements for such a get together. We had agreed on an Indian restaurant on the edge of downtown for the odd reason that Big John and Huang coincidentally both liked Kerala beef fry. Go figure. Both sides had been there several times to get comfortable with the security arrangements. The private dining room we'd rented had been swept for listening devices by both Huang's men and ours several times, including as we got here. We'd flipped a coin to see which team's members would enter first. Huang's guys had gone in a few minutes earlier, we'd watched from Big John's limo.
I was honored and a bit surprised that Big John had picked me to be one of the four from our organization to accompany him to the meeting. Unlike some other organizations, Big John's did not have a strict hierarchy. That said, I wouldn't have thought myself to be in the top five, I just haven't put in enough time. But maybe I'm here just because I led the team that did the first round of negotiations. Or maybe because Big John appreciates what I've done for the organization recently, expanding north of the river into area that the Hollisters controlled until their unfortunate accident.
Either way, this is an opportunity for me to help Big John build what could be a very profitable alliance. Or to point out that something Huang proposes might require a slight modification.
So when we walked in, I had a huge smile on my face.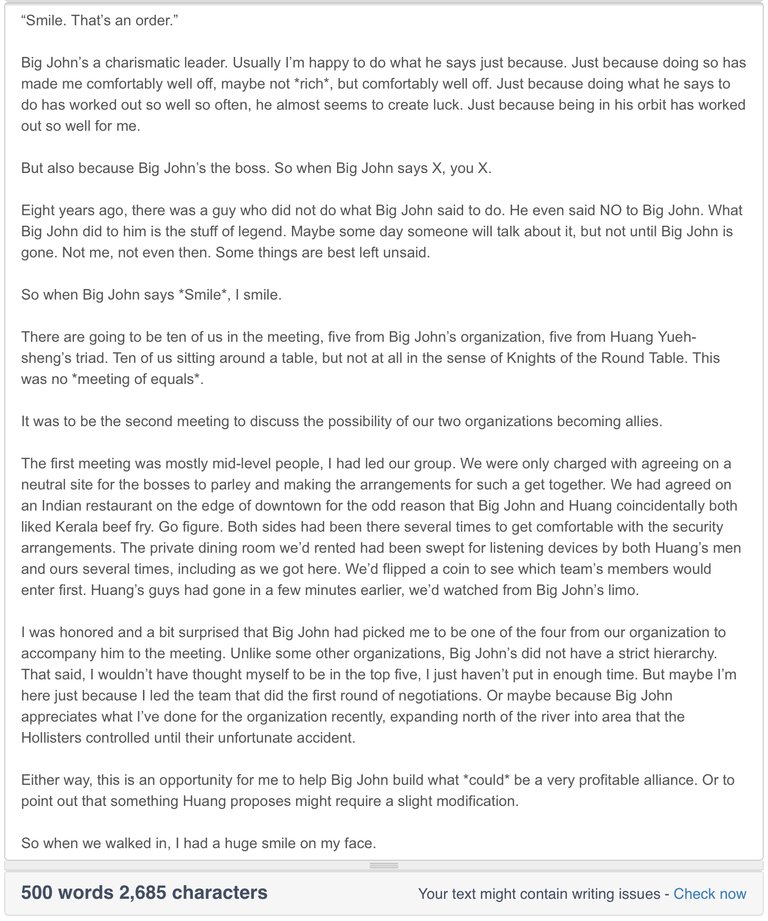 The prompt came from the challenges that @mariannewest has been posting:
https://peakd.com/hive-161155/@mariannewest/day-1010-5-minute-freewrite-monday-prompt-round-table

Badge thanks to @arcange