---
So in the vast sea of supehero movies/series the genre and it's tropes have gotten rather old, like a long long time ago. That was until last year when 2 superhero series blew up the streaming World, namely The Umbrella Academy and The Boys.

Today we talk about The Umbrella Academy.

The Umbrella
Academy
Review
---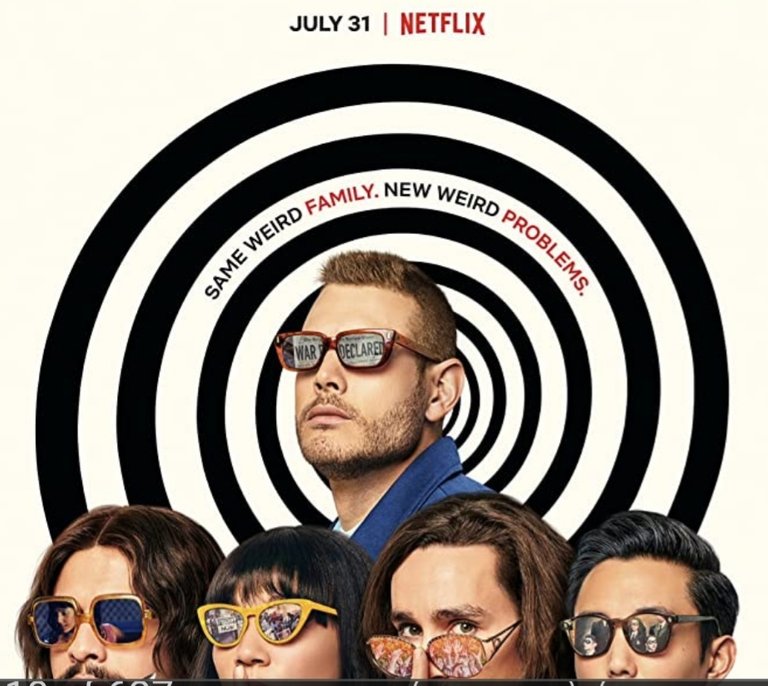 ---
Source.
---
The Umbrella Academy is a show unlike any of the genre. It's dark, humorous, while being as wacky as it is deep at the same time. The show revolves around the adventures of a family of 7 siblings, their guardian who happens to be a talking monkey, their robot mom and their dickhead father, as they try to be heroes and an all around functional family. They spectacularly fail at both.

All of the characters are as complex as they are tragic, beautifully tragic if I do say so myself. Unlike the goody too shoe heroes who always get the perfect happy ending and who happen to populate the genre's most mainstream universes, Deadpool being one of the few exceptions. So much so that practically all the storylines had me hooked, that plus their unique, diversified and well placed soundtracks. And oh yeah, the dark humor in this show is off the charts, and you guys know how much I love my dark humor.

Indeed the first season had blown me away to the point that I had to re-binge it a few weeks ago.

So when my neighbor aka my tv show dealer called me yesterday telling me he had the second season, I thought he was pulling my leg. Last I had checked(A few months ago.) word on the web was that the series wouldn't return until 2021. So yeah, dude being well versed in the art of doucherie, he was definitely leg pulling.

Yet he kept insisting it was for real. A quick Google search for clarification was in order and to my happy surprise, pulling my leg he was not. I was stocked, took a moment to catch my breath and then rushed to his house to get my fix.

But I couldn't jump in just yet, had to start it while I was still fresh off my morning brunch coffee, which I did and lived not to regret it. Yup, it did not disappoint. It's rare for a second season to shine as much if not outshine the first but TUA's second season actually delivered in all it's predecessor's aspects and boy was it cathartic for [Insert character's name.]A big shoutout goes out to him/her, anticipating the resolution of his/hers storyline kept me on the edge of my seat, among many other plots.

That ending though. Ouf. Shit is about to get real! Sad that we'll have to wait for season 3 to see how events will play out. Unfortunately it's likely to come out in 2022 or God forbid, 2023 since filming will surely be postponed due to the rona and it's damned lockdowns.

But enough hyping up. If you haven't watched the show I highly recommend it as it has something for everybody.

Anyways, guess I'll just have to bite my time as I hope filming will start as soon as the lockdown restrictions from whichever areas they film in eases up. Plus The Boys(Slightly better than TUA in my opinion.) season 2 is coming out in September, the wait might not be too long.

Anywho, this is it for my TUA's season 2 not review. How about you though. Ever watched it?

PEACE!!
---