Kevin Dyson had a solid NFL career. Not only that though, he had a lowkey legendary career thanks to some special moments.
Dyson was a first round pick of the Tennessee Oilers (the franchise was transitioning from Houston and would become the Tennessee Titans the following season) in 1998 out of the University of Utah.
Dyson is basically a Titans legend despite rather average numbers and a relatively short-lived career.
In his six year career he spent five years as an Oiler/Titan. Most of his professional statistics were earned as an Oiler/Titan. He literally only caught two passes for another team, in the Carolina Panthers. He was a member of some other teams, but he didn't actually see any playing time for those teams. That being said, these are the numbers he put up in his six year NFL career:
178 receptions
2,325 receiving yards
18 touchdown catches
That's definitely a career to be proud of!
But why exactly is Kevin Dyson a Titans legend?
Well for one, he's the guy that caught the lateral from Frank Wycheck on the late-game kickoff and ran it back for the game-winning TD against the Bills in a Wild Card Playoff Game during the 1999/2000 season. This play has been known as the Music City Miracle, and it's pretty epic. If you're an NFL fan you have definitely heard of and seen this play. NFL history right there.
Look at that man go!! Goosebumps! This was such a legendary play by Dyson and the Titans.
Another reason Dyson is a legend is actually a case of what could have been. It's a rather tragic play in the same exact playoff run, except it wasn't simply during a playoff game, no it was during THE Super Bowl.
Twenty-two days after the Music City Miracle the Titans found themselves in the Super Bowl against the St. Louis Rams. It was a close game. SO close in fact that the Titans lost by kind of literally a yard. Steve McNair and the Titans were driving down the field for the game-tying touchdown and the Titans had a first and goal at the ten yard line with six seconds left in the game. McNair found Dyson for a NINE yard completion, and time expired. Dyson was literally reaching his arm out to get the ball hopefully into the endzone, but his arm sadly wasn't long enough. You can watch the tragedy here.
Its a seriously sad game as a Titans fan, but still it is a historical play and game. I am proud of how well the Titans fought and how good that team was.
If Dyson could have got in the endzone, and the Titans would have won that Super Bowl, what a magical playoff run that would have been!! It still is a great run, but man that would have been insane! The Music City Miracle followed by that hypothetical TD catch.
Nevertheless, Kevin Dyson had some memorable and magical and historical moments as a member of this franchise.
He will always be remembered! I'm glad to have this rookie card! I'm pretty sure it's a rookie card, it doesn't officially say it anywhere specifically, but it does say '1998 NFL Draft Pick'. It doesn't have any NFL stats on the back. I'm calling it a rookie card.
Here's the card.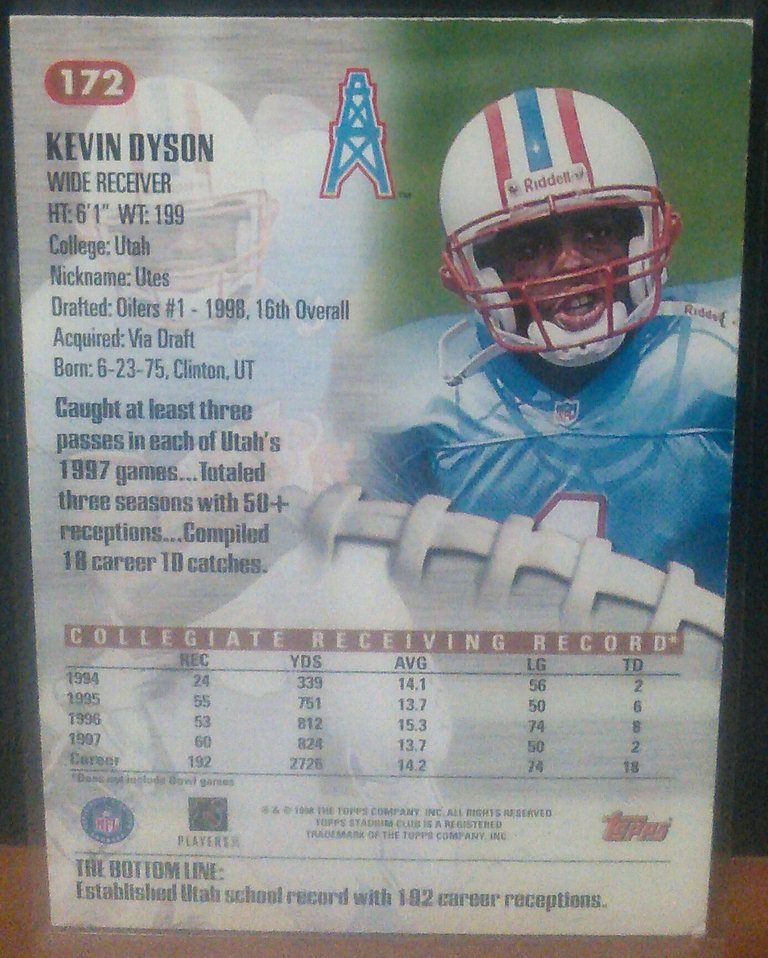 Keep sharing those cards, #Titanup.