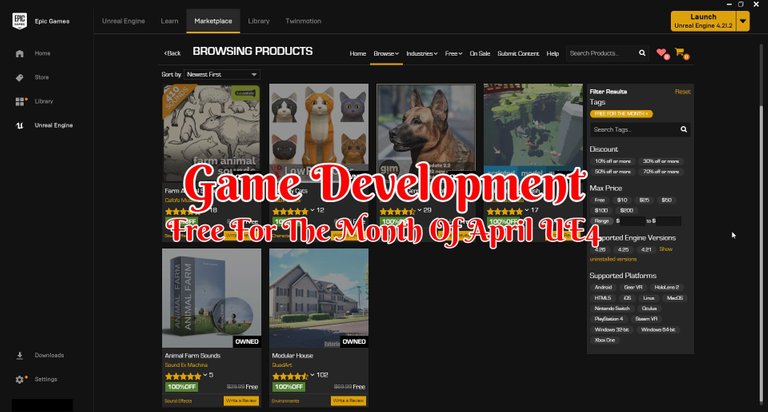 Every month for Unreal Engine 4 (UE4) developers there are free for limited-time assets to pick up in the store. Once you claim them they are yours forever and are placed into your UE4 vault. This is great for any game asset hoarders out there as you don't need to download and store them somewhere. You can just download a pack(s) whenever you need them.
With most months you get some kind of general theme. April had somewhat of a theme of animals for spring and a random house pack as well. I found most of this month's free stuff to not be anything I'd be interested in for the most part. Since they are free to use with UE4 I grabbed them just in case I ever need them in the future for something.
Farm Animal Sounds

This month came with two different packs for animal sounds. Farm Animal Sounds by Cafofo Music and Animal Farm Sounds by Sound Ex Machina. Frankly, when it comes to game development and just sound packs I'm usually not that impressed. When it comes to an animal making a sound once you have one and it's decent it's not like you need another of say a cow saying moo.
The Animal farm pack comes with 90 sound wave files from 14 different animals and some other random stuff as well. The Farm Animals pack comes with over 400 wave files from 18 different animals. They both overlap heavily on your standard animals you would expect to find on a farm such as chicken, cow, dog, pig, sheep, goat, and so on.
A pack like this also has little use unless you just want these kinds of sounds in the background. They don't come with meshes of these animals themselves. If I was buying a pack of animals for their meshes to use as NPCs I would expect them to come with skeleton, mesh, animations, and yes the sounds the animal makes.
Thankfully this month there were two other free packs by different companies where there is a need for sound for a dog and a cat. Otherwise, I don't see either of these two sound packs getting much use.
Animalia German Shepherd M By GiM

I must say if you ever needed to buy a bunch of different animals it looks like GiM has you covered with over 80 on the Unreal Engine 4 store. They are in my opinion a bit pricy with many being in the $90 range per animal. They are higher resolution than you tend to find elsewhere.
The most impressive thing to me is this pack comes with 98 animations for the shepherd dog. For those that love to spend a lot of time blending animations and getting movement right, this pack has you covered with options. From the dog walking, falling over, jumping, turning, and so on so many animations.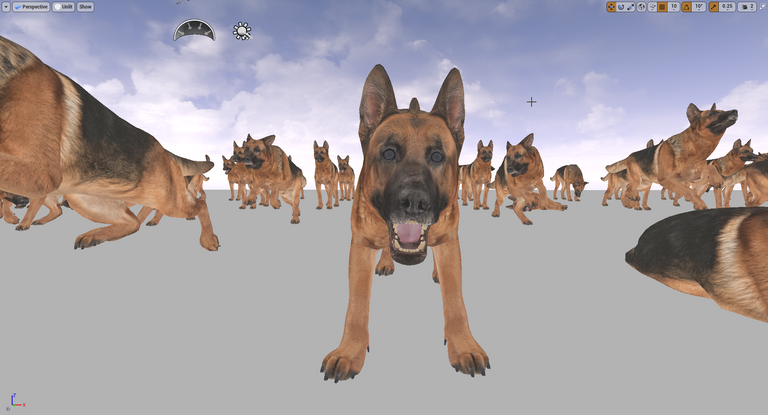 Outside of that, you get one German shepherd model. The mesh looks decent with enough detail to make it look amazing without it being so much so that it has a heavy impact on performance. At $94.99 when it's not free I would have at least expected a couple of sound files which this does not have. Thankfully there are other packs this month that have a dog barking.
LowPolyCats By Rabik Bilalov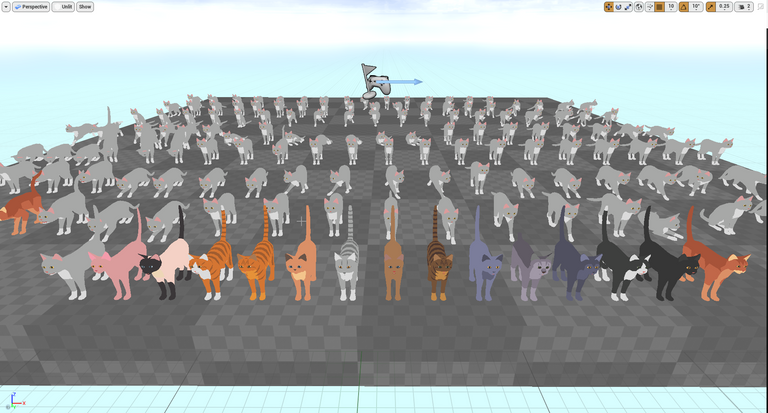 This one has 15 different color patterns of a cat and 137 animations as well. This would be great if you were looking for a slightly lower poly count or almost cartoonish-looking cat to use in a game.
Rabik Bilalov is more of a budget provider with the kinds of packs that are sold in the unreal Engine store in the $14.99 to $19.99 range for different kinds of animals at a lower resolution than GiM. They at least provide you with a lot more styling in many cases if that kind of animal can have different colors.
Animated Pond Fish by SuburbiaGames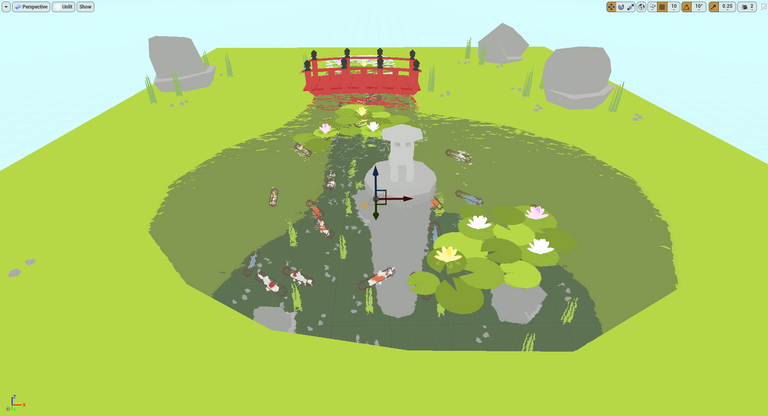 While all the other packs require a bit of work by you to get them to animation and moving. This pack comes with some heavy-handed blueprint code already made for really giving movement in a pond a go for its money.
While this kind of art style is not to my taste the water in this pack looks amazing. Sometimes when it comes to a pack there just one thing out of you might consider it being worthwhile. With it being free this month that just a nice bonus to have something like water if you wanted this kind of style.
My biggest concern however for this one is going to be performance. I did duplicate the fish in the pond a few times over and my system started to have some issues. This is definitely for a small pond worth of fish that move around seeking an empty spot between all the other objects in it.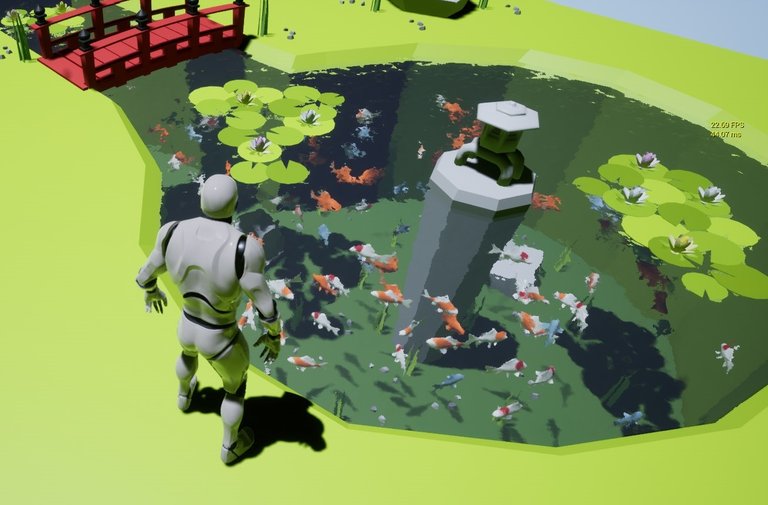 With how complex the blueprint is for the movement of the fish I do admire how much fun they are just to watch swimming around. If someone was willing to sit down and spend the time optimizing their movement they could be a fun addition to quite a few different kinds of games out there.
Modular House by QuadArt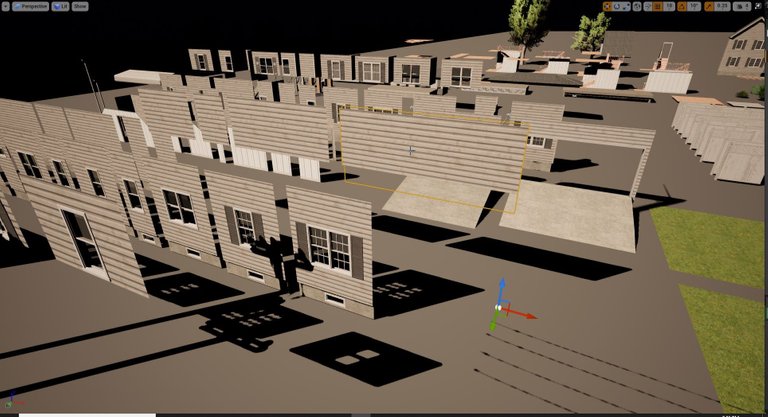 While this pack was a bit different than anything else that was free this month it is the one I felt was the best out of all of them. It comes with a bunch of different set pieces such as trees, bushes, roads, and modular house pieces. It also comes with some put-together homes for those looking for examples or who just want an already made house.
One of the biggest things about this modular piece pack is a lot of pieces can only be used in a certain way. Overall this seems quite optimized and when you start working with me you notice a lot of assets have parts that have no back on them or are missing sides. They fit with other pieces in a certain way and if you can get some great results.
A pack like this also just gives you many pieces if you ever needed some odd thing to use elsewhere. As a game developer, you never know when you need an odd piece like a road, a pile of trash, an electrical pole, and wires. While there is not an inside amount of these kinds of pieces if you wanted something for making a neighborhood this pack might just have it.
It also comes with quite a few different textures. You have things like the slate roof and brick walls. You also have textures inside the house such as wallpaper, different kinds of wooden floors, and just a bunch of other stuff.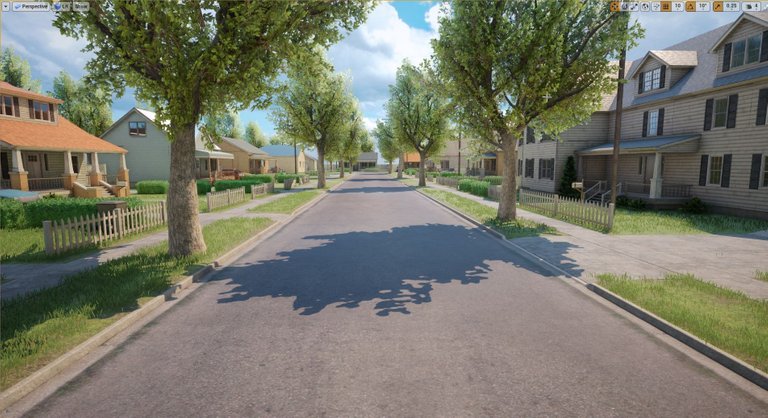 The biggest thing this pack has going for it are all the already made homes. There are 19 homes in total in different sizes from one bedroom house up to a three-story house. That in itself would be great if you ever needed to fill the background with a bunch of houses all by itself.
These houses also come with an inside. For me, I love it when buildings have an inside to explore around in a game. While these do not come with furniture QuadArt is selling a house future pack as well. I feel this is a perfect example of a creator giving something away and having other things you can buy from them if you like the style and want to take things to the next level.
Final Thoughts
It is always fun to check out the monthly goodie bag in the Unreal Engine shop. Some months are a lot better than other months and I was not that interested in this month. Some developers give away their best in hopes you will come and buy other components that come along with it. While others have something on the cheaper side in these monthly packs hoping to give you just a little nibble to see what else they have in store.
Other Posts:
Information
Screenshots were taken and content was written by @Enjar. Screenshots are from Unreal Engine 4.
All packs talked about in this post are from UE4 Free for the Month of April for use in Unreal Engine projects.