I just finished a 11.564km running that lasted about 1hh:4mm:23ss !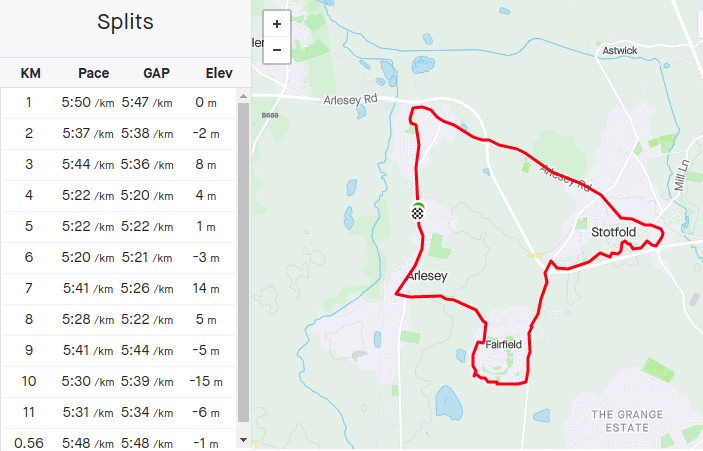 The weather has been very variable this week, but I got up to a nice bright morning. It is slightly warmer than my last run. I decided to do my usual long run in reverse for some variety. You tend to notice different things doing that and it makes you aware of where the hills are. With all the rain we have had there is a lot of standing water in fields, so I stayed on the paths.
Heading to Stotfold I had the low sun in my eyes. I saw quite a few runners out today, including one guy I know. I went all around the new estate before heading up the long hill to Fairfield. That was hard work.
I took some different roads through Fairfield. I did hit one dead end, but then it all looks much the same and I was not sure if there would be a way through. Coming down the hill of West Drive was nice. I passed a lady who was walking, but then she came zooming past me before walking again. We each have our own workouts.
My pace was up and down a bit, but an average of 5:34/km is not bad. I got two second fastest personal segments. I was looking at some of those and could see that others had done them today too. A couple of ladies were quicker than me, but as an old guy I would expect that. I was not going flat out anyway. I was happy with my run. Will get back to some speed work in the coming week.
For some reason my Garmin watch is not recording heart rate today. It did prompt me for an update as I set off, but I will do that later. Need to see if that fixes it. The lights are on anyway.
Run free and stay well.
Check out some detailed info at my EXHAUST page
Join me in testing out EXHAUST!