I just finished a 21.525km running that lasted about 2hh:4mm:9ss !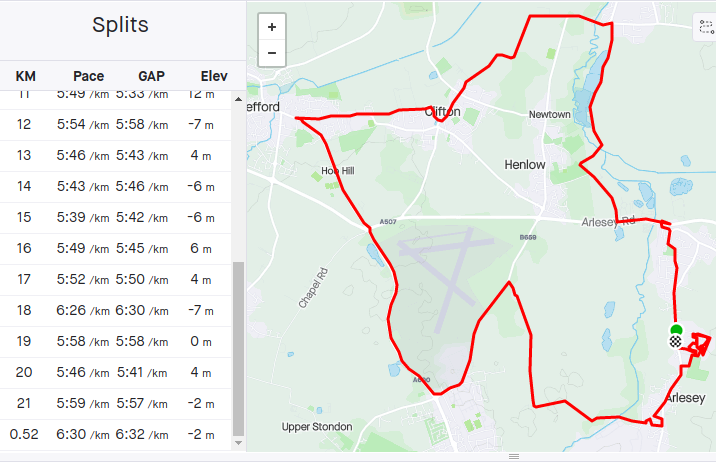 Today was my fifth in a series of monthly half marathons that I started when the one I was planning to compete in was cancelled. I can report that they do not get easier. I have tried to do a different route each time and I used a tool in Strava to map one out. It came out at around 20km, but I assumed I could find ways to extend it.
I had some cereal with fruit to give me some energy for the run. I started by taking the track past Champney's spa where I saw a rabbit. It is usually quite quiet up there, but I saw a fair few runners as I passed the fishing lakes. There was a lot of work with diggers going on there and it looks like they are having new fences. I noticed I was going a little quick there and made an effort to ease off a bit. At Langford I ran along the road for a short way and happened to see my better half on her way to the stables. Then it was onto another farm track that runs between fields. It was a bit windy at times.
I took a back road through Clifton to stay away from traffic, where I encountered a squirrel, and then it was past my kids' old school into Shefford. I realised I had run past the roundabout where I meant to take a different road, but did not go too far off track. The road out of Shefford is up a fairly big hill where I managed to keep the pace up.
I had to get across the busy main road, but there was a good break in the traffic. Then it was along a fairly narrow footpath by the road towards Henlow Camp where I worked many years ago. As I went past the RAF base a large group of cyclists went past. Back on the country road I caught up with a lady jogger and went out into the road to give her plenty of space. There is no compulsion to wear masks when running, but I still try not to infringe on personal space. After following the road for a while it was back onto yet another farm track. The sewage works added to the country aromas. I was soon back on very familiar local territory as I took a long way around to the meadow by the river. By then my legs were really tiring and I slowed to a walk as I climbed the footbridge over the railway before getting back to a jog on the other side. Then it was just a matter of following the road through Arlesey to home. As I got near home I could see that I really needed to add another couple of kilometres, so I took a couple of loops around the block, which involves climbing a bit of a hill.
It is due to get fairly warm over the next few days, but it was nicely cool for my run. After a shower I am chilling out with a coffee whilst I type this up. At least I seem to recover fairly quickly these days. I may have a swim later.
I was trying out some new headphones that I will review soon. Part of my listening was an interview with singer/guitarist Molly Tuttle. I have just been listening to her album. She has a nice voice and does some cool covers.
I hope everyone is having a good weekend. Run free and stay well.
Check out some detailed info at my EXHAUST page
Join me in testing out EXHAUST!