I just finished a 8.581km running that lasted about 0hh:53mm:25ss !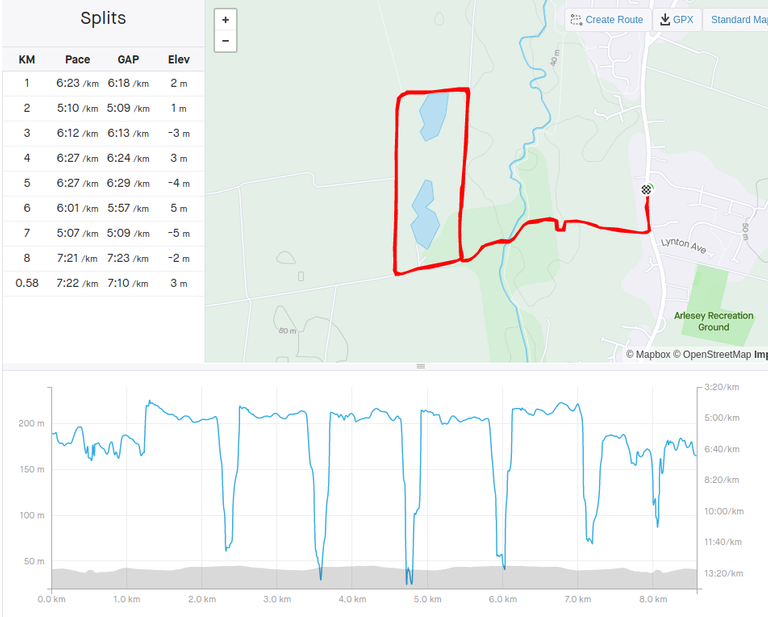 Yesterday I did 6x800m intervals. I had a message from my friend Jon last night asking I wanted to go running this morning to do 5x1km. He initially said 7am, but we settled on 7:30. I was expecting to struggle as running on consecutive days is generally hard. We went to the same location to do this on the loop around the fields.
Jon is a little quicker than me, so I did not expect to keep up. He said to do it at 5km pace, so I aimed for 5min/km. I went off much to quick initially, but settled around 4:55. We walked on the recovery parts and had a bit of a chat.
The subsequent loops were not too bad with Jon finishing about 100m ahead of me each time. On the last one we decided to reverse direction as we had just run into a headwind on the back straight. That made it easier and also meant an extra downhill part. I had felt I had a little in reserve, so pushed a bit harder and was not too far behind when Jon finished the kilometre. I did ask him about what he bases his training on. He said it is a mix of a programme aimed at triathletes with one for middle distance runners. He does some cycle rides and swimming too. He was planning to swim in a lake tonight. I will make use of our pool as it is due to get up to 34C today.
I am glad I ran. It shows I can handle consecutive days and that I am improving. I am also glad we did it before it gets too hot.
Run free and stay safe.
Check out some detailed info at my EXHAUST page
Join me in testing out EXHAUST!