Yesterday's Dollar Bin Vinyl Finds: Jazz/Disco/Serbian/Polka/Country and Ragtime!

Here is a bunch of the records i picked up yesterday, at my local used shoppe! i might not be able to find links to all these so we shall see...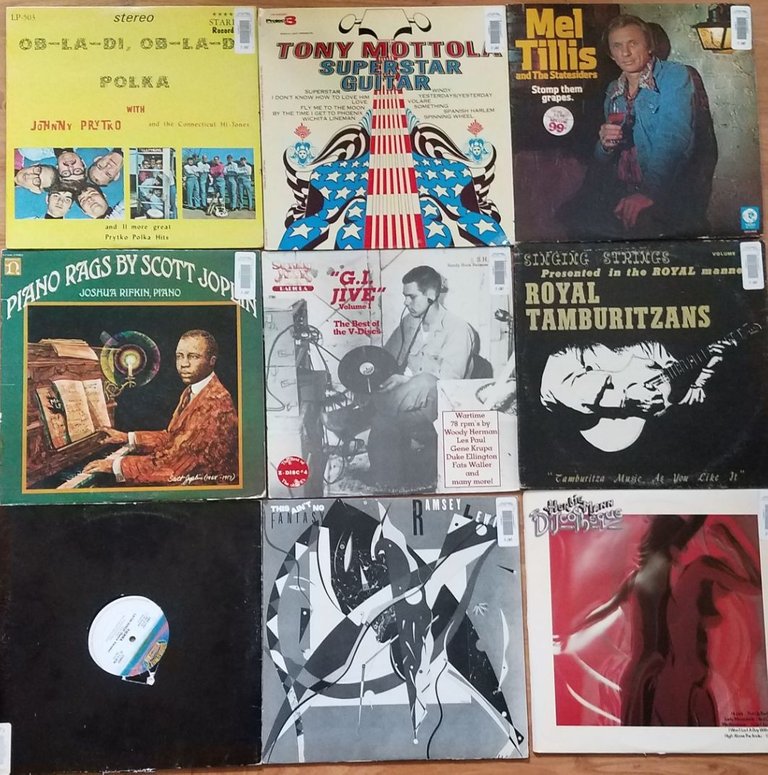 Tony Matola
"Superstar Guitar"
1972

I am a sucker for any cover songs from the 60s and this guy put out some decent records, always seem to be produced by Enoch Light.
"G.I. Jive"
1983

Compilation of WWII era jazz on the Sandy Hook label.
Mel Tillis and the Statesiders
"Stomp Them Grapes"
1974

70s country superstar. I like trucker and old timey country, but modern country pop is the WORST.
Ramsey Lewis
"This Ain't No Fantasy"
1985

This one is some mid eighties cheese, further proving my theory that every artist who has been around for a while had to "evolve" to fit the 80s aesthetic.
Herbie Mann
"Discotheque"
1975

Great Disco era Herbie, love that song hi-jack. I already had a copy...but a DJ has to have two!
Tierra
"Together/Latin Disco"
1981

I couldn't pass up on some LATIN DISCO. 81 has to be the last year of disco right? hanging on by a thread with the emerging High Energy and Electro sounds coming out at that time.
The Royal Tamburitzans
"Singing Strings and Songs from the Heart"

Traditional Croatian/Serbian music private press record.
Joshua Rifkin
"Scott Joplin Piano Rags"
1970

I always think of super mario world when I hear ragtime piano.
Johnny Prytko and the Connecticut Hi-Tones
"Plays the Ob-La-Di, Ob-La-Da Polka"
yeah I couldn't find this one online to link....so I can probably assume that it will be amazing.
Thanks for reading, I hope you liked my post!
---
Posted via MusicForLife.io
---
---