Nine 45 rpm Seven Inch Records I Bought Yesterday, Mostly 60s R & B and rock

Went to my local record exchange yesterday....spent most of my time digging through 45s in the dollar bin, found some goodies that i will share with you today.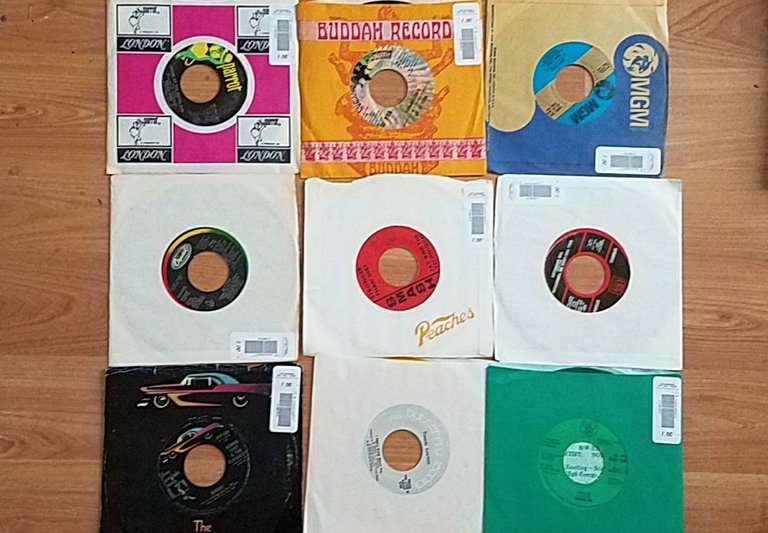 Ohio Express
"Roll It Up"

This band is most well known for their single, "yummy, yummy, yummy"-which i also have on 45 and the b side has some weird, excellent backwards song. I think this songs about rolling a burrito.
Horslips
"Exile"

Never heard of this Irish "celtic rock" band. .. this one sounded. ..kinda prog i thought? the other side sounded like the grateful dead
Frijid Pink
"house of the rising sun"

You can never have too many versions of this traditional song, i say.
Jimmy "the handyman" Jones
"Good Timin'"
1960

The handyman strikes again. ..i have an 80s version that he does of this on cassette and its amazingly better than the original, in my 80s loving opinion, of course.
Classic IV
"Spooky"

Another "standard" i will usually go for any cover version i find.
Jay and the Techniques
"Stronger Than Dirt"

I grabbed this sight unseen because i figured it would be the original version that the mummies covered,but it doesn't appear to be that song. ...Maybe i just need to listen more closely
The Shirelles
"Will You Still Love Me Tomorrow?"

Classique girl group song.
Tuxedo Junction
"Chattanooga Choo Choo"

How could i pass up on a disco version of an old country song?
Sly Fox
"Let's Go All The Way"

Great classic 80s songs on both sides of this one, with "como tu te llama" on the flip side. If you really wanna bum yourself out, look up the sort-of cover of this that the insane clown posse did.
Thanks for checking out the jams, i hope you liked my post!
---
Posted via MusicForLife.io
---
---