Four Miami Bass Records From The 80s and 90s
Today Im coming with some Miami Bass records to share with you! this is my first post tagging the new beatzchain tribe too- https://www.beatzchain.com/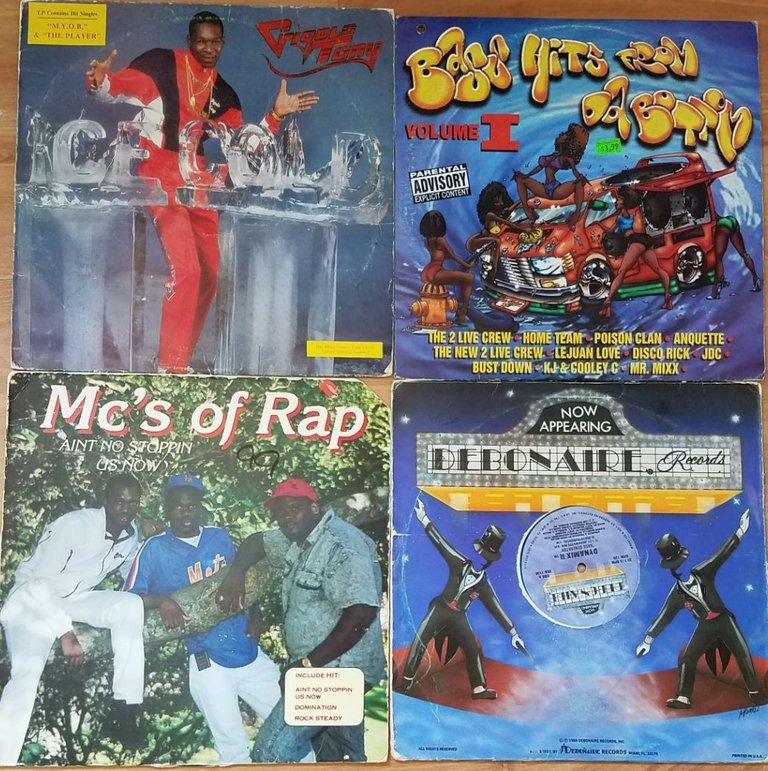 they are looking to expand the hip hop and electronic music communities, so check it out/tag beatzchain on yr posts! ill be posting new original music soon...
MC's of Rap
"Ain't No Stopping Us Now"
1988
Great little - known group i found while visiting the records stores in Florida a few year's back-i was on a quest for Miami bass and freestyle, as i figured it would be easy to find down there and i ended up shipping records back because i couldn't fit it in my luggage!
Gigolo Tony
"Ice Cold"
1987

The Gigolo showing how they were doing it in Florida, creating a sound specific to that area, not going for the New York or West Coast sound, paving the way for all the other hip hop artists from the south who would further continue to create a sound of their own.
Dynamix II
"Bass Generator"
1990

Classic early electro/ Miami bass group, coming hard with the vocoder jams.
"Bass Hits From Da Bottom"
1997
Disco Rick
"Wiggle Wiggle"
1992

Oh boy, we get a video with this one! Heres a one of the many compilations on Lil Joe Records of Bass Heaters. Here I feature Disco Rick doing Wiggle Wiggle, from 1992, released on Luther Campbell's LUKE RECORDS label (i prefer when it was Skywalker Records, before he was sued) in the early 90's, this one ages gracefully, as do most videos from the 90s...A great dance, the wiggle -i think the kids are still doing it these days.
i hope you liked my post!

---
Posted via MusicForLife.io
---
---