Four Jazz Records, 70s and 80s
Today we flip through my jazz record section to bring you some classics of yesteryear: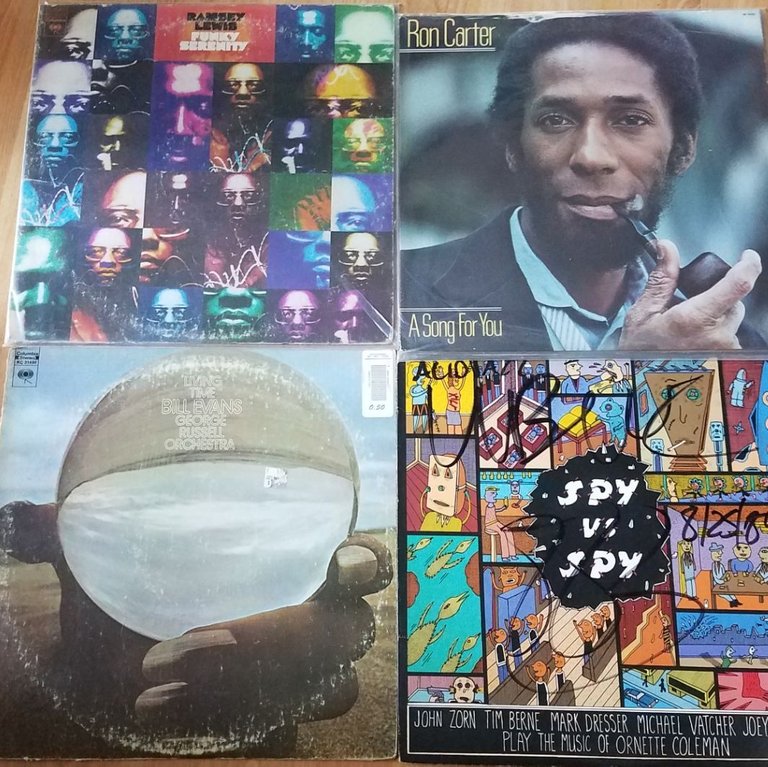 Ron Carter
"A Song For Your"
1978

I believe that Ron Carter has appeared on more jazz records than any other artist-2,221 records! Not too shabby of a feat... Carter has literally played with a 'who's who' of jazz, first gaining serious notariety playing with Miles Davis in the mid 60s and working with virtually all the greats of the 60s through today. Here is one of his solo records from the late 70s. This track features some pretty cool cello work.
Ramsey Lewis
"Funky Serenity"
1973

I always like the Ramsey Lewis records i have heard, being a sucker for a jazz rendition of a popular song, i have probably a handful of his records and haven't found a stinker yet-well, that 80s one i found a few weeks back was prety cheesy i must say. This one, as the title suggests, leans a little more funky with the early 70s vibes. This compliments his style and makes for a good record all the way through.
John Zorn
Spy vs Spy: Music of Ornette Coleman
1989

This is a record of songs by legendary free jazz saxophonist, Ornette Coleman, interpreted by John Zorn and co. into short, hard hitting tracks that have a frantic hardcore/punk feel to it. This was released in the late 80s and shows some of the jazz/metal/avant garde fusion, themes that he would later revisit in his Naked City project.
Bill Evans George Russell Orchestra
"Living Time"
1972

Bill Evans and George Russell team up with a twenty piece orchestra and churn out a blend of cinematic jazz with the avant garde. at times cacophonic, this record is a nice listen.
I hope you liked my post!

---
Posted via MusicForLife.io
---
---