[ES]
Rising Star tiene diferentes formas de sorprender a sus jugadores, por ejemplo con incentivos dentro el juego como cartas especiales, eventos, nuevas secciones como el reciente crafting de guitarras son solo algunas de laa sorpresas que puedes encontrar dentro ésta Dapp alojada en Hive.
Una de estas sorpresas está relacionada con los post cuyo tema es Rising Star, ya sea que en ellos se escriba acerca de una estrategia a seguir, experiencias personales dentro el juego o las compras de cartas que realizas, mientras tenga que ver con el juego, ese post podrá participar de un sorteo semanal.
Requisito indispensable:
El post debe llevar #risingstar como tag principal.
Dentro el chat de Discord del juego existe una sección para dejar los links de las publicaciones respecto al juego, ya sean hechas en Hive o en otra plataforma, de esa manera también te aseguras que vean tu post.
Como bien supondrán, es gracias a ésta actividad tengo la alegría de recibir un pack de regalo de Rising Star!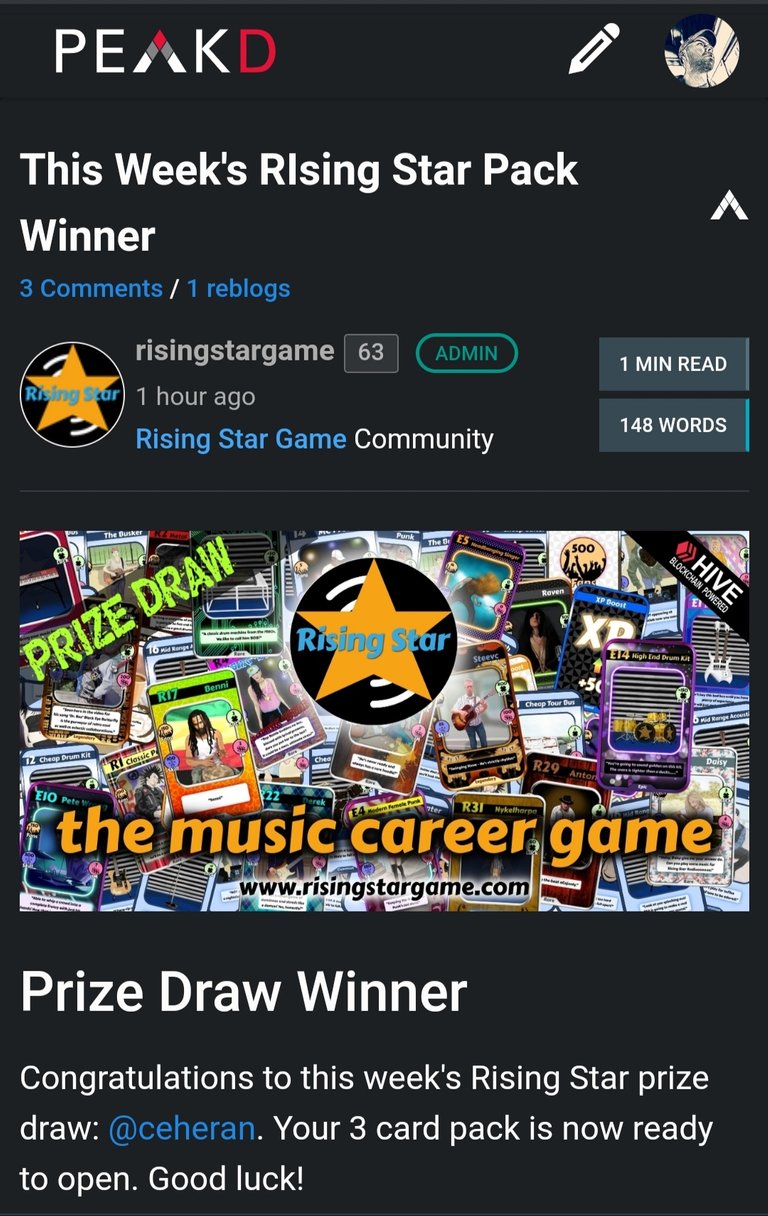 Para ser sincero, había estado distraído y podría decirse que "en piloto automático", así que el ver la publicación donde se anuncia que había ganado un pack me llenó de sorpresa y alegría, despertándome de mi letargo.
Gracias equipo de Rising Star!
Ni bien di las gracias como pude (por la emoción de saber qué cartas vendrían en el.pack XD) me dispuse a entrar en mi cuenta y buscar mi premio.
---
¿Qué cartas salieron?

En un post anterior había realizado la compra de otro pack, resultando beneficiado mi Skill y las lecciones de canto; con éste nuevo pack el temor era un aumento súbito del EGO, hubo nerviosismo al abrirlo.
Continuamos con buena suerte! R26 Lute llega con 50 Luck, excelente! Aunque apareció "El EGO", no fue perjudicial siendo que aporta 25 Fans permanentes a mi cuenta, finalmente y con unos gratos 25 Skill permanentes para mi cuenta tengo a "11 Record Producer". Genial!.
| R26 Lute | 12 The Ego | 11 Record Producer |
| --- | --- | --- |
| | | |
Aún no tienes cuenta en Rising Star?
Tan solo sigue los siguientes pasos:
Crea tu cuenta Hive AQUÍ
Crea tu cuenta Rising Star AQUÍ
Únete al chat de Discord AQUÍ
---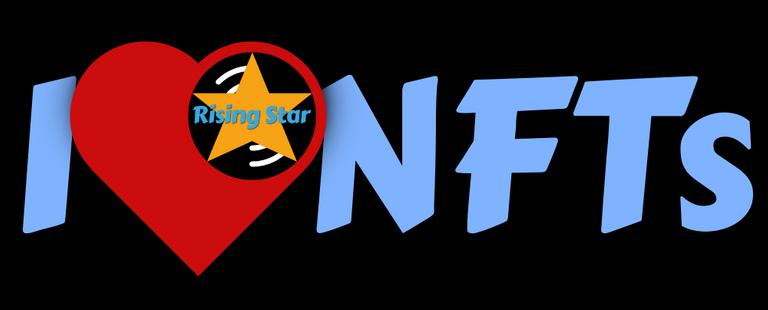 ---
[EN]
Rising Star has different ways of surprising its players, for example with in-game incentives such as special cards, events, new sections such as the recent guitar crafting are just some of the surprises that you can find within this Dapp hosted on Hive.
One of these surprises is related to the posts whose theme is Rising Star, whether the post is written about a strategy to follow, personal experiences in the game or the card purchases you make, as long as it has to do with the game, that post will be able to participate in a weekly draw.
Essential requirement:
The post must have #risingstar as the main tag.
In the game's Discord chat there is a section to leave the links of the publications regarding the game, whether made in Hive or on another platform, that way you also make sure they see your post.
As you may well suppose, it is thanks to this activity that I have the joy of receiving a Rising Star gift pack!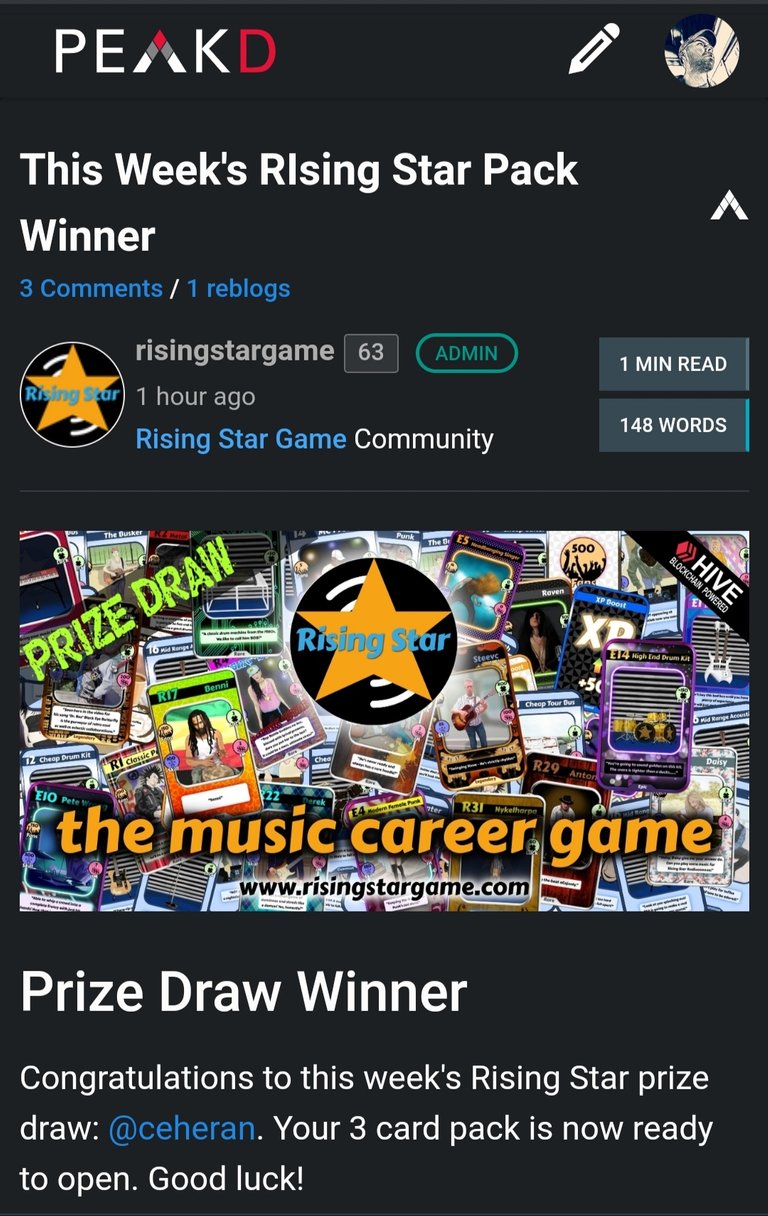 To be honest, I had been distracted and arguably "on autopilot", so seeing the post where it was announced that I had won a pack filled me with surprise and joy, waking me up from my lethargy.
Thank you Rising Star team!
As soon as I thanked as I could (for the excitement of knowing what cards would come in the pack XD) I started to log into my account and look for my prize.
---
What cards came out?

In a previous post I had made the purchase of another pack, benefiting my Skill and the singing lessons; With this new pack the fear was a sudden increase of the EGO, there was nervousness when opening it.
We continue with good luck! R26 Lute arrives with 50 Luck, excellent! Although "The EGO" appeared, it was not harmful since it brings 25 permanent Fans to my account, finally and with a pleasant 25 permanent Skills for my account I have "11 Producer Record". Great!.
| R26 Lute | 12 The Ego | 11 Record Producer |
| --- | --- | --- |
| | | |
Don't have a Rising Star account yet?
Just follow the steps below:
Create your Hive account HERE
Create your Rising Star account HERE
Join Discord Chat HERE