[ES]
Que tal amigos? Cómo les va?
En Rising Star siempre hay novedades, ya sea por los eventos y las cartas nuevas o en su defecto, por las necesidades que surgen en tu cuenta mientras juegas.
Recordarán que en un post anterior había realizado la compra de una carta Cold Pizza Slice, esto debido a que en mi cuenta había una escasez de pizzas random que llenaran mis cajas de pizza. No puedo estar más conforme con esa compra y con el estado actual de mis cartas Booster de energía: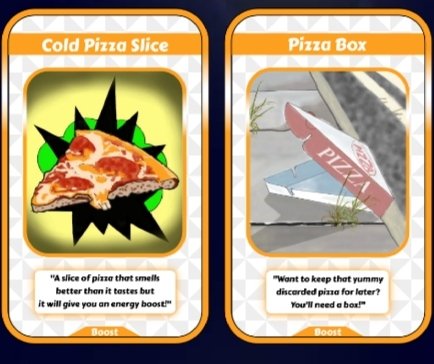 2 Cartas Cold Pizza Slice - 2 Cartas Pizza Box
Por ahora el asunto de la energía está resuelto, esto mientras avanzo en las misiones de la segunda isla donde poco a poco la exigencia de más energía va aumentando. De momento decidí darme el gusto de comprarme un pack de cartas y disfrutar de ese ligero toque de adrenalina que se produce del no saber qué cartas saldrán.

¿Qué cartas obtuve? No fueron cartas épicas ni alguna con altos atributos, fueron cartas sencillas, es más, ni siquiera me aumentaron el EGO. ¿Eso quiere decir que no salió nada bueno? Es cierto que el pack no traía algo excepcional, pero sin duda no fué una mala compra, las dos cartas de personaje aportan 2 de Skill permanente y la carta del micrófono de los 80's aporta una buena cantidad de Luck a mi cuenta, esto favorece al Skill que puedo ganar en mis lecciones de canto.
---
Más Luck = más Skill por lección = menos lecciones para rebajar el EGO
---
Dado que soy un jugador que empezó con 0 de inversión, las cartas recién obtenidas son una gran ayuda para mi cuenta y el objetivo de ganar 10000 Starbits en cada vez menos tiempo, actualmente debo reducir el tiempo de 5 días a solo 4 días; el objetivo final de mi estrategia es alcanzar en menos tiempo los Starbits requeridos para obtener la carta STARBITS Millionaire.


Para jugar a Rising Star:
Crea tu cuenta Hive AQUÍ
Crea tu cuenta Rising Star AQUÍ
Únete al chat de Discord AQUÍ
---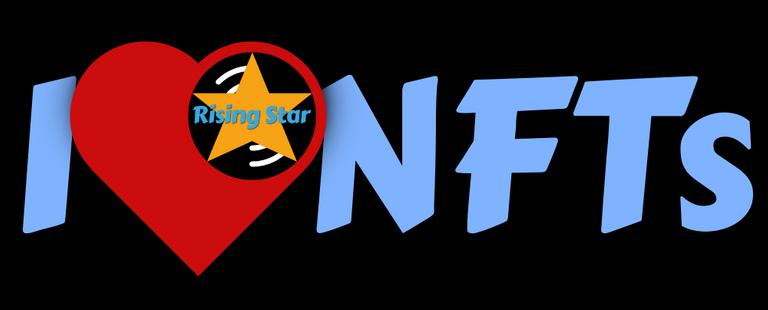 ---
[EN]
What's up friends? How are you doing?
In Rising Star there is always news, either due to events and new cards or un any case, due to the needs that arise in your account while you play.
You will remember that in a previous post I had made the purchase of a Cold Pizza Slice card, this because in my account there was a shortage of random pizzas that filled my pizza boxes. I couldn't be more satisfied with that purchase and with the current state of my Energy Booster cards: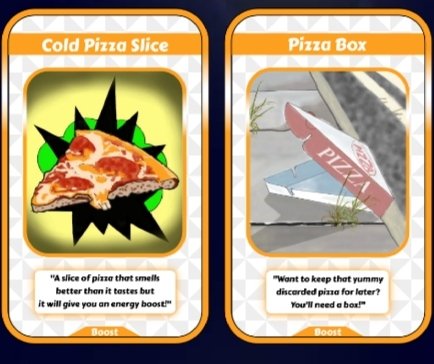 2 Cold Pizza Slice Cards - 2 Pizza Box Cards
For now the energy issue is resolved, this while I advance in the missions of the second island where little by little the demand for more energy is increasing. For now, I decided to indulge myself in buying a pack of cards and enjoying that slight touch of adrenaline that comes from not knowing which cards will come out.

What cards did I get? They were not epic cards or any with high attributes, they were simple cards, what's more, they didn't even increase my EGO. Does that mean nothing good came out? It is true that the pack did not bring something exceptional, but it was certainly not a bad purchase, the two character cards provide 2 permanent Skill and the microphone card from the 80's brings a good amount of Luck to my account, this favors the Skill that I can earn in my singing lessons.
---
More Luck = more Skill per lesson = fewer lessons to lower EGO
---
Since I am a player who started with 0 investment, the newly obtained cards are a great help for my account and the goal of winning 10,000 Starbits in less and less time, currently I must reduce the time from 5 days to only 4 days; The final objective of my strategy is to reach the Starbits required to obtain the STARBITS Millionaire card in less time.


To play Rising Star:
Create your Hive account HERE
Create your Rising Star account HERE
Join Discord Chat HERE