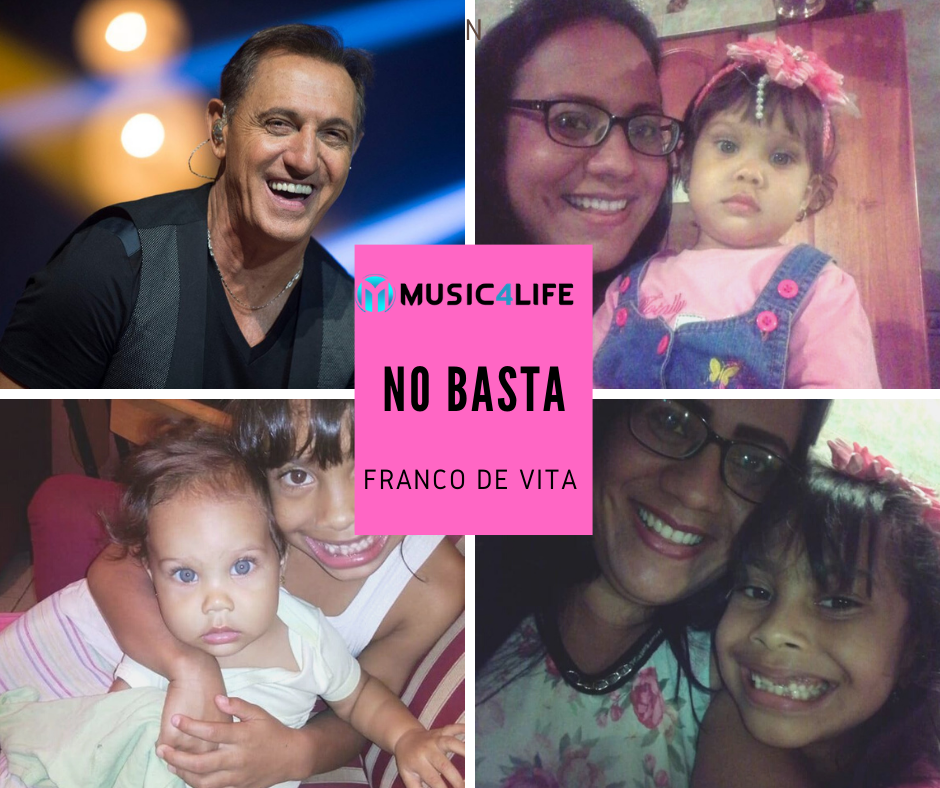 Imagen elaborada con canvaFuente imagen 1

Hola mis queridos y apreciados lectores conocedores de la buena música. En la vida se nos da la oportunidad de traer niños al mundo para formar nuestras familias y tener descendientes a lo largo del tiempo, pero no basta con ésto, como padres estamos en la obligación de brindarle todo lo necesario para que crezcan sanos y felices.
Hello my dear and appreciated readers who are knowledgeable about good music. In life we ​​are given the opportunity to bring children into the world to form our families and have descendants over time, but this is not enough, as parents we are obliged to provide everything necessary for them to grow up healthy and happy.
Ésto es precisamente lo que nos dice el gran cantante Venezolano Franco de Vita en su canción titulada "No basta", una espectacular balada en la que nos deja bien claro que traer niños a éste mundo no se hace por obligación, sino por amor.
This is precisely what the great Venezuelan singer Franco de Vita tells us in his song titled "Not Enough", a spectacular ballad in which he makes it very clear that bringing children to this world is not done out of obligation, but out of love.
Una extraordinaria producción musical bien redactada y organizada que envía un mensaje claro a quienes somos padres, lean su letra a continuación:
An extraordinary musical production well written and organized that sends a clear message to those of us who are parents, read its lyrics below:

No basta
Traerlos al mundo porque es obligatorio
Porque son la base del matrimonio
O porque te equivocaste en la cuenta

No basta
Con llevarlos a la escuela a que aprendan
Porque la vida cada vez es más dura
Ser lo que tu padre no pudo ser

No basta
Que de afecto tú le has dado bien poco
Todo por culpa del maldito trabajo
Y del tiempo

No basta
Porque cuando quiso hablar de un problema
Tú le dijiste: niño será mañana, es muy tarde
Estoy cansado

No basta
Comprarle todo lo que quiso comprarse
El auto nuevo antes de graduarse
Que viviera lo que tú no has vivido

No basta
Con creer ser un padre excelente
Porque eso te dice la gente
A tus hijos nunca les falta nada

No basta
Porque cuando quiso hablarte de sexo
Se te subieron los colores al rostro
Y te fuiste

No basta
Porque de haber tenido un problema
Lo habría resuelto comprando en la esquina
Lo que había
Lo que había

No basta
Con comprarle curiosos objetos
No basta
Cuando lo que necesita es afecto
Aprender a dar valor a las cosas
Porque tú
No le serás eterno

No basta
Castigarlo por haber llegado tarde
Si no has caído ya tu chico es un hombre
Ahora más alto y más fuerte
Que tú
Que tú

No basta

No basta

No basta

No basta

No basta

No basta

No basta
Fuente de la letra

Escuchar ésta canción me hace reflexionar de tal manera que me identifico completamente con ella, soy una mujer con dos niñas pequeñas, pero a su vez soy muy independiente y trabajadora. Actualmente tengo dos trabajos para poder ayudar a los gastos de la casa y personales de ellas, ésto me trae como consecuencia que no comparta mucho tiempo con mis hijas.
Listening to this song makes me reflect in such a way that I completely identify with it, I am a woman with two little girls, but at the same time I am very independent and hard-working. Currently I have two jobs to help with the household and personal expenses of them, this brings me as a consequence that I do not spend a lot of time with my daughters.
Lamentablemente existen situaciones que obligan a los padres, como es mi caso, a salir a buscar el sustento para sus familias dejando a sus hijos bajo el cuidado de un familiar o niñera sin saber que lo material es importante y necesario, pero no tanto como el afecto y el tiempo que se les dedique.
Unfortunately, there are situations that force parents, as is my case, to go out and find sustenance for their families, leaving their children under the care of a relative or nanny without knowing that the material is important and necessary, but not as much as the affection and the time devoted to them.
Es indispensabe la organización y planificación para darle a nuestros hijos la educación, los valores, el amor y la compañía que necesitan en cada etapa de su vida. Debemos hacer un balance entre el trabajo y nuestros hijos ya que cuando ellos crezcan recordarán a las personas que siempre estuvieron con ellos y no a quien le compraba las cosas.
Organization and planning are essential to give our children the education, values, love and company they need at each stage of their life. We must make a balance between work and our children because when they grow up they will remember the people who were always with them and not who bought things from them.
Con ésta publicación quiero hacer un llamado a todos los padres que pertenecen a ésta comunidad a tomar un minuto de reflexión para evaluar si estamos siendo los padres que nuestros niños merecen y si no es así llegó la hora de hacerlo.
With this publication I want to make a call to all parents who belong to this community to take a minute of reflection to evaluate if we are being the parents that our children deserve and if not, the time has come to do so.
Sé que muchos al igual que yo, deben dedicarse a trabajar fuerte para salir adelante, pero podemos hacer un alto en nuestras obligaciones diarias para darle la atención que necesitan esas pequeñas personas que llegaron a éste mundo a través de nosotros y merecen ser nuestra prioridad en todo momento.
I know that many, like me, must dedicate themselves to working hard to get ahead, but we can take a break from our daily obligations to give the attention needed by those little people who came to this world through us and deserve to be our priority in every moment.
Queridos amigos de ésta forma me despido de ustedes el día de hoy esperando que les haya gustado mi publicación, a continuación les dejo el video musical para que disfruten ésta linda melodía. Saludos.
Dear friends in this way I say goodbye to you today hoping that you liked my publication, then I leave the music video for you to enjoy this beautiful melody. Greetings.
Fuente del video

El texto fué traducido utilizando google traductor
The text was translated using google translator

</cente
---
Posted via MusicForLife.io