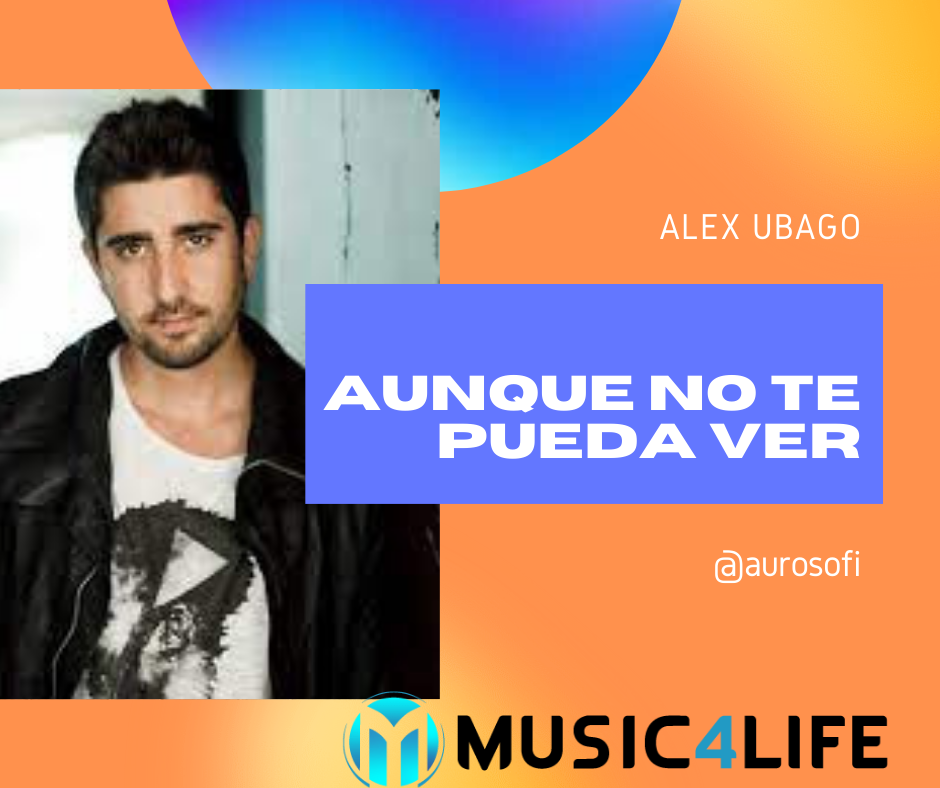 Imagen elaborada con canvaFuente imagen 1

ES
Hola mis queridos y apreciados lectores, les envío un saludo muy especial. En algunas ocasiones debemos decirle adiós a aquellas personas que queremos, bien sea porque se muden a otra parte o porque nos tocó separarnos por circunstancias de la vida lo que hace que las extrañemos con el alma.
No es fácil acostumbrarse a que alguien que apreciamos ya no está. Comenzamos verlo en cualquier parte e incluso imaginamos su presencia.
Ésto es exactamente lo que nos expresa éste maravilloso cantante Español conocido como Alex Ubago en su canción "Aunque no te pueda ver", una fantástica composición en la que muestra toda la melancolía que se puede sentir cuando nos toca separarnos de un ser querido, bien sea un familiar o amigo.
Es un dolor tan grande como si la persona hubiese muerto en vida y llegamos a pensar que no la volveremos a ver más nunca en la vida.
ENG
Hello my dear and appreciated readers, I send you a very special greeting. On some occasions we must say goodbye to those we love, either because they moved to another part or because we had to separate due to life circumstances, which makes us miss them with our soul.
It is not easy to get used to the fact that someone we love is no longer there, we begin to see them anywhere and we even imagine their presence.
This is exactly what this wonderful Spanish singer known as Alex Ubago expresses to us in his song "Although I cannot see you", a fantastic composition in which he shows all the melancholy that can be felt when we have to separate from a loved one, well be it a family member or friend.
It is a pain as great as if the person had died in life and we come to think that we will never see him again in life.
Fuente del video
ES
Sin duda alguna éste gran exponente de la música pop siempre nos deleita con sus grandes canciones que cuentan una gran historia de amor o desilusión, pero que sea como sea siempre nos dejan un lindo mensaje con el que nos identificamos en algún momento de nuestras vidas.
Queridos amigos para finalizar mi post quiero mostrarles la fantástica letra que encierra éste gran intérprete en su linda melodía "Aunque no te pueda ver"
ENG
Undoubtedly, this great exponent of pop music always delights us with his great songs that tell a great story of love or disappointment, but whatever it may be, they always leave us a beautiful message with which we identify at some point in our lives.
Dear friends to finish my post I want to show you the fantastic lyrics that this great interpreter contains in his beautiful melody "Although I can't see you"

Si ayer tuviste un día gris, tranquila
Yo haré canciones para ver, si así consigo hacerte sonreír

Si lo que quieres es huir, camina
Yo haré canciones para ver, si así consigo fuerzas pa' vivir

No tengo más motivos para darte que este miedo que me da
El no volver a verte nunca más

Creo ver la lluvia caer, en mi ventana te veo pero no está lloviendo
No es más que un reflejo de mi pensamiento, hoy te echo de menos

Yo solo quiero hacerte saber, amiga, estés donde estés
Que si te falta el aliento, yo te lo daré y si te sientes sola, háblame
Que te estaré escuchando, aunque no te pueda ver

Aunque no te pueda ver

De tantas cosas que perdí, diría
Que solo guardo lo que fue, mágico tiempo que nació un abril

Miradas tristes sobre mí se anidan y se hacen parte de mi piel
Y ahora siempre llueve, porque estoy sin ti

No tengo más motivos para darte que esta fría soledad
Que necesito darte tantas cosas más

Creo ver la lluvia caer, en mi ventana te veo pero no está lloviendo
No es más que un reflejo de mi pensamiento, hoy te echo de menos

Yo solo quiero hacerte saber, amiga, estés donde estés
Que si te falta el aliento, yo te lo daré y si te sientes sola, háblame
Que te estaré escuchando, aunque no te pueda ver
Aunque no te pueda ver

Traduje el texto utilizando google traductor
I translated the text using google translator

---
Posted via MusicForLife.io