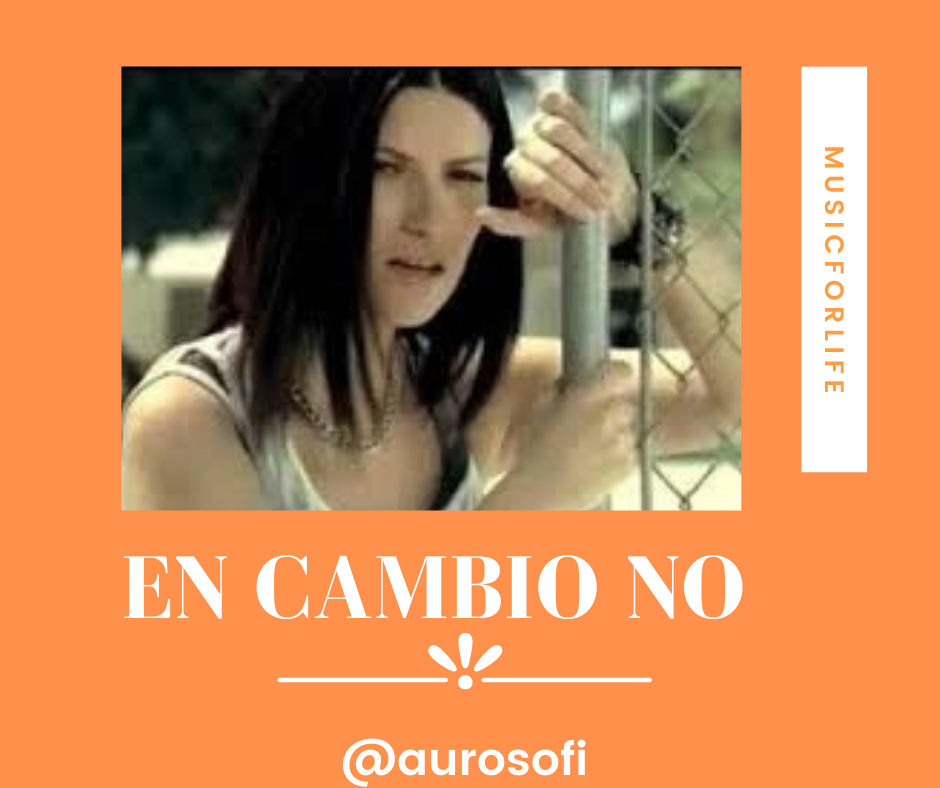 Imagen creada con canvaFuente de la imagen

Hola mis queridos y apreciados lectores, curadores y comunidad en general, reciban un cordial saludo de mi parte. Les cuento que siempre he tenido gran afinidad con la cantante italiana Laura Pausini porque me parece una excelente artista con un gran talento musical y una humildad fascinante.
Hello my dear and appreciated readers, curators and the community in general, receive a warm greeting from me. I tell you that I have always had a great affinity with the Italian singer Laura Pausini because I think she is an excellent artist with great musical talent and fascinating humility.
Por tal motivo sigo su carrera y vida personal muy de cerca, y me gusta saber cuales son las razones o que la inspiró al momento de escribir o componer un tema.
For this reason I follow her career and personal life very closely, and I like to know what the reasons are or what inspired her when writing or composing a song.
Existe una canción que para mí es un ícono de dicha cantante que se llama "En cambio no" a continuación les comparto su letra:
There is a song that for me is an icon of the said singer called "Instead of not" below I share its lyrics:

Quizás bastaba respirar
Sólo respirar, muy lento
Recuperar cada latido en mí
Y no tiene sentido, ahora que no estás
Ahora, ¿dónde estás?

Porque yo no puedo acostumbrarme, aún
Diciembre ya llegó
No estás aquí
Yo te esperaré hasta el fin

En cambio, no, hoy no hay tiempo de explicarte
Ni preguntar si te amé lo suficiente
Yo estoy aquí
Y quiero hablarte ahora, ahora

¿Por qué se rompen en mis dientes (Se rompen en mis dientes)
Las cosas importantes? (Las cosas importantes)
Esas palabras que nunca escucharás (Tantas palabras)

Y las sumerjo en un lamento (Sumerjo en un lamento)
Haciéndolas salir, son todas para ti (Todas para ti)
Una por una, aquí (Una por una, aquí)

¿Las sientes ya?
Pesan y se posarán entre nosotros dos
Si me faltas tú (Me faltas tú) No las puedo repetir
No las puedo pronunciar

En cambio, no
Me llueven los recuerdos
De aquellos días que corríamos al viento
Quiero soñar que puedo hablarte ahora, ahora

En cambio, no, hoy no hay tiempo de explicarte
También tenía yo mil cosas que contarte
Y frente a mí
Mil cosas que me arrastran junto a ti

Quizás bastaba respirar
Sólo respirar, muy lento

Hoy es tarde
Hoy, en cambio, no
Fuente de la letra
Una canción con una inmensa carga de tristeza, la cual es transmitida por la cantante al momento de interpretarla y ésto es debido a que la compuso en memoria de su abuelita muerta y por tal motivo no puede controlar sus emociones cuando canta éste estupendo tema.
A song with an immense burden of sadness, which is transmitted by the singer at the time of interpreting it and this is because she composed it in memory of her dead grandmother and for this reason she cannot control her emotions when she sings this wonderful song.
Es muy triste perder a un ser querido y mucho más si es alguien muy cercano a nosotros de tal manera que se convierte en un ser indispensable en nuestras vidas, el solo hecho de imaginarse perder a una persona especial en nuestras vidas causa un dolor indescriptible.
It is very sad to lose a loved one and much more if it is someone very close to us in such a way that it becomes an indispensable being in our lives, the mere fact of imagining losing a special person in our lives causes indescribable pain.
Me parece muy lindo que cantantes decidan crear composiciones musicales para homenajear a sus parientes o amigos que hoy en día no se encuentran entre ellos porque de ésta manera los tendrán presente en todo momento y cada vez que escuchen esa canción recordarán aquellos bellos momentos que algún día pudieron vivir juntos.
I find it very nice that singers decide to create musical compositions to honor their relatives or friends who are not among them today because in this way they will have them present at all times and each time they listen to that song they will remember those beautiful moments that one day they were able to live together.
Mis apreciados lectores de esta manera finaliza mi publicación de hoy, me despido esperando les haya gustado e invitándolos a dejar sus comentarios. Saludos!
My dear readers in this way ends my publication today, I say goodbye hoping you liked it and inviting you to leave your comments. Greetings!

El texto fué traducido por google traductor
The text was translated by google translator

---
Posted via MusicForLife.io