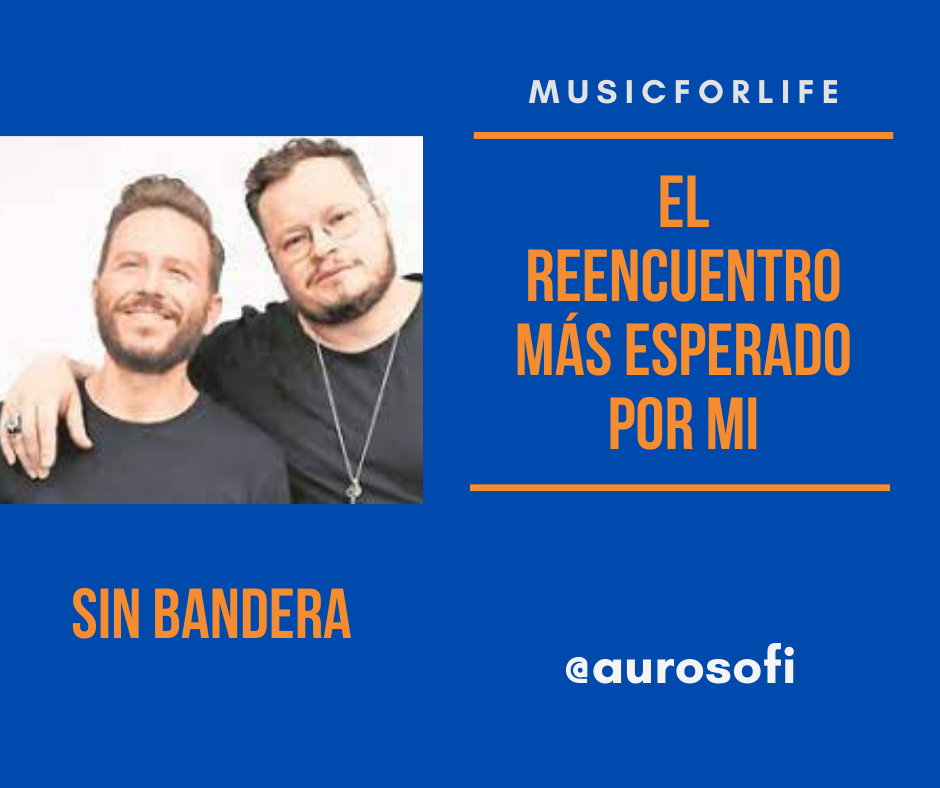 ES
Hola mis queridos y apreciados lectores de ésta prestigiosa comunidad, espero estén todos muy bien. Existen grandes grupos o dúos que después de alcanzar el éxito se separaron debido a circunstancias desconocidas, simplemente deciden tomar distintos caminos y separar su vida musical.
Ésto a ocurrido con una inmensa cantidad de cantantes, pero existen 1 dúo que me causó gran conmoción y jamás pensé que se separarían.
Les hablo de sin bandera, un fantástico par de cantantes que nos deleitó por muchos años con sus espectaculares canciones románticas con una letra fantástica, pero que un día dijeron hasta aquí llegamos juntos, dejándonos un gran vacío.
Desde ese momento cada uno tomó un rumbo distinto dedicándose a cantar, pero cada uno por su lado.
Ya nada volvió a ser igual, por más que quisiera no me gustaba escuchar sus canciones, simplemente a cada uno le faltaba el otro.
Un día luego de 7 baños separados y de tanto aclamar su reencuentro por fín lo logramos. Llegó el gran día, el mundo se detuvo en un momento, era como que nunca se hubiesen separado y no quería que terminada ese concierto. Miren:
ENG
Hello my dear and appreciated readers of this prestigious community, I hope you are all very well. There are large groups or duos that after achieving success separated due to unknown circumstances, they simply decide to take different paths and separate their musical life.
This has happened with an immense number of singers, but there is 1 duo that caused me great commotion and I never thought that they would separate.
I am talking about Sin Bandera, a fantastic pair of singers who delighted us for many years with their spectacular romantic songs with fantastic lyrics, but one day they said we came here together, leaving us a great void.
From that moment each one took a different course dedicating themselves to singing, but each one on their own.
Nothing was the same again, no matter how much I wanted to, I didn't like listening to their songs, each one simply lacked the other.
One day after 7 separate baths and acclaiming their reunion, we finally succeeded. The big day arrived, the world stopped in a moment, it was like they had never been separated and I did not want that concert to end. Look
Fuente del video
Es maravillosos que éstos artistas decidan unirse nuevamente para darle a sus seguidores un poco de lo que una estaban acostumbrados así sea por una sola noche, ya que así lo tomamos como una despedida.
En mi caso me sentí muy feliz de poder volver
a verlos compartir un escenario por última vez, aunque al día siguiente regresara a la triste realidad de no volver a verlos juntos.
Felicito a esos artistas que a pesar de sus diferencias o problemas deciden unirse nuevamente con el único fin de complacer a sus fanáticos, eso es digno de admirar.
Queridos amigos hasta aquí mi post del día, me despido hasta la próxima.
El texto lo traduje utilizando google traductor
ENG
It is wonderful that these artists decide to join together again to give their followers a little of what they were used to, even for one night, since we take it as a goodbye.
In my case I was very happy to be able to return
to see them share a stage for the last time, although the next day he returned to the sad reality of never seeing them together again.
I congratulate those artists who, despite their differences or problems, decide to unite again with the sole purpose of pleasing their fans, that is worthy of admiration.
Dear friends, so far my post of the day, I say goodbye until next time.
I translated the text using google translator

---
Posted via MusicForLife.io