As Crypto gains more adoption, investors, Crypto traders need a Cryptocurrency exchange that can aid them in the exchange process. Changelly offers access to over 130 Cryptocurrencies through acting as an intermediary between crypto exchanges and users.
Watch this video explainer created by me.
Changelly
refers to an Instant Cryptocurrency Exchange that is focused on making the Exchange process easy for everyone who wants to invest in cryptocurrency. The platform and its mobile app are attracting over a million visitors monthly who enjoy high limits, fast transactions and 24/7 live support ever since its time of conception in 2015.
Changelly has an API and a customizable payment widget that can be used by any Crypto service that wishes to broaden its audience and implement new exchange options. The following are more other benefits associated with the Changelly's API:
Customers are availed with an opportunity to purchase tokens with other assets within the platform interface.
It provides crypto enthusiasts with a tool that helps them get around various pitfalls of the industry hence saving customers a lot of time, effort, and withdrawal fees.
Improves any crypto wallet by empowering it with the multi-asset exchange option hence enabling customers to use the wallet 10 times more likely as they will be able to initiate any crypto operation directly inside the wallet.
It is used as a payment solution in different decentralized marketplaces and one of the examples is Blockmarket, which is a prominent crypto marketplace that works with Changelly's API.
The platform also has an Affiliate program where you can place an affiliate link or customizable widget on your website, blog, or social media profile and acquire 50% of the revenue generated from every transaction made via either tools used.
Changelly is partnering with Jaxx, Coinmarketcap, BRD, Coinpayments, Binance, Coinomi, Huobi Wallet, and other well-known players in the crypto industry. The company is offering an intuitive interface, the best exchange rates, and secure transactions.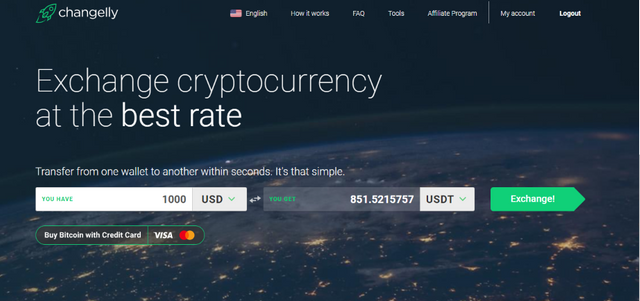 image
Can Changelly be trusted?
Changelly is driven by an aspiration to establish mutual trust with its clients whereby it has a transparent 0.5% charge on every Crypto transaction and established through comparing it with a wide range of reliable trading platforms. The platform is trusted by more than 2Million users all over the world by providing safe and fast transactions without revealing users identities.
Further reasons to trust Changelly include;
• No deposit storage.
• Instant exchange.
• Each account is protected with 2-factor authentication and an HTTPS protocol.
• More than 2 million satisfied users.
• Has a 24/7 live chat support
How does it work?
Changelly's Trading concept is incorporated into the largest cryptocurrency exchange platforms, including Binance, Poloniex, Bittrex, etc. Within milliseconds, Changelly makes bids and requests on the platforms, selects and suggests the best available rate, and displays the estimated rate on the site.
In summary
Transfer funds to Changelly from your wallet
Changelly Searches the best available rate on the market
Exchanges at the best rate
Charges a transparent and reasonable 0.5% fee from the final amount
Funds are then delivered to a recipient wallet
Changelly For Wallets
You can integrate your wallet with Changelly to empower it with a built-in exchange solution!
Comes with features like;
Built-in white-label instant exchange
Has a Dedicated support line
Top-up the wallet with 130+ cryptos
Vast cross-marketing opportunities
Revenue share from every transaction
You then enjoy the following benefits:
A 3-day integration with full technical support
Self-serve dashboard with real-time stats
One-click payouts in BTC or ETH
Changelly is a game-changer in the crypto space as it is used by over 2million people all over the world who are enjoying a much faster and secure crypto exchange experience. I personally like the fact that you can earn a 50% life timeshare revenue through its affiliate program.
For more details: Visit;
changelly Website