A transaction fee of $50 when staking is over.
The DeFi ecosystem has brought in many ways whereby users can earn passive income but understanding the system is important and having the right information is the key.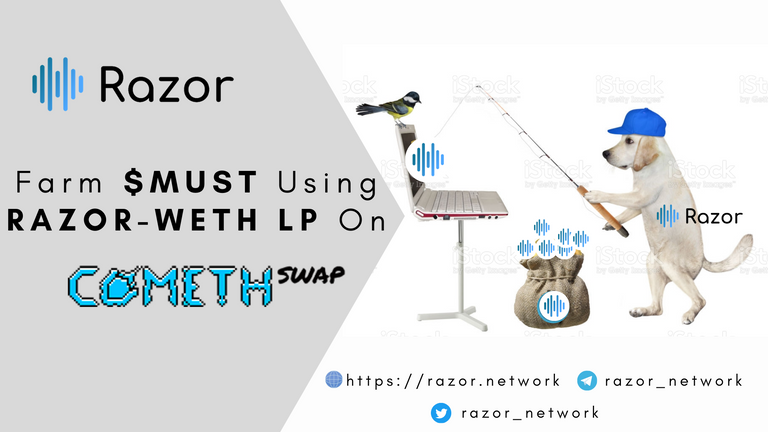 At Razor Network, creating a seamless experience for the end-user has been the centre focus of the project progress which resulted in a partnership with Polygon/Matic and it has been a nice ride so far.
What Polygon/MATIC Partnership Brought To Razor Network?
Staking is one of the key features in DeFi, but high gas fee on the ethereum blockchain has erased some profit off the passive income generation through staking. With the layer 2 protocol that Polygon is making use of, it is easy to transact at a low or no fee.
Polygon is an amazing protocol launched galaxy farm platform whereby users can provide liquidity of RAZOR-ETH and generate reward of five and more assets. You ask how? Check out Galaxy.Farm.
Going from here, Razor Network announced the staking of RAZOR/WETH LP tokens and earn a $MUST reward on COMETH Swap which is also on polygon protocol meaning, a $50 gas fee is cancelled.
What is ComethSwap?
QuoteComethSwap is a layer2 decentralized exchange that lets you swap any ERC20 token at low cost, in no time. ComethSwap sits on top of the Cometh ecosystem, a universe fuelled by DeFI and NFT.Read here
The blockchain industry is creating an open-source solution whereby users can leverage upon, store and grow their wealth together. Take a moment to create the staking of RAZOR-WETH LP on COMETHswap, with the simple step of how to provide liquidity on COMETHswap high gas fee is hereby cancelled.
Disclaim: I am not a financial advisor, any information I shared is a piece of open eyes to guide you into more research and build on it before you take action..
Drop your questions if you need further explanation or visit the following website for an official response:
https://t.me/razornetwork
https://twitter.com/razor_network
https://razor.network/
https://twitter.com/MUSTCometh
https://t.me/cometh_io