Your Post a Piece of Art...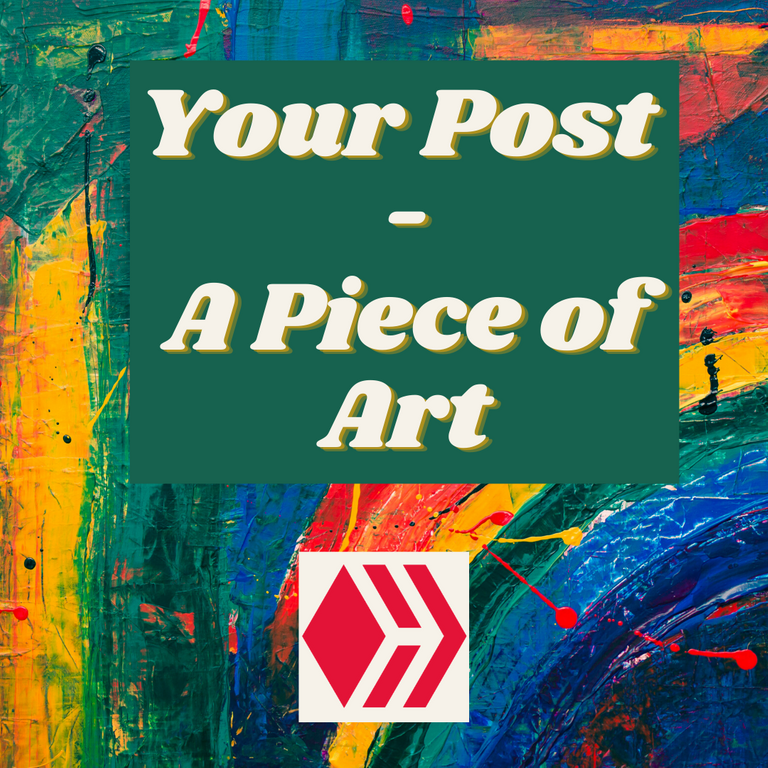 Sooner or later when you join a social media platform like Hive, you will want to create your own posts. But what will you write about? What could be interesting for others? Do I write well enough? How will my post become a piece of art?
These are the questions that hunt us all. Before providing any answer, I would like to start with a little anecdote:
During my time at University, I had a part time job in a small office. My boss had a doctorate in Media sciences and he was giving speeches and workshops in many different places. He specialised in investment funds and retirement solutions. When I started this job, he asked me to write newspaper articles in his name about the topic... My first reaction was " but I don't know anything about this...". He simply answered, you don't need to know anything to write a good article. If you study only a couple of minutes a certain subject, you will know more than 90% of the population.
If you read one book on a certain topic, you are already more qualified than 90% of all the other people out there...
He selected a couple of newspaper or magazine articles on a certain topic and I had to read them and then on this basis create a new article in my own words. I've written about 10 articles about investment funds and the retirement system in Switzerland. They were all published in a very renowned financial newspaper. I even once made it on the title page with my article... This little job and these newspaper articles finally allowed me to get a job in a bank...
You are more qualified than you think...
The thing is, you don't need to be qualified in any way to be a specialist... You don't even need to research something before you write about it. Just write about what you are interested in and your experiences. Without realizing it, you are a specialist in that field already !
An example:
If you have signed up with a certain website and you have tried out the service. You have more knowledge about this website than all the people who have not signed up yet! All these people are less qualified than you and they would profit from learning from your experience.
Another example:
You watched a youtube video how to bake bread. Again you have an edge in respect to all the people who haven't watched the video and don't know how to bake bread. They would all love to listen to your experience.
So what should you write about?
Write about anything that you want! Just ask yourself the following question:
Is there somebody who could profit from the knowledge I share in my post?
If the answer is yes, write your post!
Should my post be a piece of art?
When you start writing articles, you are doing something that might be quite new for you. You should consider yourself as a beginner and do the best you can without spending hours and hours on a post. The more you write, the better you will get and the better your posts will be. Don't put the expectations too high, you need to learn and improve.
So no, your post shouldn't be a piece of art, it should simply be your message to the world..
---
3 recommendations for a successful post
Make sure that you use your own voice
When you write something you have to speak with your own words, your own sentences and your own ideas. Don't copy other people and especially don't copy other people's content.
Always remember that you are writing your post for people and that they want to be entertained and learn something. Make your posts fun and interesting to read. Avoid to sound like a dictionary!
Your title and your post picture are the billboard of your post
The choice of the title for your post and the image that you use are the things that most people will see when they scroll through their feed. You have very little time to catch the readers attention so make sure that you use them wisely.
In my experience it can be a good idea to write your title on the post picture. Some people only look at the pictures. If they learn what your post is about and if the title is catchy, they might have a look at your post.
How to choose a good title?
I always first write my post and then choose the title for it. I often write down several ideas and then I choose among them. I always choose the one that generates most curiosity in me. Remember your title doesn't have to describe your content. The title should invite people to click on your post and read it...
Make your post interesting for the eye
Why do newspapers use subtitles, images and graphics to illustrate their content? They know that walls of text repulse most readers. This is true also for Hive posts.
To make your text interesting, you need to set subtitles so that a reader can go through your post just by reading these subtitles. He can then jump to the section that interests him. By the way, most readers only read a part of a blog post...
Put some air between your paragraphs.
Use quotes if you want to inject an idea that doesn't fit anywhere or when you quote somebody else.
Use tables.
Use images to illustrate what you write about.
Use dashes when you enumerate something.
---
Let's connect on Hive, Lbry or on Publish0x
My free e-mail course: The 100'000 satoshis a week strategy

---
---