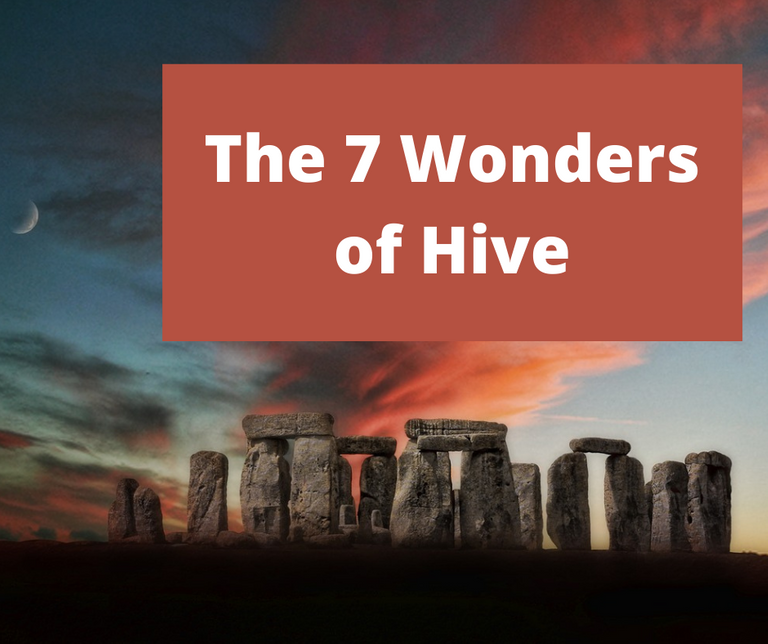 For an outsider it is quite difficult to see what happens on this blockchain. Once you have climbed the wall and you look at what is inside, you can't help to be excited. In this post I would like to present the 7 Wonders of Hive, among all the other amazing stuff on this blockchain.
The crazy thing – it's all free
When you send tokens to a friend on Hive, well it's 100% free. As long as you have about 20 Staked Hive (about 2.5 $), you can send tokens totally for free and each transaction is done within 3 seconds. No mining fees, no gaz fees, just free....
Hive-Engine, a second layer for all your dreams
On Hive you have a second layer infrastructure called Hive-Engine. What is so cool about Hive-Engine is that you can create your own token and you have directly an exchange where it can be traded. With Hive-Engine you can have your own front-end that allows you to copy in your way the whole concept of hive. You can create your token, your community, your business. The newest thing on Hive-Engine? Well smart contracts are rolled out for everybody interested in them.
3speak – videos to ensure that you can say what you want to say
3speak is a video platform where you can upload your visual content. On 3speak, you will not get censored or demonetized because of the content that you want to publish. It's one of the remaining bastions for free speech and a jewel on the Hive platform.
Splinterlands – the game that beats them all
Splinterlands is a card game that runs on the hive blockchain. It profits from the amazing scalability of hive but opens its doors to all the other blockchains by integrating them. On state of dapps Splinterlands constantly is positioned among the top 5 dapps all blockchains combined. The splinterlands cards have a combined marketcap of 5'000'000 $. It's a game of the next generation because all the cards are NFT's that can be sold, traded and even rented out. The game offers tons of real income possibilities.
Peakd – the swiss knife of Hive
Peakd is a front end of the blockchain that invites you to create content, to watch content and vote on it. By the way you can earn money just for doing all that. Peakd has so many facets integrated that you need hours to find out all you can do with it.
Hivepay – the little plugin that changes everything
Hivepay is a small plugin that links the blockchain to any possible website in the world. Install this plugin on your site and accept Hive and Hive-Engine tokens as payment. No middle party, almost no transaction costs and high speed.
Now you can create your token on Hive-Engine and accept this same token in your online shop. It comes even as a wordpress, woocomerce plugin.
Leofinance.io – the turbo among the communities
Leofinance is one of these communities that have been created on the second layer of hive. As a community centered on crypto and finance, it has taken an amazing dimension. It linked it's token to the ethereum blockchain (WLEO) and has amazingly simplified the onboarding process to the Hive blockchain. Thanks to leofinance you can now start to post on hive with metamask! But leofinance is much more than that. It has an amazing front-end, a place where you can see all your hivestats, an exchange for all hive-engine tokens and above all a great community of people.
I've selected in this post only 7 reasons why Hive is probably the blockchain with the most real use cases in existence. There are however many more. Every day new projects are developed and brought to the market. Everything is linked thanks to the social component of Hive. It might be a great place for your next project as well.
Once you immerse yourself into the world of Hive, you are bound to stay...
---
Let's connect on Hive, Lbry or on Publish0x
My free e-mail course: The 100'000 satoshis a week strategy