Thank you @georgeboya for organizing this contest. I love collage art and I also love seeing what other people have already made. Here's what I came up with.
Influencors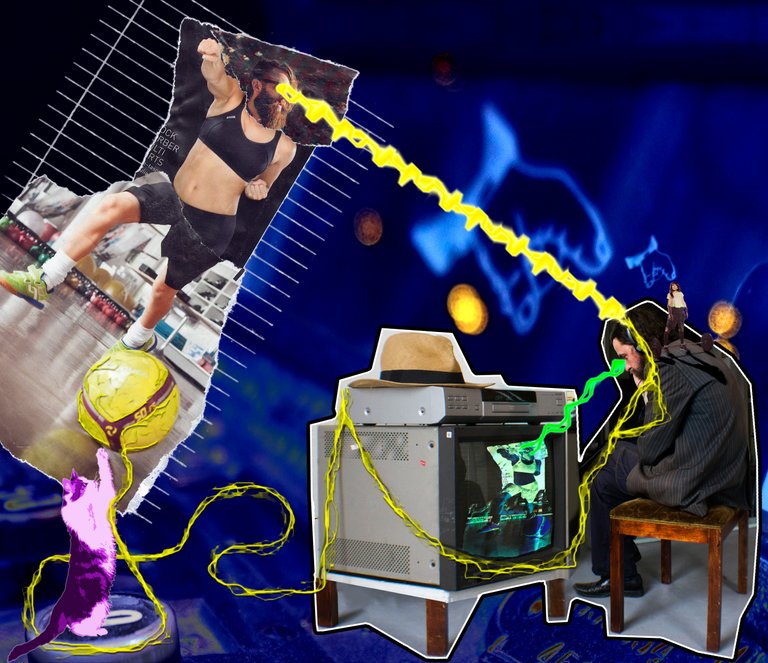 All images and photos: CC BY 4.0 - Insaneworks
Photos and images used in the collage.
Man sitting in front of the TV also here. Amanda the cat is now ten years older than in the photo playing with the cut cable tie, supervised by older cats, Roosa and Julius. Also two #bodyswap people. The football player and the weightlifter. Collage art that I've made and published before, but as I'm doing something new from my own old work, I thought that using my old stuff might still be within the contest rules. As long as it's modified. And if it isn't allowed, I had fun doing this.
All this put to several layers in Photoshop. Lazer and wires added.
Fun fact that suits here: At least in my mind.
Don't read this before you've inspected the first collage photo enough and made up your own mind what you think about it. Do not let my thoughts influence yours.
See the wire coming from the mans headphones? Wire is in Finnish johto. And as the wire goes towards the football with the cat playing with it, the wire at that end could also be a yarn which in Finnish is lanka. Combining these two words, wire and yarn doesn't mean anything new in English, but combining johto and lanka = johtolanka is a clue. Which in this case, in my opinion, is kinda cool because the wireyarn gives a clue of the influencors in your life.
johto = wire
lanka = yarn
johtolanka = clue
And as a good thing to remember if you own cats: never let your cat play with yarn or yarn balls without you supervising it because of the cats tongue anatomy. The backward-facing barbs catch the yarn and the cat has no option than to swallow the yarn. Especially kittens do this very easily and don't know how to get the yarn out of their mouth. They might suffocate to the yarn or if they manage to swallow it, it will cause a block in their intestine.
But hey, back to the collage.
I've been meaning to continue with the material I already have and also search for stuff from copyright free image galleries, combine them and make collage art . This time I ended up using only my own photos and work, but perhaps next time I'll explore more what the wide world has.