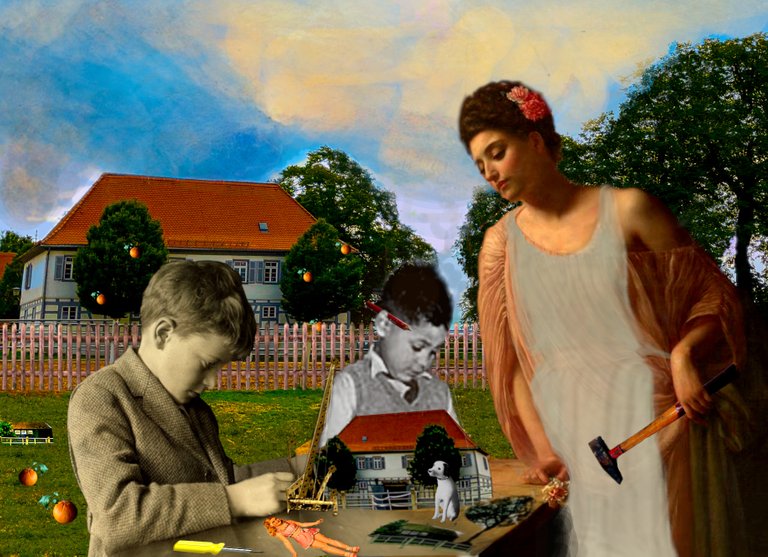 When I saw @Shaka's photograph, I thought that the setting was propitious for mysterious stories. However, when I set out to make my collage, I knew that my story would be an everyday one. Perhaps, some childhood story. So, first of all, I needed to close the frame, to start making things more intimate. Even so, I had no idea of the content of that story.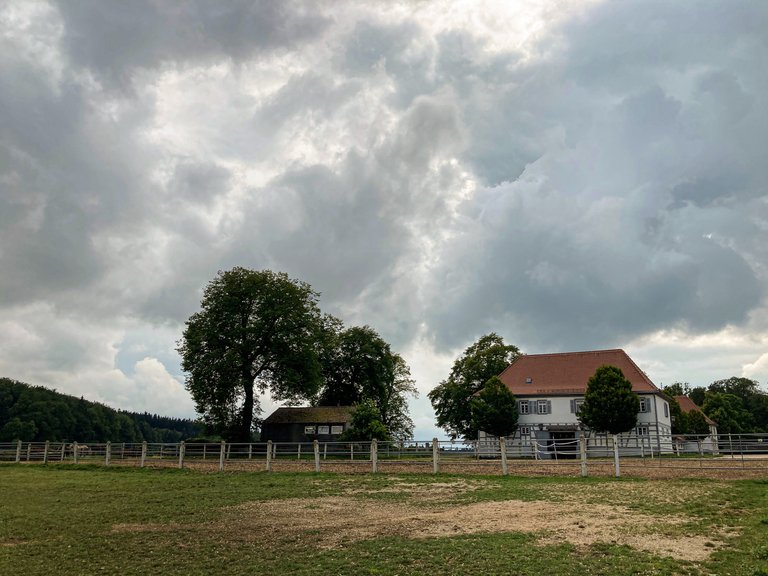 Photo by Shaka
Building dollhouses is a lot of fun
For as long as I can remember, I have enjoyed doing things with my hands. I have always drawn, sewed, modeled, assembled, repaired, nailed. My mother was a teacher, but she was also an exceptional manualist who enjoyed playing with dolls with her daughters. I have three sisters and I remember that building houses for our dolls in the company of my mother was one of our favorite pastimes, when we were not destroying the true house. We would make elaborate houses, with closets, kitchens, and equip them with all kinds of self-made gadgets.
Mother? Friend? Girl?
My mother was a very funny mother. She played dolls like a girl and was able to play marbles and baseball like a boy. She knew how to make a slingshot and build cars out of old cans. She never assigned gender roles to her daughters when it came to play. Maybe that's why, in my collage, I had those two handsome boys build the dollhouse with the participation of that beautiful woman who is a little mother, a little girl and a little goddess. She is the one in charge of the hammer in the play.
I want to make a special mention to the image of the beautiful woman I used. It is a representation of Asterié, made in 1904 by the English painter Edward Poynter (1836-1919). If you can, look at her work, it is beautiful.

The boys
I looked for old photographs of kids, because childhood has always been childhood. I even tried to get one of the boys to have that blurry look of old family photos. Both of them are very focused on their construction work. It is something that only purposeful play can give us when we are little: the possibility to train our mental skills with absolute concentration and absolute happiness.

What does it take to make an apron?
In this case, a Basque nurse.
As I couldn't find a suitable apron to cut and paste, I made one from a group photograph. I gave it some transparency, so that the folds of the beautiful tunic in the original painting were not completely lost. Maybe the final result is not much, but I am proud of the transparencies and the shadow effect.

Some oranges and a dog
Oranges are a symbol of life and perhaps a way of representing a paradise, but they are also in this collage a marker of the scale of the houses that children build.
As for the dog, well... a dog should never be missing.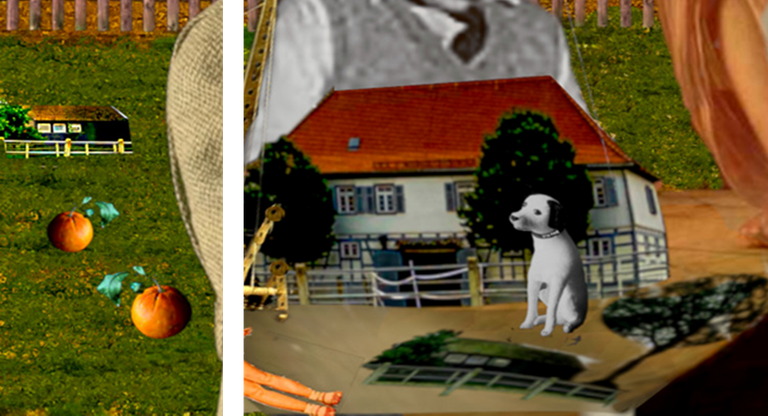 A sky
When I finished putting the elements in place, I was still unhappy with what I had done with the sky. I tried many effects between layers, but I couldn't find anything close to what I had in my head. Of course, the sky I saw in my head existed, it was a sky painted by William Turner. I didn't consider the collage finished until I found that sky.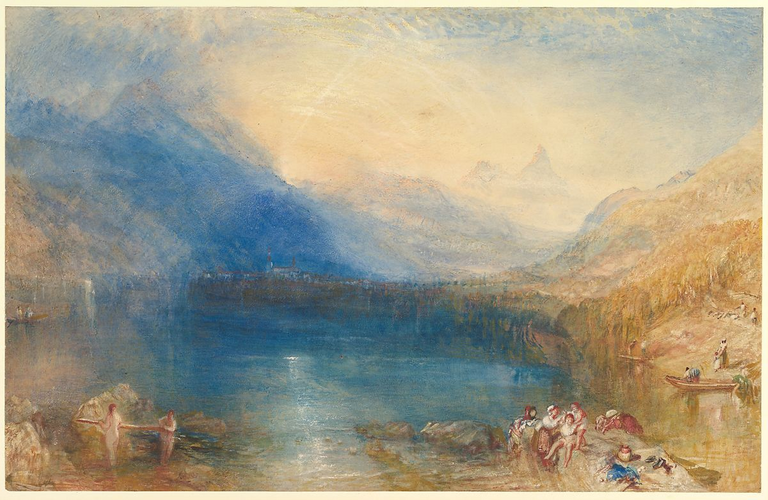 Lake of Zug, Joseph Mallord William Turner (circa 1843)

The good old memories
I know that I owe a lot of what I am as an adult (and what a child I still am deep down) to those long days of playing with my mother and sisters. I also owe it to all the midnight movies I watched on my father's lap (but that's another story to tell when we talk about the night).
The alternative life in that tiny space of the cardboard house has never stopped being in my memory and in my soul enormous, as if it were universes.


This is the list of images I used for the construction of my collage:

Boys
https://picryl.com/media/miscellaneous-boy-with-mechanical-toy
https://picryl.com/media/shrewsbury-barnados-home-childrens-christmas-party-92fd8e
Woman
https://commons.wikimedia.org/wiki/File:Edward_Poynter_-Asteri%C3%A9-Google_Art_Project.jpg
Dog
https://picryl.com/media/toy-dog-victor
Paperdoll
https://picryl.com/media/linda-paper-doll-1d64b9
Hammer
https://pxhere.com/es/photo/993958
Orange
https://pxhere.com/es/photo/151503
Apron
https://commons.wikimedia.org/wiki/File:Donostia-(San_Sebasti%C3%A1n_-grupo_de_enfermeras)(6233534687).jpg
Wooden fence
https://pixabay.com/es/photos/valla-valla-de-madera-3238491/
Sky
https://picryl.com/media/the-lake-of-zug-e86899
Pencil

I am grateful to the Community of Let's Make a Collage, in its 62nd edition (see the rules here) for the opportunity to remember my childhood.

Gracias por la compañía. Bienvenidos siempre.