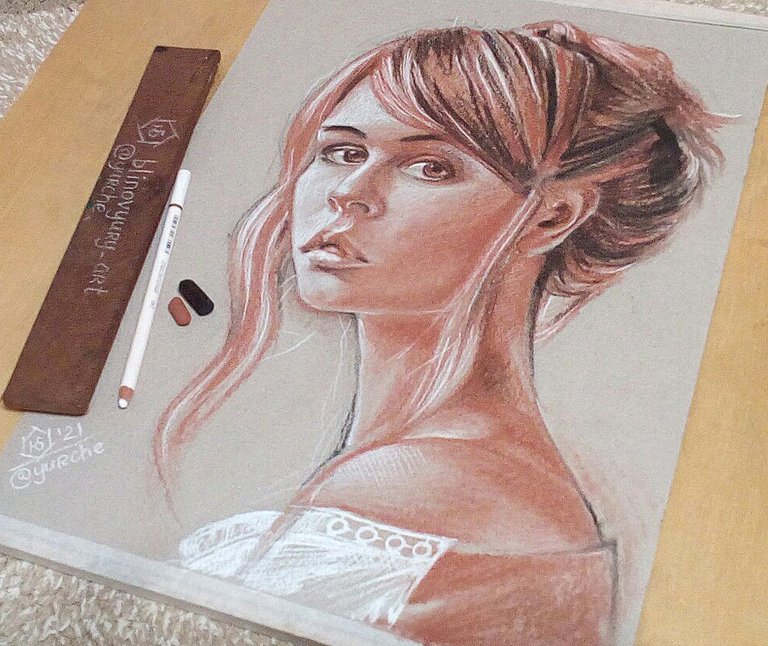 Dear friends! Today I have prepared for you an interesting lesson in classical drawing style. But first, I will say a few words about the new ARTSteemit community, which exists for all creative people, which was organized by my good friend, a wonderful girl @veta-less. In this community to anyone who is interested in promoting art and different areas of creativity. @veta-less herself is a wonderful person, she will always help and tell everyone - beginners or already established bloggers about publications. Ask your questions in the comments and show all your activity, which will definitely be rewarded!
Дорогие друзья! Сегодня у меня для вас подготовлен интересный урок классического рисунка. Но для начала скажу несколько слов о новом сообществе ARTSteemit, существующем для всех творческих людей, которое организовала моя хорошая знакомая, замечательная девушка @veta-less. В этом сообществе можно делать публикации всем, кто заинтересован в продвижении искусства и разных направлений творчества. Сама @veta-less - замечательный человек, она всегда поможет и подскажет всем желающим - начинающим или уже состоявшимся блогерам по поводу публикаций. Задавайте свои вопросы в комментариях и проявляйте всю свою активность, которая обязательно будет вознаграждена!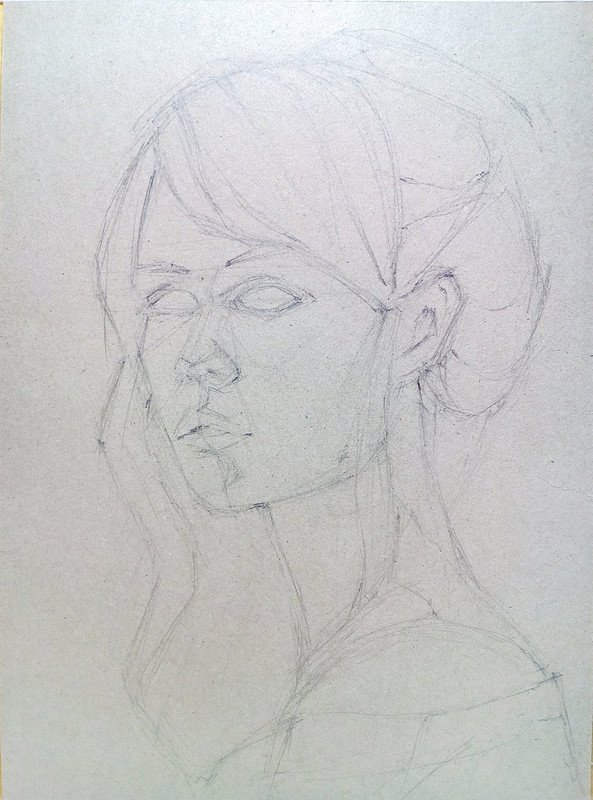 So, today we draw on gray cardboard with sanguine, charcoal and chalk. A3 paper size. I have the usual sanguine and charcoal crayons, as well as a white pastel pencil. To begin with, I must draw a contour according to all the rules of the geometric construction of the girl's head. I used a simple pencil, but I could have done it with charcoal or a piece of sanguine.
Итак, сегодня мы рисуем на сером картоне сангиной, углём и мелом. Формат бумаги А3. У меня имеются обычные мелки сангины и угля, а также белый пастельный карандаш. Для начала я должен нанести контур по всем правилам геометрического построения головы девушки. Я использовал простой карандаш, но мог бы сделать это углём или кусочком сангины.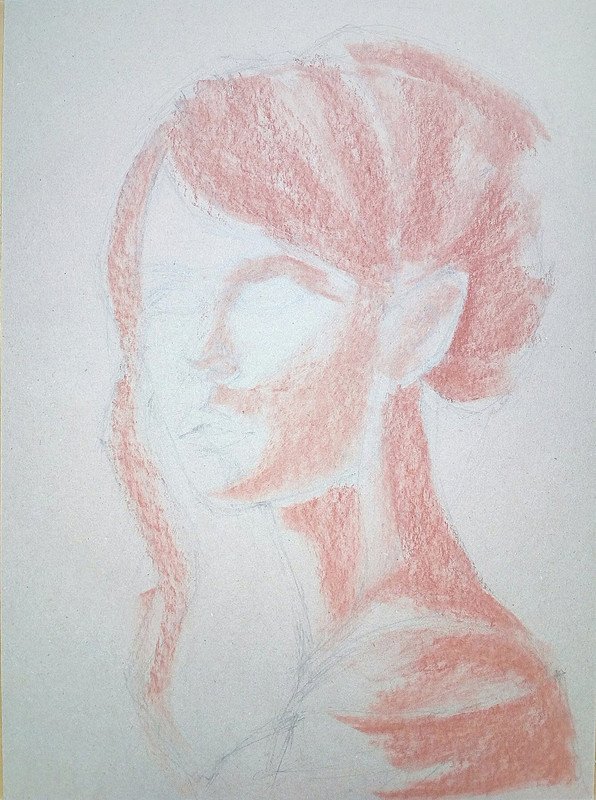 Next, I use the sanguine to highlight the large details of the drawing. You can draw as with the tip of a crayon, or you can put the crayon sideways and then it will go faster.
Далее я использую сангину, чтобы выделить крупные детали рисунка. Можно рисовать, как кончиком мелка, а можно положить мелок боком и тогда дело пойдёт быстрее.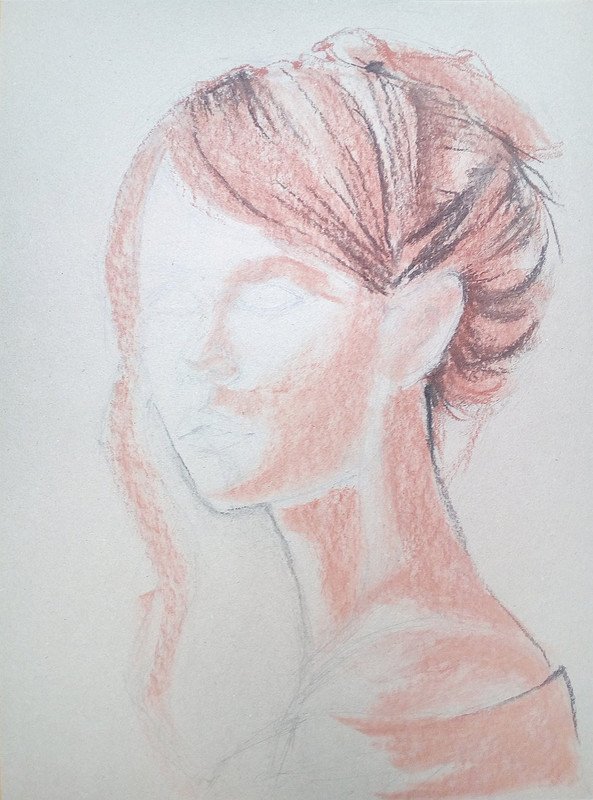 To slightly shade the details of the drawing, you can go through the shadow areas with charcoal, but without going into details, because they are still far from being worked out.
Чтобы немного оттенить детали рисунка, можно пройтись углём по теневым участкам, но не вдаваясь в детали, потому что до их проработки ещё далеко.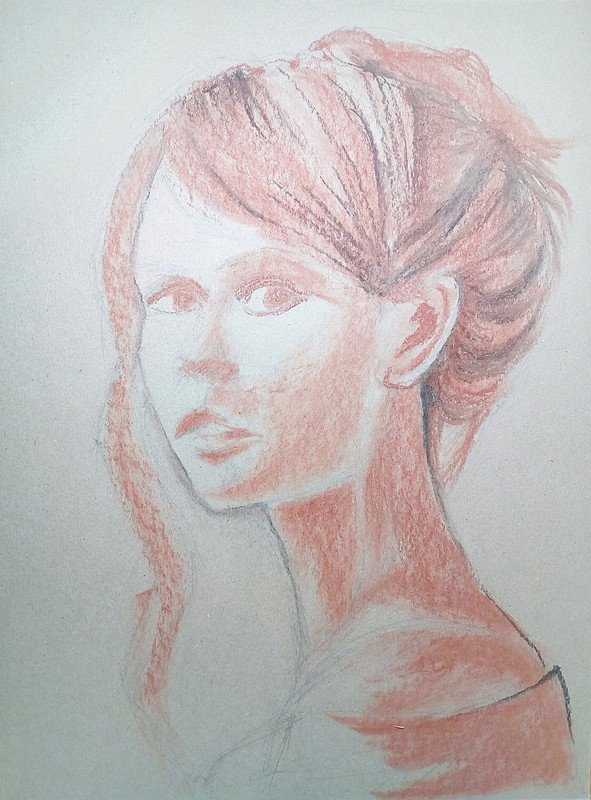 It is important to immediately make all the elements of the drawing sanguine, so as not to return to them. In parallel way, you can draw with charcoal, gradually highlighting the light and dark areas.
Важно сразу сделать все элементы рисунка сангиной, чтобы больше не возвращаться к ним. Параллельно с этим можно рисовать углём, постепенно выделяя светлые и тёмные участки.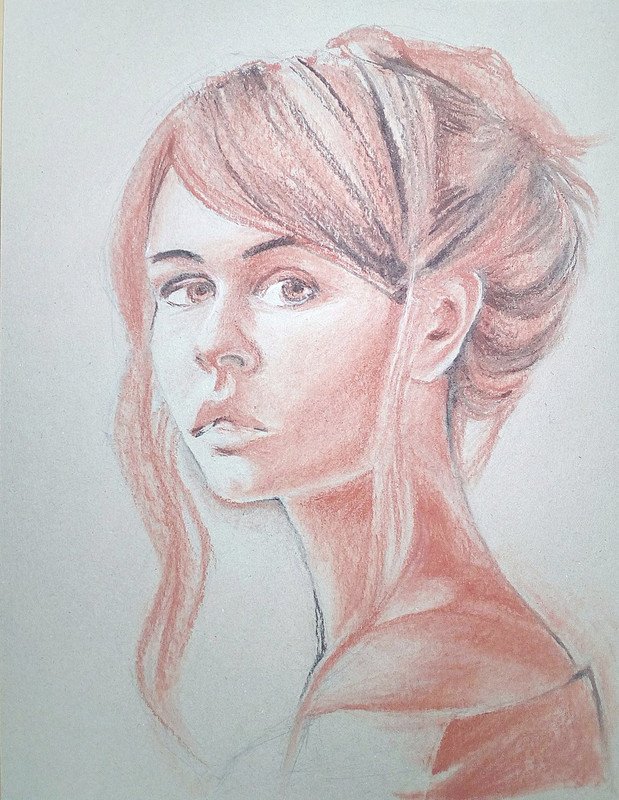 As the work progresses, more and more small details appear, but I do not use chalk yet, because it will be useful in the last stage of the work.
По мере продвижения работы появляется всё больше мелких деталей, но мел я пока не использую, потому что он пригодится на последней стадии работы.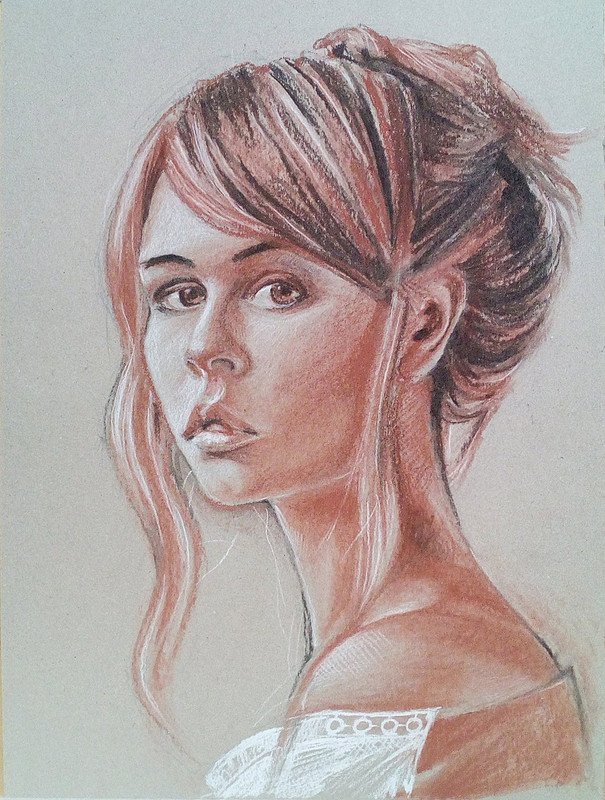 Finally, you can highlight the ligt areas on the girl's face. A thin rod of white pencil is perfect for this. And at the end of the drawing, it is necessary to distribute the darkest places, the lightest and the correct gradation of intermediate tones. That's all done!
Наконец, можно выделить блики на лице девушки. Тонкий стержень белого карандаша отлично для этого подходит. И в завершение рисунка нужно обязательно распределить самые тёмные места, самые светлые и правильную градацию промежуточных тонов. Вот и всё готово!

Gray cartboart, sanguine charcoal and chalk, dimensions 30x40 cm