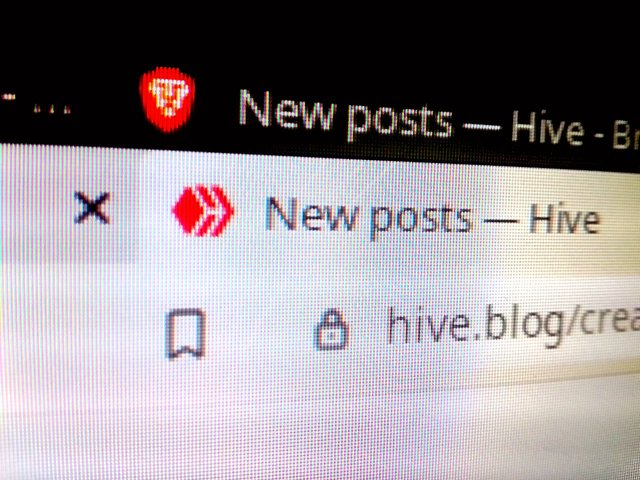 Links to boost Hive
A quick way to contribute to the growth and development of our Hive platform is to make it appear among the first results in the various search engines on the Internet. That is, if there is a post, an article, in Hive with content that responds to the subject of the query made in the search engine, that result appears among the first.
---
¡Versión en español más abajo!
---
But is that within our reach? The simplest answer is Yes.
This is not an infallible formula, but it is one of the most important factors taken into account by search engines such as Google, which is undoubtedly the main objective we will aim at.
It is well known that one of the aspects that, in view of the analysis algorithms used by that search engine, gives preponderance to a content, are the links that point to it. If there is a greater number of links, of pages of proven seriousness, to a certain page, the algorithm begins to assign more value to it. Therefore, using links to our previous posts or the publications of other authors that we consider important, it starts "adding points" to the specific publication and the domain of the website in question, in this case Hive.blog.
It is important to note that one of the aspects that the algorithm takes into account are the words used for the link. Therefore we must give importance to this factor.
A link that says read this post or to read click here is not going to have the same impact on the search engine as one that refers to the topic, like: The source of an image How to place it and why?. In this case I'm using the title of the publication (This post is in Spanish, it's only used as an example), as the title speaks for itself, but I can also use a more generic expression like learn how to place fonts correctly in Hive. In both cases the link text helps to identify the words with the content. The latter two are the ideal formula.
A link in a post with related content also has more impact. That is, if my publication talks about music history, a link to something related to the topic will have much more value and effect than a link to an article on cryptos. It is thought that this type of link even has a reverse effect. That is, linking to a page with certain content, helps to position your post in search engines.
For this reason it is also advisable to select the links that we are going to place, if it is our custom to publish on different topics. However, it is preferable to link to a different subject than to place none at all.
Therefore, the recommendation is to use links in your new posts, which point to other posts that may or may not be related to yours, but always place one and use texts related to the topic of the linked post.
Based on this principle, there have been developing a campaign to encourage users to share their posts on Twitter. Because of course the above explained applies, and even more so, to links on other platforms or websites. The more links from different sources that point to a content, the higher it will climb in the searches.
This is a small practice that can drastically change the position of Hive publications in the search results of the world's major search engines. And it is a task that does not require much effort.

Enlaces para impulsar a Hive
Una forma rápida de contribuir al crecimiento y desarrollo de nuestra plataforma Hive, es hacer que aparezca entre los primeros resultados en los distintos motores de búsqueda que hay en internet. Es decir, si hay en Hive un texto con contenido que responda al tema de la consulta hecha en el buscador, que aparezca ese resultado entre los primeros.
¿Pero está eso al alcance de nuestras manos? La respuesta más sencilla es Sí.
Esto no es una fórmula infalible, pero es uno de los factores más importantes que toman en cuenta buscadores como Google, que es sin duda, el principal objetivo al que apuntaremos.
Es bien sabido que uno de los aspectos que ante los algoritmos de análisis que usa ese buscador, le dan preponderancia a un contenido, son los enlaces que apunten a él. En la medida que hay un mayor número de enlaces, de páginas de comprobada seriedad, a una determinada página, el algoritmo le empieza a asignar más valor. Por lo tanto usar enlaces a nuestras publicaciones anteriores o las publicaciones de otros autores que consideremos de importancia, empieza a "sumarle puntos" a la publicación específica y al dominio del sitio web en cuestión, en este caso Hive.blog.
Es importante destacar que uno de los aspectos que toma en cuenta el algoritmo, son las palabras usadas para el enlace. Por lo tanto debemos darle importancia a este factor.
Un enlace que diga leer este post o para leer haz clic aquí no va a tener el mismo impacto en el buscador que uno que se refiera al tema: La fuente de una imagen ¿Cómo colocarla y por qué?. En este caso estoy usando el título de la publicación, pues el título habla por sí solo, pero también puedo usar una expresión más genérica como: aprende a colocar las fuentes de manera correcta en Hive. En los dos casos el texto del enlace contribuye a identificar las palabras con el contenido. Estas dos últimas son la fórmula ideal.
También tiene más impacto un enlace en una publicación con contenido relacionado. Es decir, si mi publicación habla de historia de la música, un enlace a algo relacionado con el tema tendrá mucho más valor y efecto que un enlace a un artículo sobre criptomonedas. Se piensa que este tipo de enlace tiene, inclusive, un efecto inverso. Es decir que enlazar con una página con determinado contenido, contribuye a situar tu publicación en los buscadores.
Por esto también es recomendable seleccionar los enlaces que vamos a colocar, si es nuestra costumbre publicar sobre temas diferentes. Sin embargo, es preferible un enlace a una temática distinta, que no colocar ninguno.
Por lo tanto, la recomendación es usar enlaces en tus nuevas publicaciones, que apunten a otros post que puedan estar relacionados o no con el tuyo, pero siempre colocar alguno y utilizar textos relacionados con el tema del post enlazado.
Basado en este principio precisamente, es que se ha venido desarrollando una campaña con el fin de estimular a los usuarios a compartir sus publicaciones en Twitter. Porque por supuesto que aplica, y hasta con más razón, a otras plataformas o sitios web. Mientras más enlaces de distinto origen apunten a un contenido, éste subirá de posición en las búsquedas.
Esta es una pequeña práctica que puede cambiar de manera drástica la posición que ocupen las publicaciones en Hive en los resultados de búsqueda de los principales buscadores del mundo. Y es una tarea que no requiere de un gran esfuerzo.
---
Another Hive related post: Configuration of your automatic upvotes on hive.vote have changed
Otra publicación relacionada a Hive: La configuración de tus votos automáticos con hive.vote ha cambiado


---
The main picture taken by me with my Blu G5 Mobile
La imagen principal tomada por mí con mi celular Blu G5