Hi guys,
It is been a while since my last blog but I had to repair my laptop screen matrix because the red color disappeared. At first I thought it had something to do with a Windows update, then thought it is a GPU failure, but no. It was the screen matrix itself. Now it is time to roll up my sleeves and start blogging. I do have some really cool material to post, like this one.
So my best friend from college Ivo was getting married and we had to do a bachelor party to honor him before we lose him forever 😄.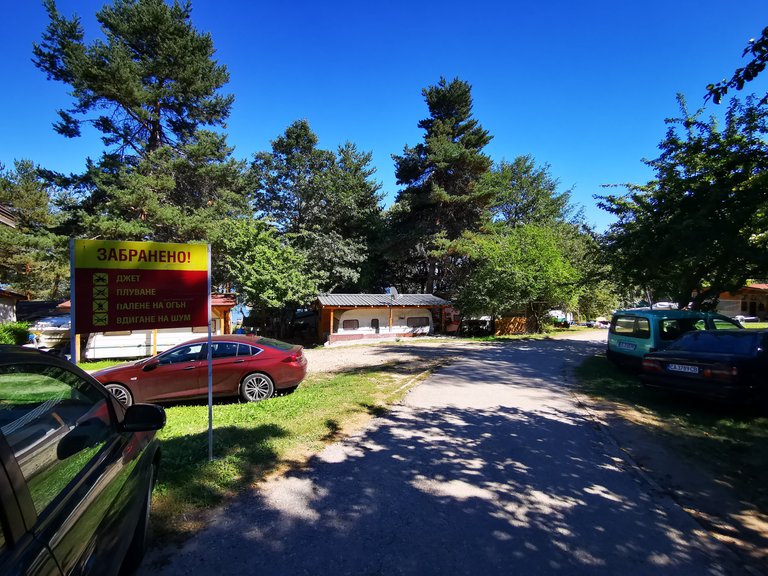 We thought about and decided to rent a sailboat for like 4 hours with a captain and sail throughout Sofia Iskar Reservoir. Sofia Iskar Reservoir is a
huge artificial lake made exclusively for water activities and fishing.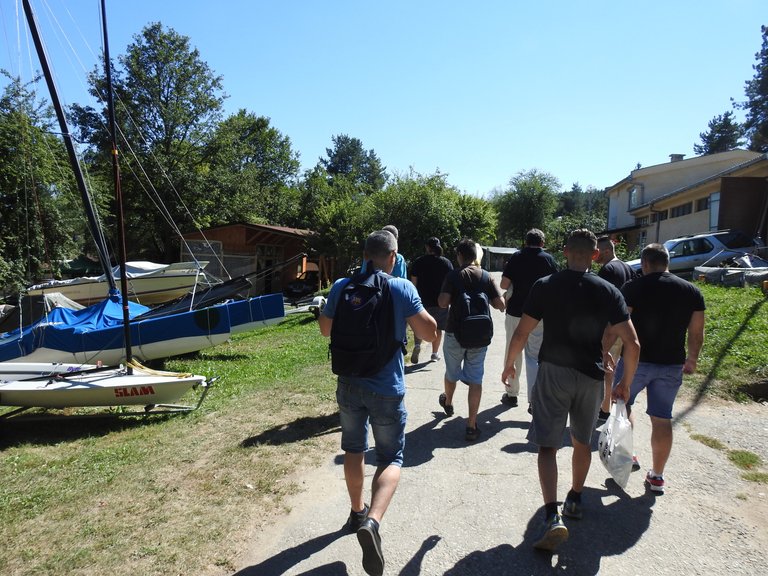 Here we are, the whole gang coming down to the lake. Me and the guy with the blue T-Shirt were also prepped with bathing shorts.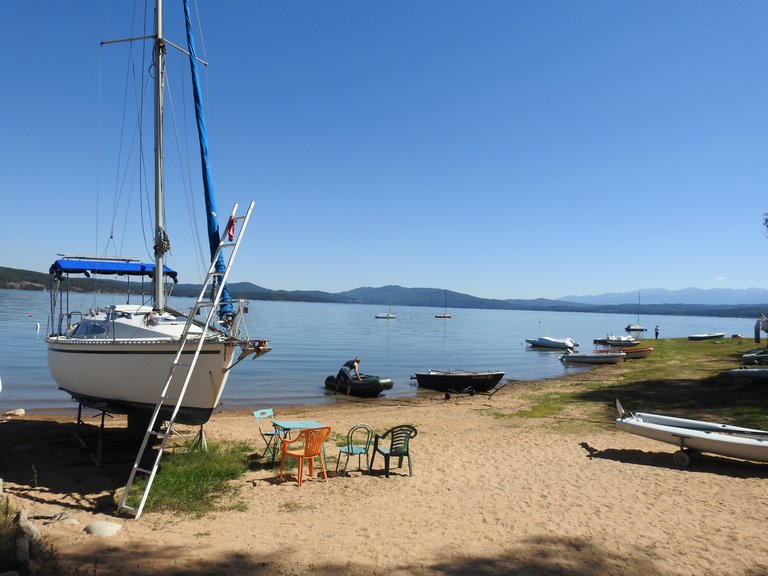 A small part of the coast. There is also sand. It looks like a beach of a kind.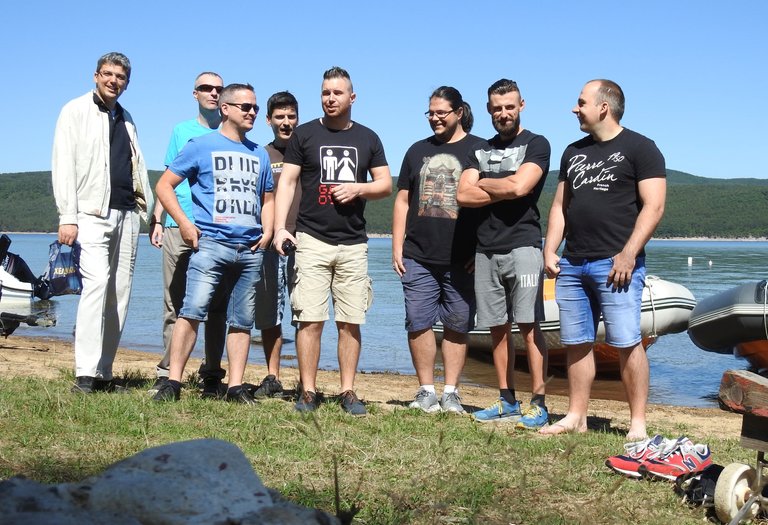 Here we are. All in beauty and power. I am the one with the beard 😂 Pretty recognizable.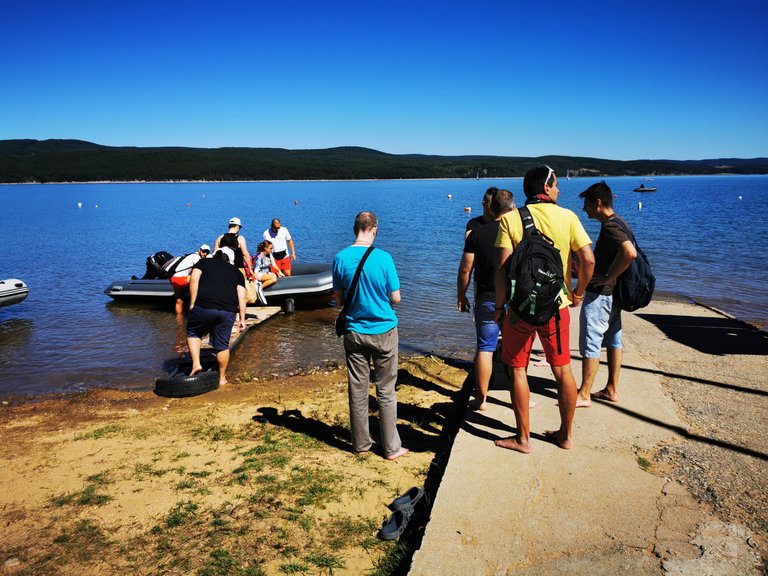 We had to hop on a small inflatable rubber boat because of the shallow waters. It will transfer us to the sailboat.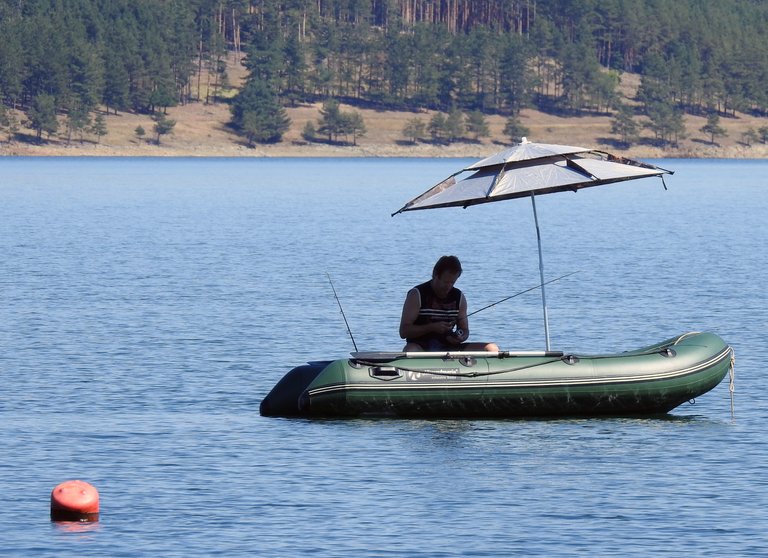 Here are a few pictures from the rubber boat. This guy is fishing on a similar rubber boat while keeping the sunburn to a minimum with this umbrella 😎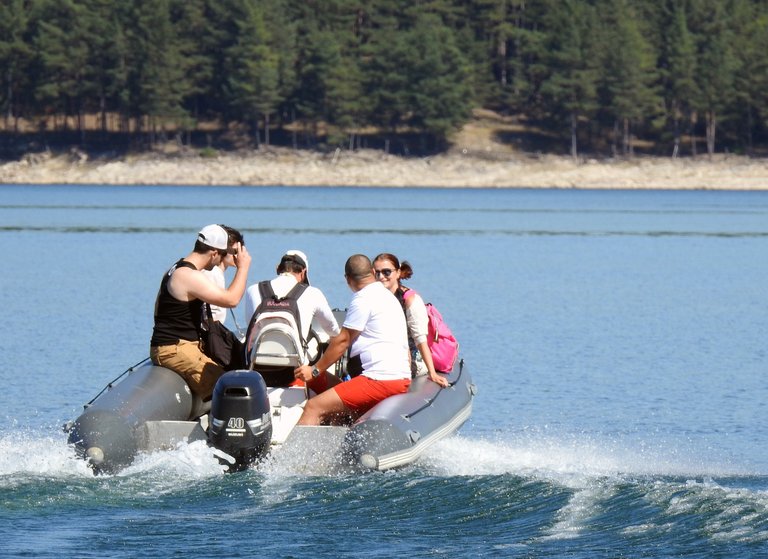 This is another group of people being transferred to a sailboat.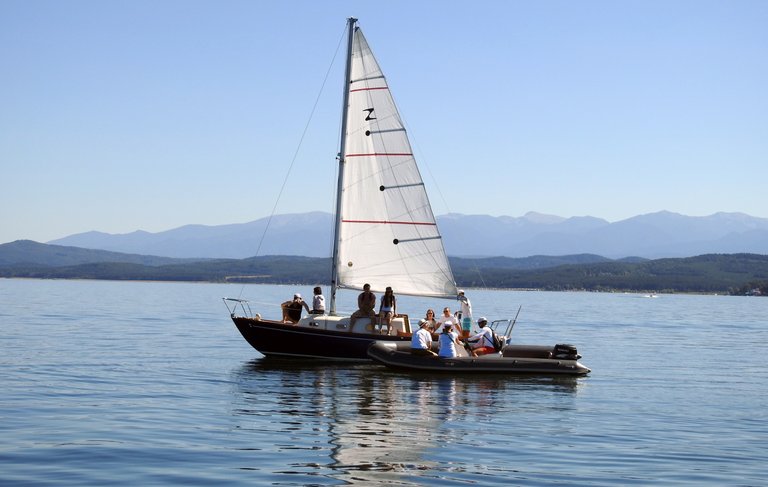 This is how the transfer looks like.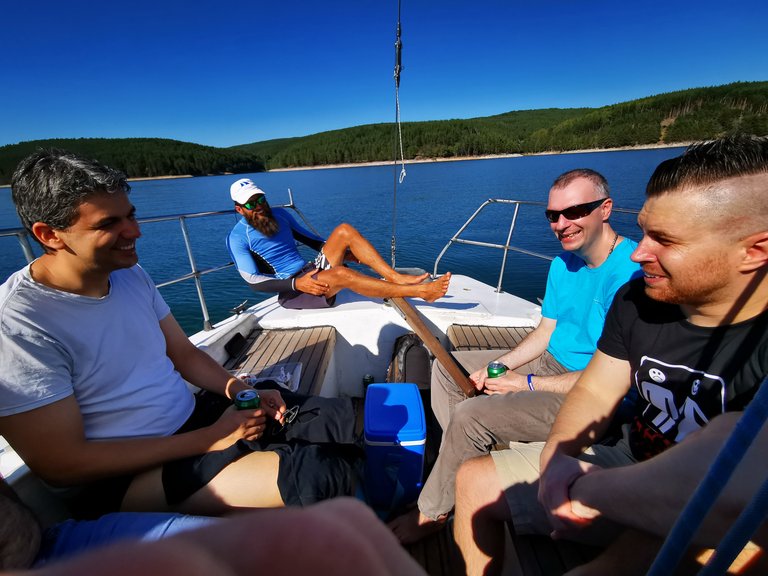 And so we got to the sailboat. The guy with the cap is our captain. We opened up a couple of beer cans and were ready to rock and roll. This is the front side of the boat and if you ask why is the guy on the left with stripped pants well... He is going to go for a swim soon but with his underwear because he didn't take his bathing shorts.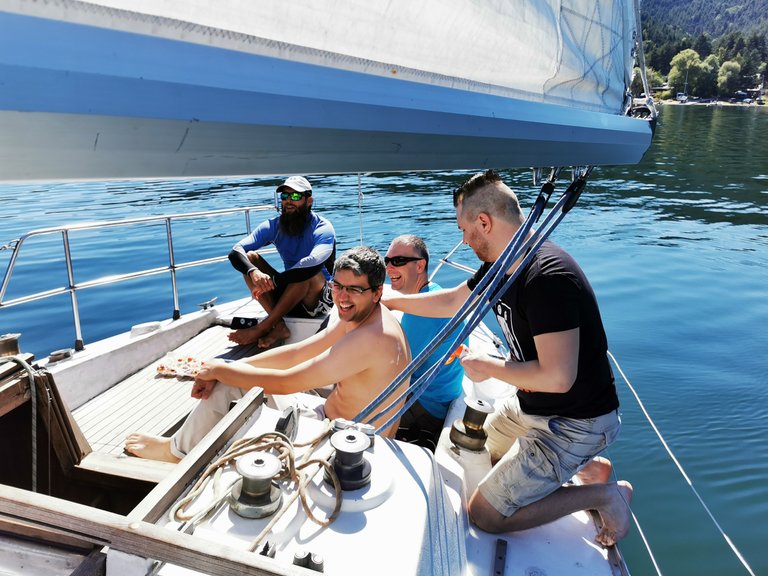 Of course safety always comes first. The host made sure that we are all well protected with high UV sun cream. He even went so far as to rub our backs. As you can see, the happiness was indeed genuine. Unfortunately, we couldn't take any women with us, as we were strictly forbidden to do it.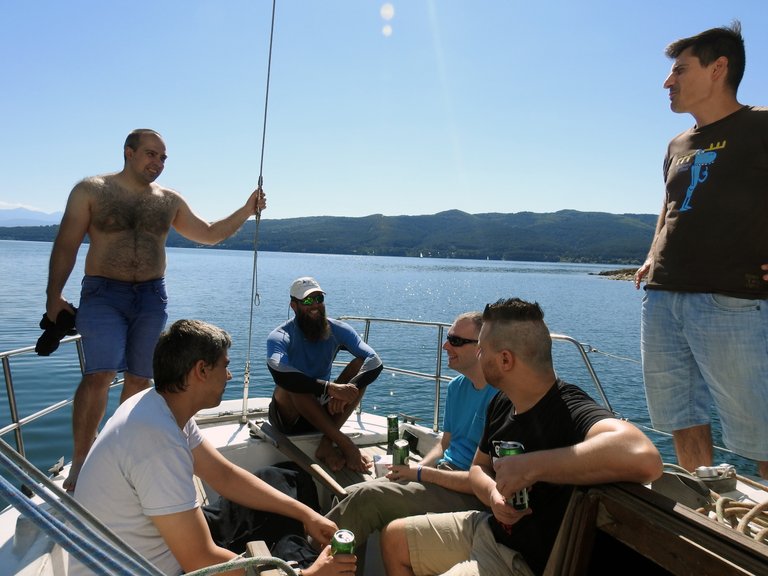 We shared mutual stories from when we were in college and at work. It was funny and entertaining.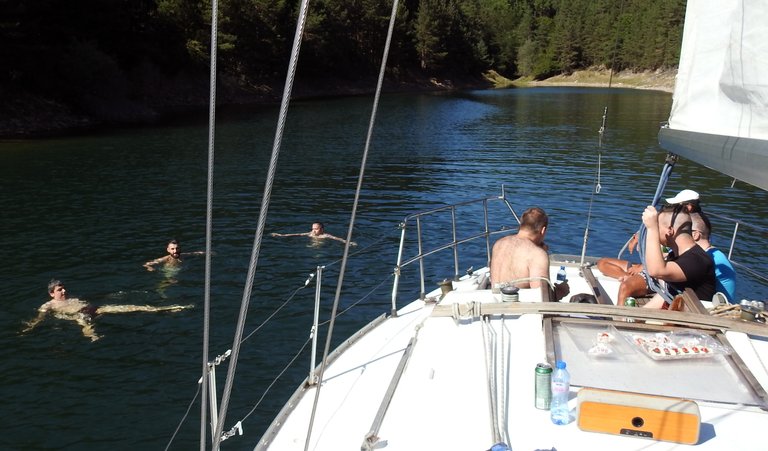 We also went for a swim. The water was pleasantly cold and refreshing. Just the first couple of minutes were a bit uncomfortable.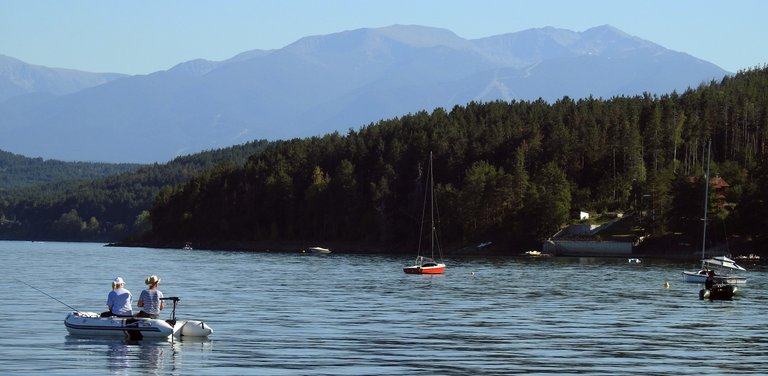 The atmosphere was really chill and full of temper.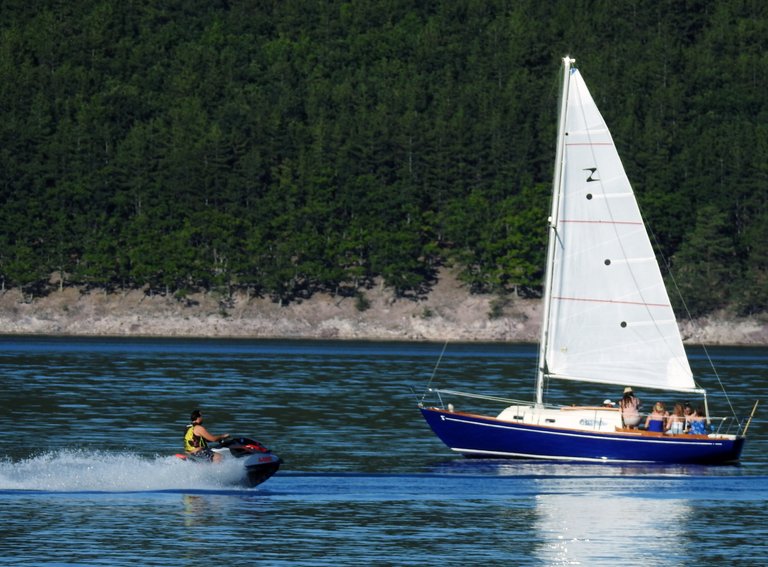 The sailboats were everywhere, and so were some jets.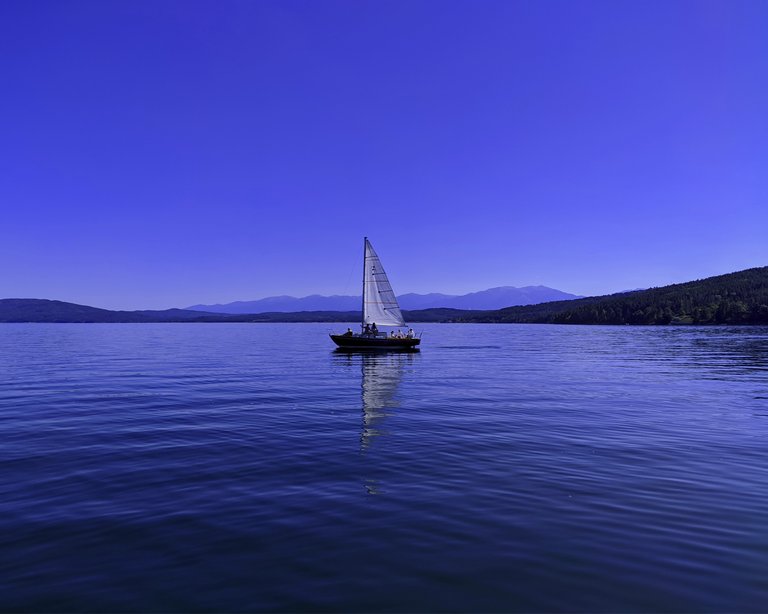 Amazing navy blue water and sky. No clouds. Pure sunshine.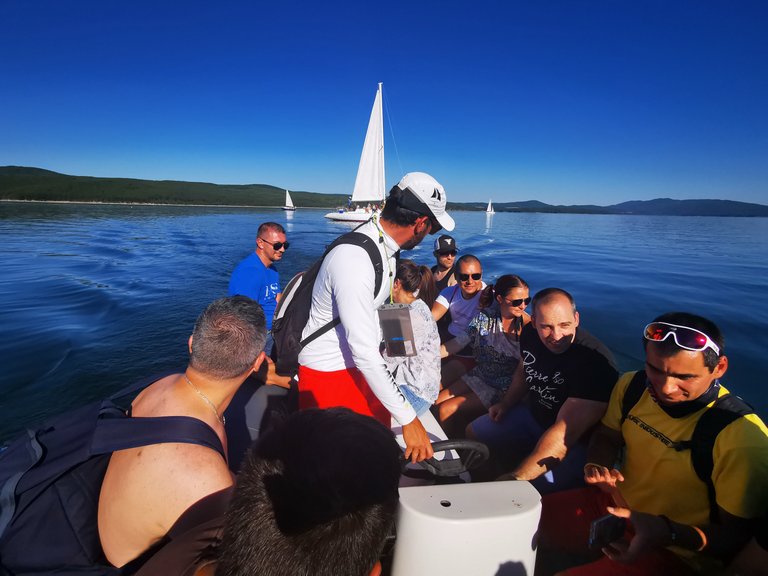 4 hours have passed. Time to go back and head to the restaurant for a well deserved dinner.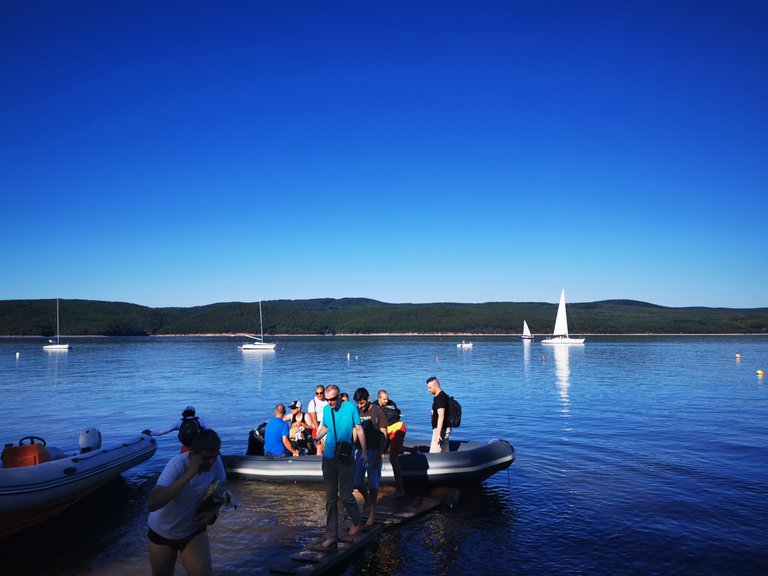 Hop off point and a beautiful scenery of sailboats.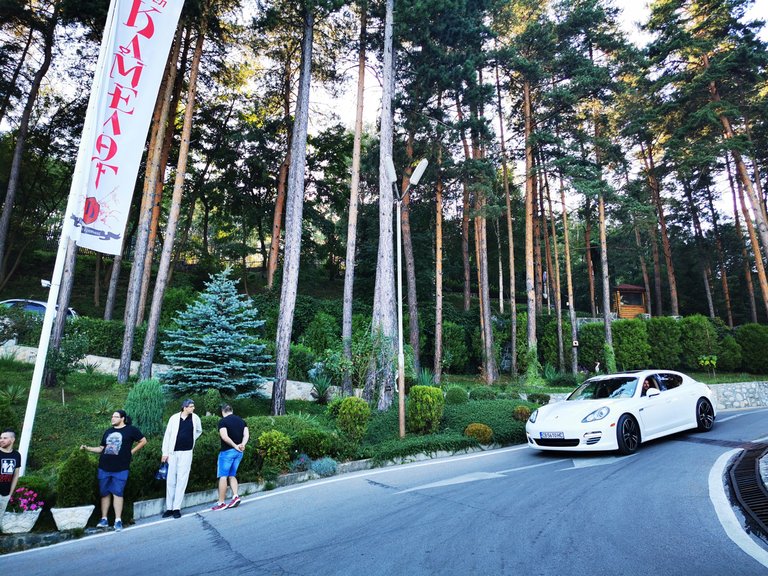 We headed down to the restaurant. It is called Camelot and is actually a hotel complex. The surroundings are full with houses and other hotel like rooms for people who spent their weekend in this reservoir paradise.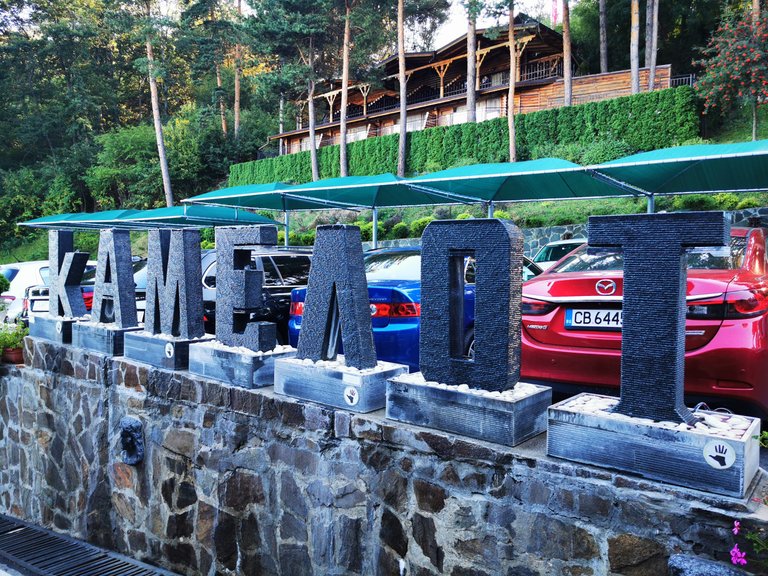 This is the Cyrillic denomination of Camelot. The letters were all glowing at night and made for water to run through them. It is not clearly visible on the picture but there is actually a circuit of water in all letters. Like a fountain. I guess the hand sticker stands for no touching 😁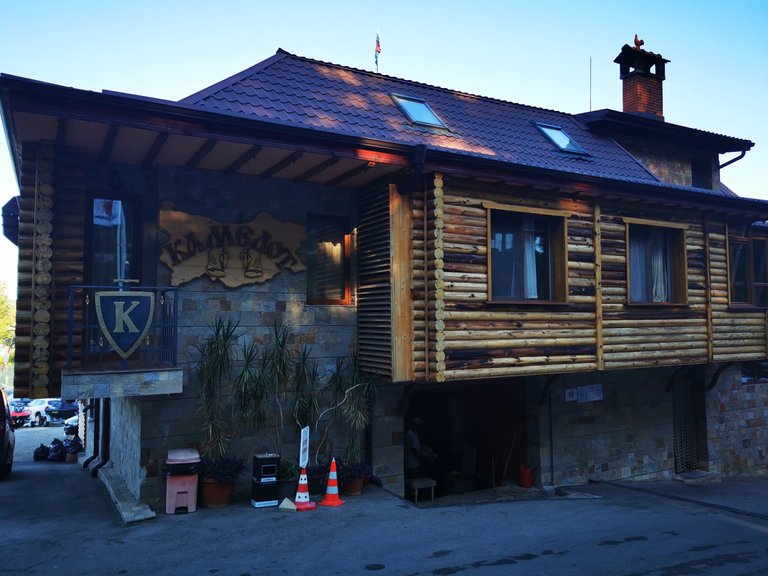 This is the restaurant building.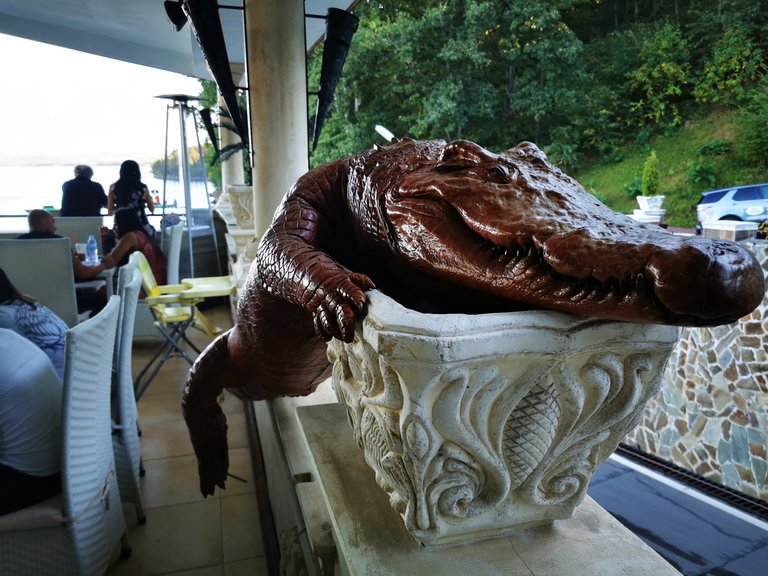 We are inside the restaurant on the terrace. There were quite a few decorations like this alligator. Very beautiful.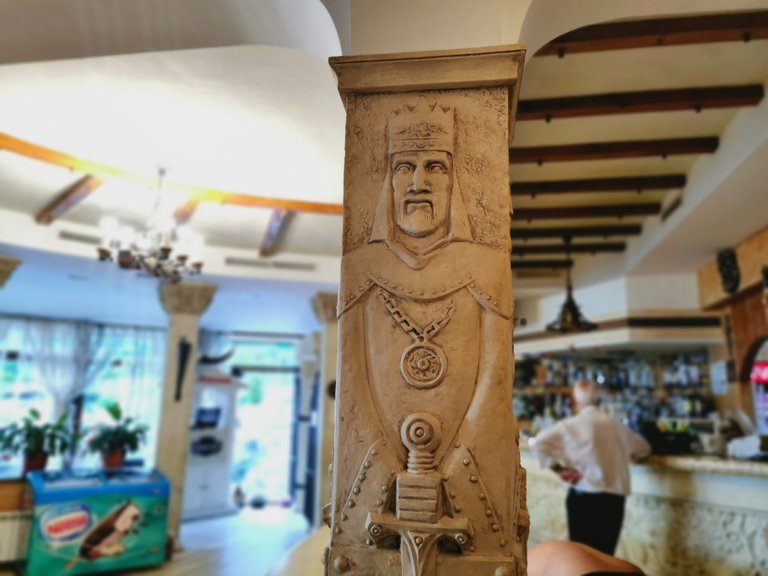 This column warrior was also pretty cool. It was carved.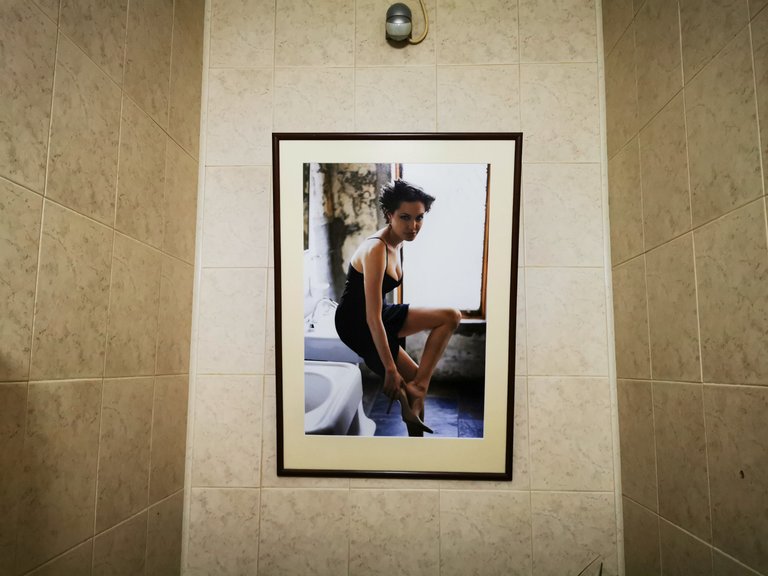 And this beauty was to be found in the male bathroom. Pretty convenient I would say hehe. And yes, this is an old picture of Jolie but she looks very nice indeed 😍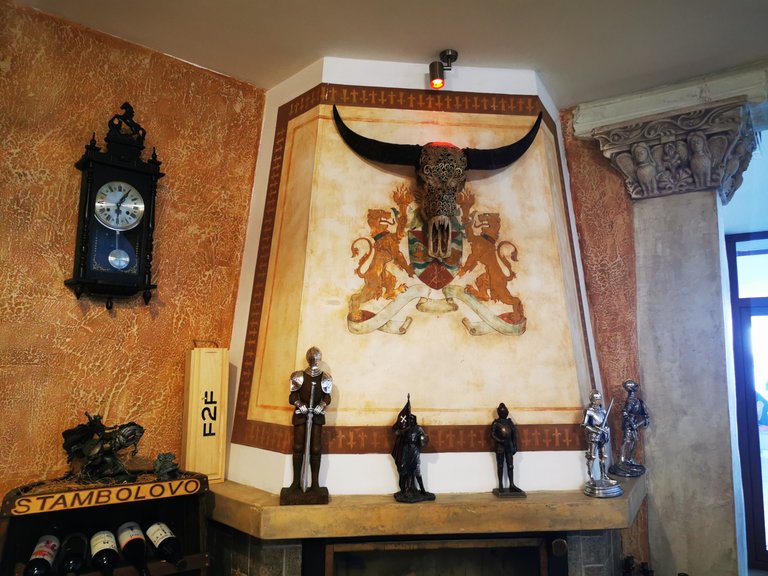 Some antiques and statues that also caught my eye.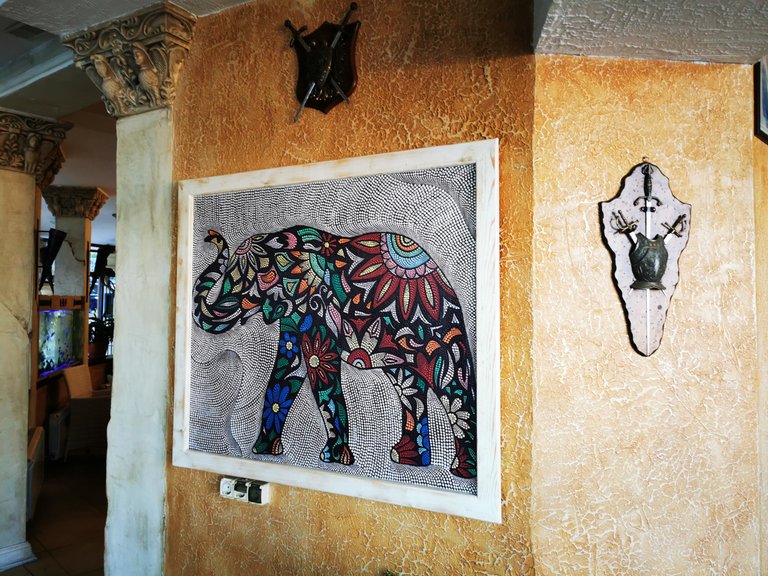 This mosaic elephant was also caught by my photo lens 🙃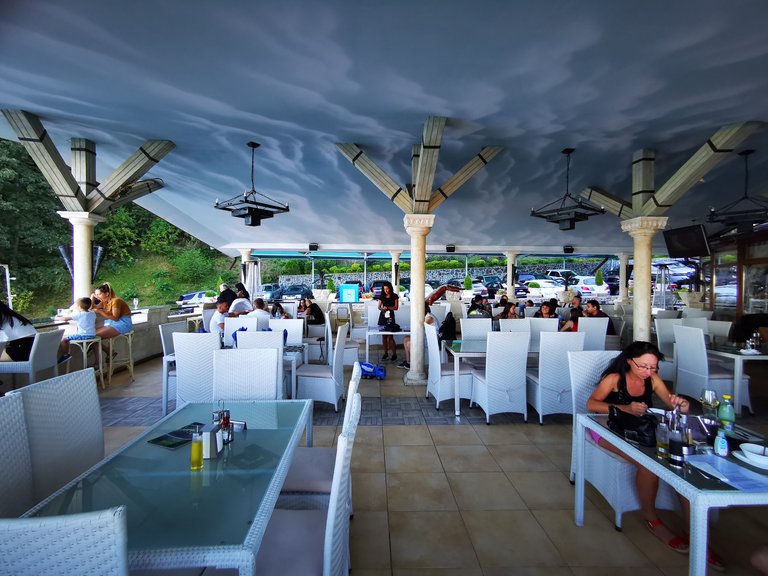 Here is how the terrace looks like from afar.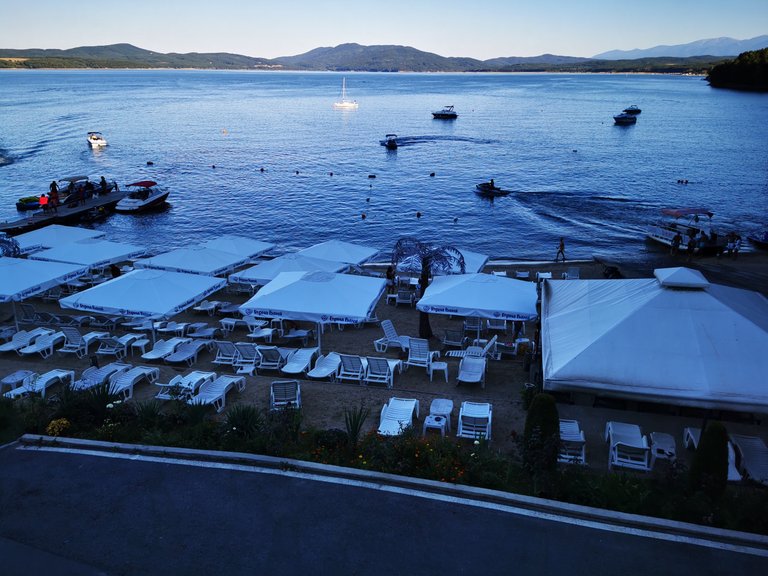 And a peek from the terrace to the lake :) The boat movement is real. There is also a beach in front and people actually rent sunbeds and umbrellas like they would do on a sea vacation.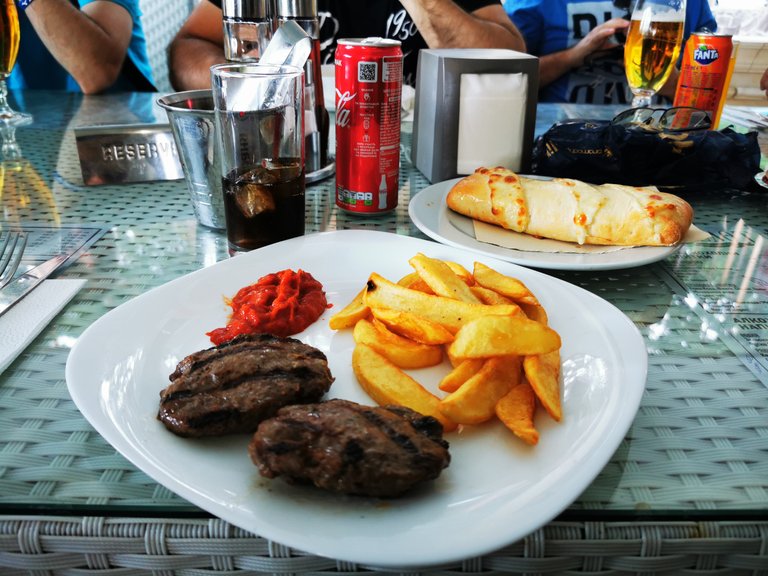 That was my dinner. The meatballs were actually from a horse. Real tasty and full with protein. It was my first time to try such a meal. It is harder to chew but much richer in nutrients and energy. Of course, I won't eat it again as I do respect those animals and the lesser we eat them, the lesser they go under the knife 😇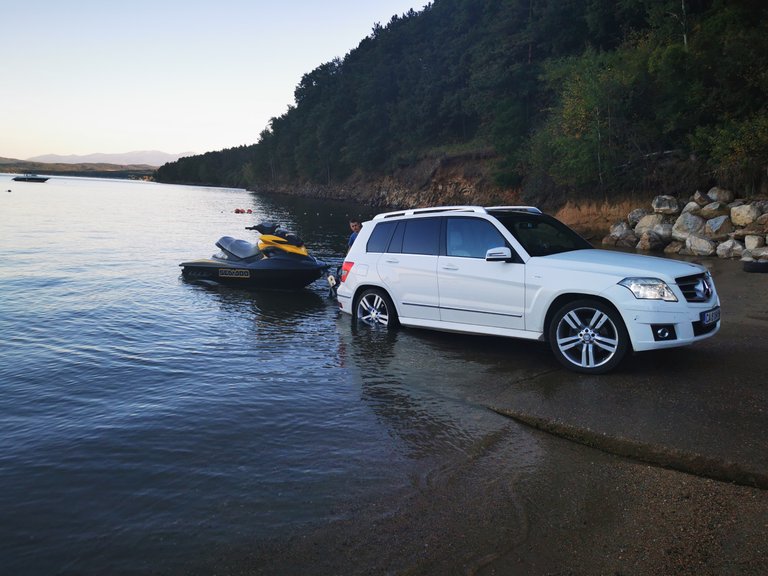 As it was getting darker. Jeeps were helping in taking the jets out of the water and on the storage fields.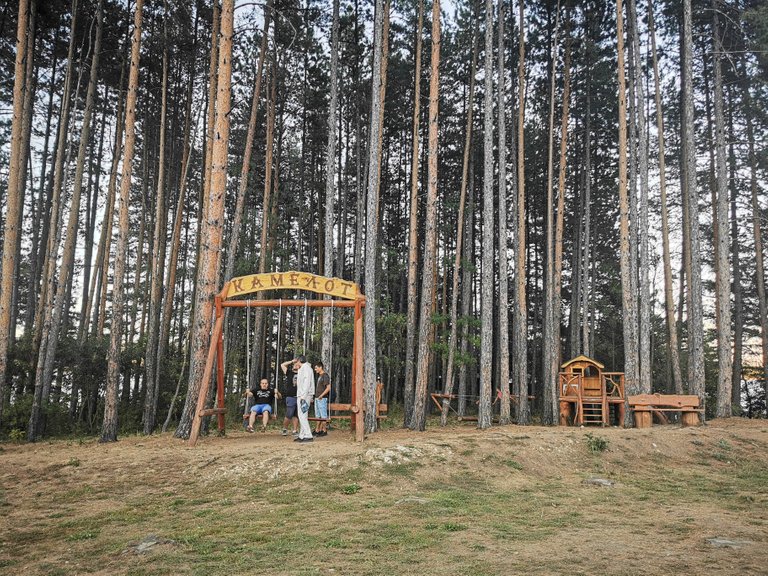 This particular location was actually huge. It had its own park and also private properties.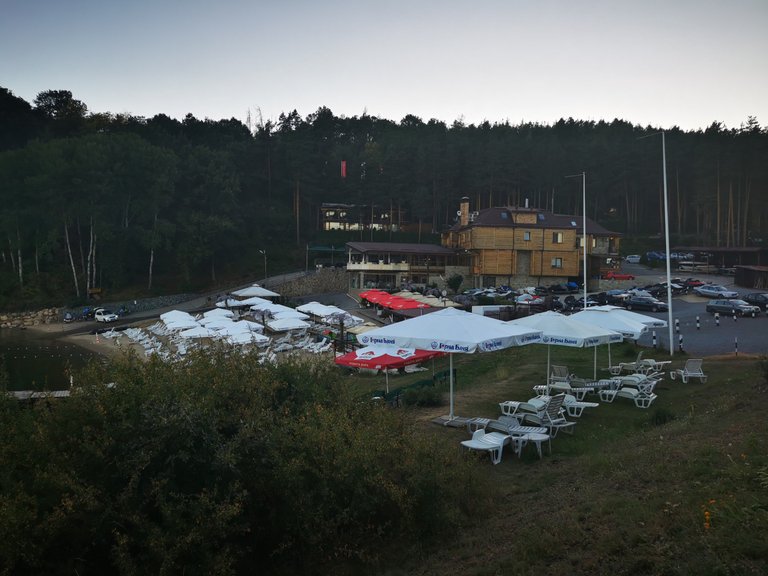 This is a view from the park to the restaurant and the parking lot. The beach is at the bottom. And this is not even half of the entire property.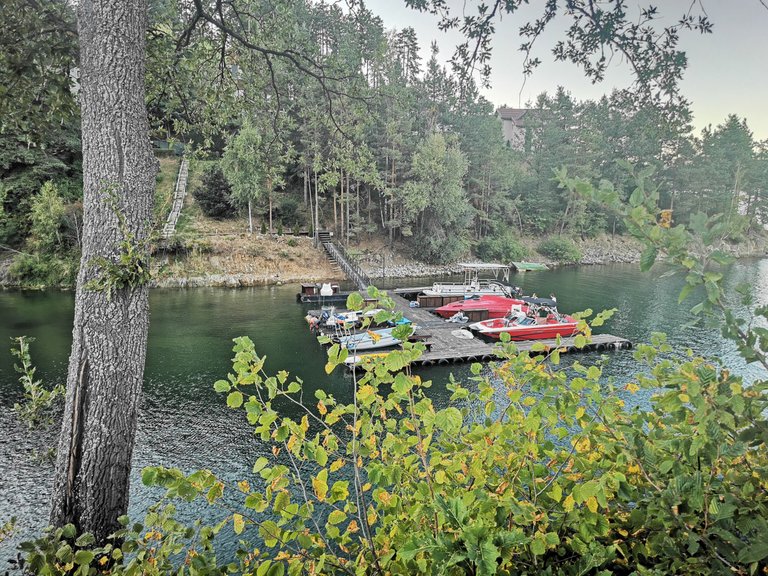 And this is a small part of the private property. Here come mostly foreign people who give more money to have their own boat and dock. A lot of nature. Behind those trees are the big private houses.
As it was now getting late, the mosquitoes started their offense and we had to retreat 😆 We didn't go to a disco or striptease club because Ivo did not want to cheat on his future wife nor he wanted to drink too much alcohol, so that was the end of our trip. We had a tons of fun. I hope that you guys also had fun reading my story 🙃 I look forward to telling you my next story soon, as I have a few already on the conveyor production line.
Stay happy, be peaceful!
Namaste
---
---

If you decide to support the Bulgarian community growth you can do it by delegating some HP that will be used only for that!
---
---