It was a pretty good day today with the family, even though Smallsteps has got a bit of a flu going on at the moment. Nothing major - a runny nose that woke her up at three in the morning. After lunch, she and my wife spent a couple hours in the garden collecting (eating) berries (mostly raspberries, gooseberries and red currants) while I started cutting down some small trees and pruning bushes away.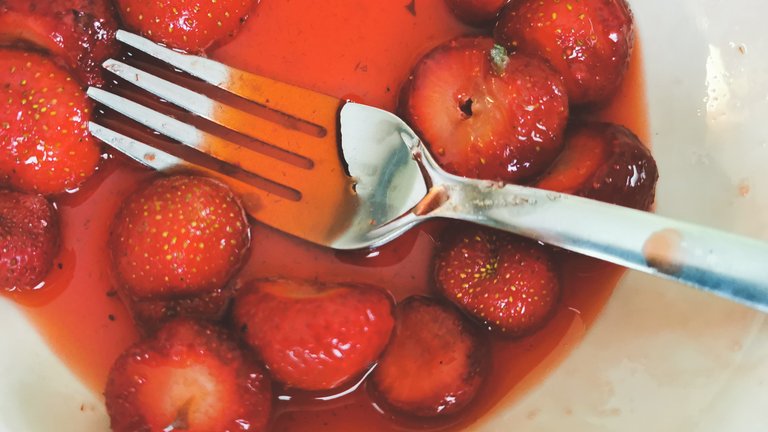 Some of the strawberries picked and frozen last week and eaten on crepes specially made for Smallsteps - her first pancakes ever
Unfortunately, we have had to add an additional large process to our renovation plans, as the rainwater drainage systems haven't been done correctly (not at all in some cases) and we will have to dig trenches and put in pipework. While the house is dry, there are a couple of areas around the house where the ground is sopping wet and there are some plants growing that should have never been put near a house, as their roots can get into the "secret ditch" (drainage system around the house foundation) which is clear now (we checked with a camera) but has to be taken care of before it poses a major issue.
One of the areas that needs to be landscaped is the driveway, as many years ago they raised the road and now the driveway slopes away from the storm water ditch, leaving a swamp in the middle of our yard. The previous owners chose to do nothing about this - we have to. Because there is so much earth moving going on, we are also going to remove the "hedge" (a mess of random trees and bushes) and replace it with a proper hedge, which should bring a lot more clarity to the space. The house is now painted, but I won't do a before and after until it is complete, as due to this ad hoc work to be done, the plinth will be painted later, hopefully in August. The white is great however and it looks like a different house now.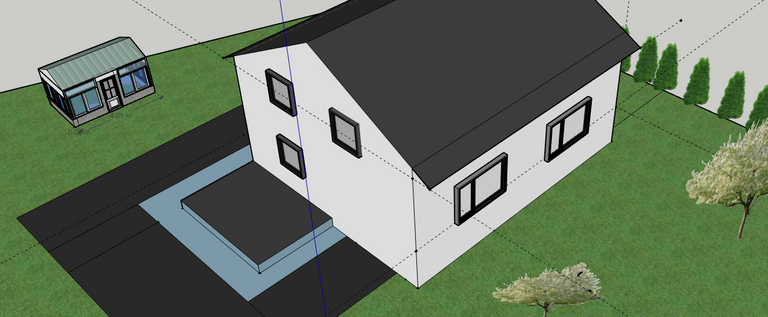 Since there is so much earth-moving to do, we are also getting them to level a place for a future deck and also where the glasshouse will be positioned. The glasshouse will be created out of our old windows and will be around 10m2, which is the limit before a building permit is required. The additional cost for this work is insignificant considering what else they have to do and having the prep done while they are already here means saving thousands later to get them back. Due to the ground freezing and the thaw, foundations are very important to get right, otherwise the ground will move during the winter and tear buildings apart.
As you can see from the picture above, I am in the early stages of modelling the house so that we can have a better idea of what we might want and be able to relay this to the contractors clearly. I haven't put in the changes in ground height yet and might not other than the driveway into the garage in the basement, as it might not be that important for the visualization. Then again, it might be so I will see how hard it will be, since I have to hand measure everything.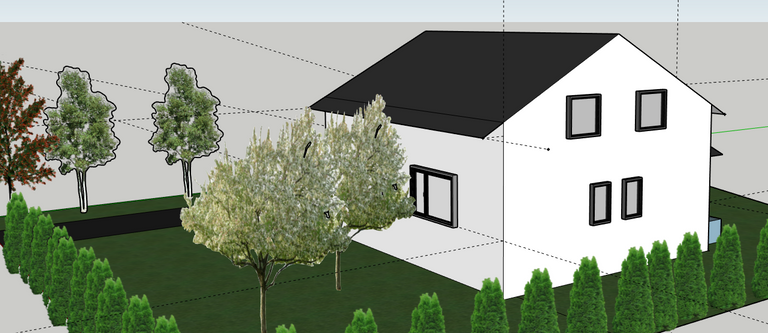 Being able to model the house (even inaccurately) is a huge advantage for us, as we are quickly able to see what kind of space we will have to work with and what is possible. It also gives the opportunity to test theories and ideas in a few minutes without having to invest large amounts of time. I am getting a little faster at modelling now and my wife can comment or "try" and I can get a working copy for her to look over quite soon.
I quite enjoy the modelling (not the measuring) process and it reminds me a bit of my high scholl graphics classes, which meant technical drawing with set squares, isometric projections and Rotring cartridge pens. I really enjoyed that class as it allowed me the possibility to use my imagination in a way that it is predispositioned to perform. I wasn't the greatest with the technical drawing side, but my ability to imagine the visual "reality" of an object from a flat projection was suited.
Tomorrow we (I) will continue with the upstairs demolition as guests cancelled due to our daughter's flu. Understandable given the conditions, but their reluctance wasn't about Covid-19, it is that their son has a confirmation camp starting this week and they don't want to pass anything to him before he goes, as that would rule him out of the trip - something young people look forward to and tend to enjoy.
It is a pity though as my wife is going to make a cherry pie using cherries from our own trees! I am really excited about it, more so than I probably should be - but I still find it brilliant that we have edible food in our garden. But, I won't get to eat it all as the neighbors have invited us over for a barbecue before work starts again on Monday for some of us, myself included. Luckily, we have a lot of cherries on the way so a second, third and fourth pie are not out of the question - then apple pie season will start ;)
Hopefully, you are all having a good weekend and making plans for your future too. I am off to bed now as I have been up before the sun and the sun is still rising before five in the morning.
Taraz
[ Gen1: Hive ]